GP TECH Can supply air handling units ec fan, air curtains ec fan, fan coils ec fan, air heaters ec fan, generators ec fan or telecommunications ec fan.


Brushless EC Fan
technical detail

| | | | | | | | | | |
| --- | --- | --- | --- | --- | --- | --- | --- | --- | --- |
| Model | Voltage (VAC) | Freq (Hz) | Airflow (m3/h) | Power (Watt) | Speed (RPM) | Current (Amp) | amb.temp.(0C) | Noise(dB) | Net(kg) |
| DR3FA160 | 230 | 50 | 1230 | 156 | 1390 | 1.22 | -25~+60 | 59 | 4.9 |

Brushless EC Fan Primary Competitive Advantages:

·Higher efficiency at full speed - at 50% reduction in motor speed

gives an 88% reduction in power usage.

·Continuous speed control across the full operating range giving an

increased tolerance to high and low pressure.

·Low noise compared to a step control motor.

·Power input lost as heat is reduced by 1/3 compared to a

conventional AC motor.

·Lower maintenance requirements and longer service life.
· Improved service life.· ERP 2015 compliant fans.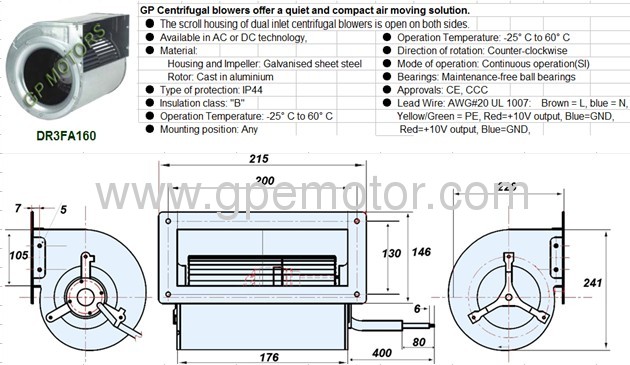 Brushless EC Fan
Technical features


· A highly efficient 24/48/56 VDC motor
· External rotor motor
· Full on-board electronic
· Locked Rotor protection
· Constant speed, volume, pressure options
· Fully controllable through 0-10V/PWM signal
Examples where GP Products are used include
OEM Applications: Make up air units, Energy Recovery Units, Furnaces, Clean Room Applications, pharmaceutical applications, Heating/Air Conditioning Units, Air Curtains.
Plant Ventilation/Exhaust, Paint Booth Exhaust, Restaurant Exhaust, Restaurant Make Up Air,
Office Ventilation, Heating/Cooling for Buildings or Homes, Fume Hood Extraction.