How to Dry Wet Carpet?
If you have a small area rug or carpet that is wet, the best thing to do it is remove it from the floor and hang or lay it outside until it dries completely. However, if you are dealing with wet wall-to-wall carpet, or a carpet piece that is too large to remove, you may need to try to dry it where it lays.
you have four choice as blow:
Step 1: Call in a professional carpet company to deal with the problem.
Step 2: Use a wet vac or a carpet steam cleaner to remove the water from the carpet.
Step 3: Pick up a corner or side of the carpet to get a better look if it feels like there is still water under the carpet.
Step 4:
Using Air mover / carpet dryer to dry the pad without removing the carpet if the pad seems to have only gotten a little damp and the subfloor seems dry.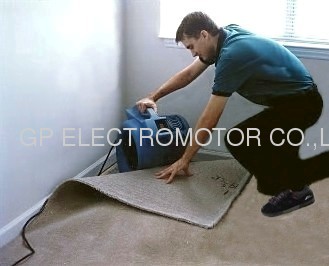 Step 5: Remove the carpet and pad for drying if you find the pad is soaked and the subfloor is wet.
GP Air mover / Carpet dryer creates continuous, high velocity airflow for fast, efficient drying of carpets, pads, floors and walls, helping to eliminate mildew, bacteria growth and other odors.Also, great for powerful, durable and lightweight. it is equipped with a thermally protected motor with safety circuit breaker, and a water resistant cord. The blower also features a balanced carry handle for easy portability, and is stackable for convenient storage.
Air Mover, Carpet Dryer, Floor Dryer, Turbo blower, floor blower, carpet blower, air dryer, air dancer blowr, infatable blower, plastic portable blower, Pet dryers
Features:
Blows air at 3 separate speed settings for customizable drying per job setting.
4 operating angles allow you to blow air across the ground, at a 45° angle, and straight up into the air.
Tough polypropylene shell withstands abuse and is lightweight.
Recessed 3-speed switch is protected from damage.
GAM listed fan is perfect for the restoration industry as the GAM listing is proof of product safety.
Unit is stackable on its side, up to 4 units high, for storage & transport.
1 year warranty on injection molded housing and 1 year on the motor.
Specifications:

Model
Power (hp)
V/Freq. (V/Hz)
Airflow (CFM)
Speed (RPM)
H
M
L
H
M
L
GAM08-1/3
1/3hp
115/60
1180
1080
980
1090
990
890
GAM08-1/2
1/2hp
115/60
1260
1150
1050
1130
1040
980
GAM08-3/4
3/4hp
115/60
1650
1450
1350
1650
1450
1350
GAM08-1/2
1/2hp
230/50
1500
1390
1270
1380
1280
1180
GAM08-3/4
3/4hp
230/50
1550
1450
1300
1430
1350
1200
Adjustable Angle of airflow(o)
Current (A)
Blade/Wheel
N.W (kg)
Packing (cm)
H
M
L
0/15/45/90
3.4
2.7
2.2
Metal / plastic
12
47x44x47
0/15/45/90
5.4
3.5
2.7
Metal / plastic
12.5
47x44x47
0/15/45/90
7.5
6.7
6.2
Metal / plastic
13
47x44x47
0/15/45/90
2.2
2
1.8
Metal / plastic
12.5
47x44x47
0/15/45/90
2.9
2.2
1.9
Metal / plastic
13
47x44x47
Related air mover / carpet dryer fan blowre: