Micro diaphragm electric pump dc pump ,equipment supporting


Description:
This is a high quality Dc micro diaphragm pump, Widely used in generalindustry equipment, medical equipment, chemical equipment, farming (lawn andgarden), tour vehicles, special vehicle, ship, beverage, vehicle cleaning,carpet cleaning, ground cleaning, water purification and water treatmentequipment.
Features:
Suction lift:2.5m
Outlet pressure:0.85MPa
Head: 60m
Flow: 300LPH
Motor lifespan:3-5years
High quality, heavy duty pump
Gather good advantage of self-priming pump and chemical pump
Corrosion Resistant, Can work in bad environment
High temperature protect
Work stability, can running no-load and work for long time
High pressure
Low consumption
Intelligent: Pressure Switch Control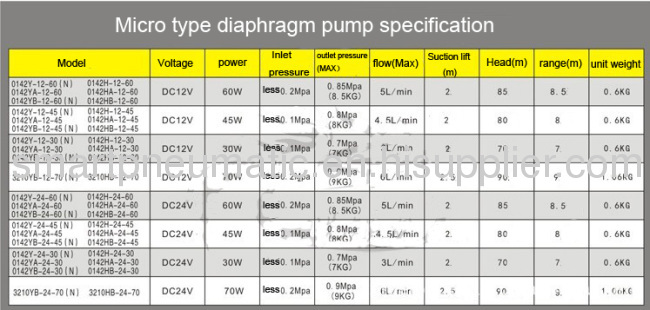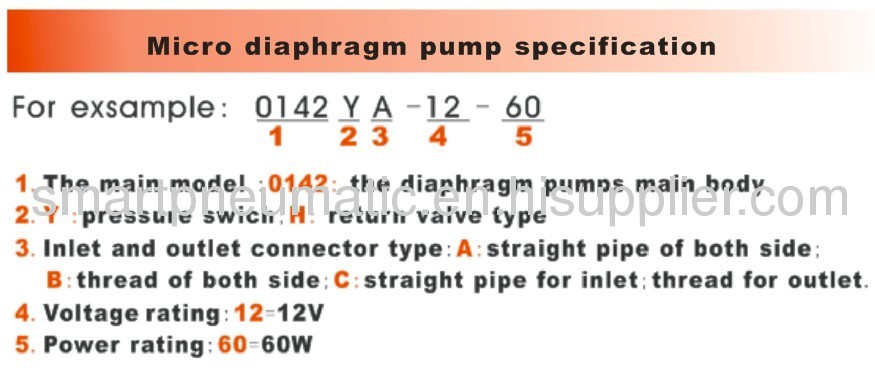 company frofile
Our company is specialized in manufactuing all kinds of valves,hydro-pneumatic components,alumium parts and plastic parts.Our main products are including pneumatic cylinder,solenoid valve,air filter,air regulator,air lubricator,pneumatic fitting,hydraulic fitting,tubes etc.as below;
*ISO Standard Cylinder:DNC/SI(ISO6431&6432)
*Standard Cylinder:SC/SU,
*Mini Cylinder:MAL,MA,,MI,CJ2B,CDM2B
*Compact Cylinder:SDA,CQ2
*Cylinder:CU,TN,STM,MGP
*Solenoid Valve:3v1,3v,4v,4M,3A,4A ,etc
*Air Source Treatment Unit:A,HA,HNA,T,A/B,etc
*pneumatic accessories:fitting,hand valve,muffler,tube,pressure switch
NINGBO SMART PNEUMATICS' sprit:
we will give you the best quality, the competitive price, the quick delivery, the perfect service. Our goal to customers is "Always Smart Solution for your Automatic System."