Product Name: 60ml Boston Round PET bottle personal care plastic container daily care cosmetic package serum bottle Plastic PET package transparent clear bottle PET Lotion bottle water bottle
Item No.: PLB902 60ml

Specification
Neck Size: 20/410
Capacity: 60 ml
Height: 105 mm
Diameter : 33 mm
Weight: 10 g
Packing details: 784 pcs per carton.
Carton Size: 46.8cm* 46.8cm* 49cm
Product Information:
Colours Available: Bottle in any color; Transparent, Semi-transparent and Solid.
Available w/Silk Screen printing; Hot-stamping; Soft touch coating; Shrink wrapping; Labeling.

Container Specification:
Container Sub Type: BOTTLE, PET .
Container Shape: Cylindrical, Boston Round
Container Material: Plastic-PET Bottle .
Production process:
PET bottle: Injection molding and Blow molding
Application:
Cosmetic Package, for serum, body lotion, skin lotion, hand sanitizer, Hairdressing gel and so on.
Additional Information:
Decoration Notes: Bottle in any color; transparent, semi-transparent and solid.
Closure-Method: flip-up cap; screw on cap; disc top cap; sprayer, lotion pump, PP cap, Aluminum plastic cap, Aluminum screw cap ; Aluminum disc top cap , and so on.

Payment:
TT Bank transfer , Western Union, Credit Card, etc.
Note:
1. Large stock for fast shipping.
2. Good quality with lower price.
3. Sample order & smaller quantity is ok.
4. Reliable quality assured.
If you want more detailed information of this product of related problems please contact with our online service. We will reply as soon as possible.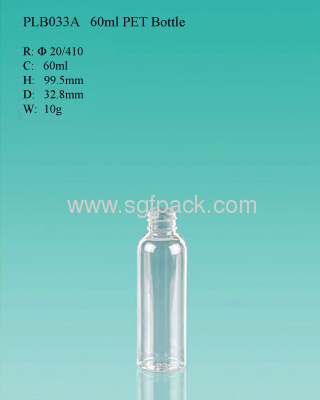 Similar products recommended
Boston Round PET bottle
Item No:
Capacity(ml)
Neck Size(mm)
Height(mm)
diameter(mm)
Weight(g)
PLB1002
30ml
18/410
71mm
29mm
5g
PLB1083
35ml
20/410
80mm
28mm
8g
PLB033A
60ml
20/410
99.5mm
32.8mm
10g
PLB902
60ml
20/410
105mm
32mm
10g
PLB922
100ml
24/410
114mm
40mm
18g
PLB229B
100ml
20/410
99mm
41.5mm
13g
PLB06C
110ml
20/410
119.5mm
38.2mm
13g
PLB190A
120ml
24/410
129.5mm
40.8mm
18g
PLB267C
120ml
20/410
137.5mm
37.9mm
13g
PLB523
120ml
24/410
135mm
39mm
18g
PLB915
125ml
20/410
123mm
45mm
13g
PLB524
150ml
24/410
145mm
41mm
18g
PLB20C
180ml
24/410
146mm
45.5mm
23g
PLB525
200ml
24/410
146mm
48.5mm
23g
PLB1124
200ml
24/415
163mm
46mm
19g
PLB301A
236ml
24/410
172mm
47.3mm
23g
PLB218A
245ml
24/410
172mm
47.3mm
27g
PLB526
250ml
24/410
168mm
49mm
23g
PLB937
250ml
24/410
172mm
48mm
23g
PLB126A
270ml
24/410
132mm
58.7mm
32g
PLB49A
270ml
24/415
172mm
51.4mm
23g
PLB212A
280ml
24/410
190mm
48mm
27g
PLB1085
300ml
24/410
168mm
53mm
27g
PLB527
350ml
28/410
180mm
58mm
35g
PLB118A
400ml
24/415
177mm
62mm
32g
PLB917
400ml
24/410
203mm
55mm
35g
PLB58A
470ml
24/410
171mm
68.4mm
32g
PLB1058
500ml
24/410
204mm
64mm
18g
PLB84A
500ml
28/410
204mm
64mm
18g
PLB268A
500ml
28/410
183.5mm
65.4mm
27g