all-new user-friendly CL-131
powder coating equipment
helps you achieve highest productivity at the
best
powder coating finishing
manual coating equipment
Electrical data
Nominal input voltage 230-240 VAC
(110-120 VAC)
Frequency 50/60 Hz
Input value 150 VA
Nominal output voltage (to the gun) max. 12 V
Nominal output current (to the gun) max. 1 A
Protection type IP 54
Temperature range 0 to 40°C
(+32 °F to +104 °F)
Approval
Pneumatical data
Compressed air main connection G1/4'' - internal thread
Max. input pressure 10 bar
Min. input pressure 6 bar
Max. water vapor content of the compressed
air 1,3 g/m³
Max. oil vapor content of the compressed air 0,1 mg/m³
Max. compressed air consumption 11 m³/h
Connectable guns
COLO-06 OR COLO-03 manual spray gun
Manual Fluidizer Unit
Ideal for flexibility and economy for medium to large production runs
Using a standard round feed hopper, this unit provides excellent fluidization properties
for the majority of powder applications.
Features:
• User accessible, cart-mounted regulator for controlling hopper fluidization pressure
• Two pump ports on hopper give the user flexibility to use one or two guns on each
unit.
• Powder coated hopper body and lid, to insulate powder from metal and speed-up the
cleaning process
• Quick release clamp allowing easy breakdown for fast clean-up and color change
• Optional powered vent assist
• Large rear wheels on cart for easy maneuvering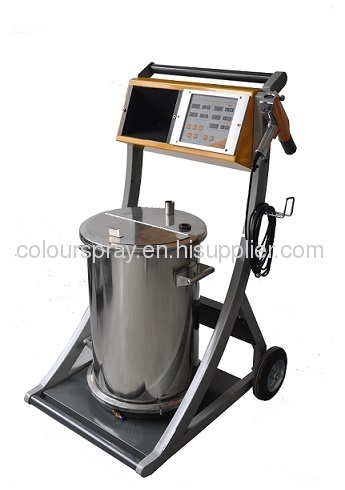 Robust, easy-to-use gun and controller offer proven performance, exceptional versatility and high transfer efficiency in everyday coating applications.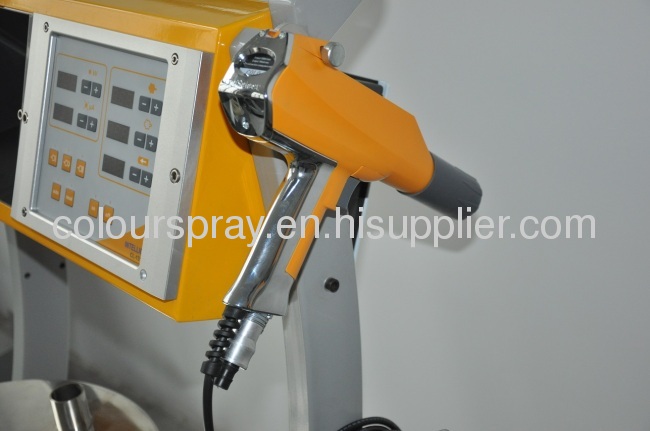 control unit
The DVC technology ensures a precise and constant powder
delivery and this results in a more uniform distribution and lay down of
powder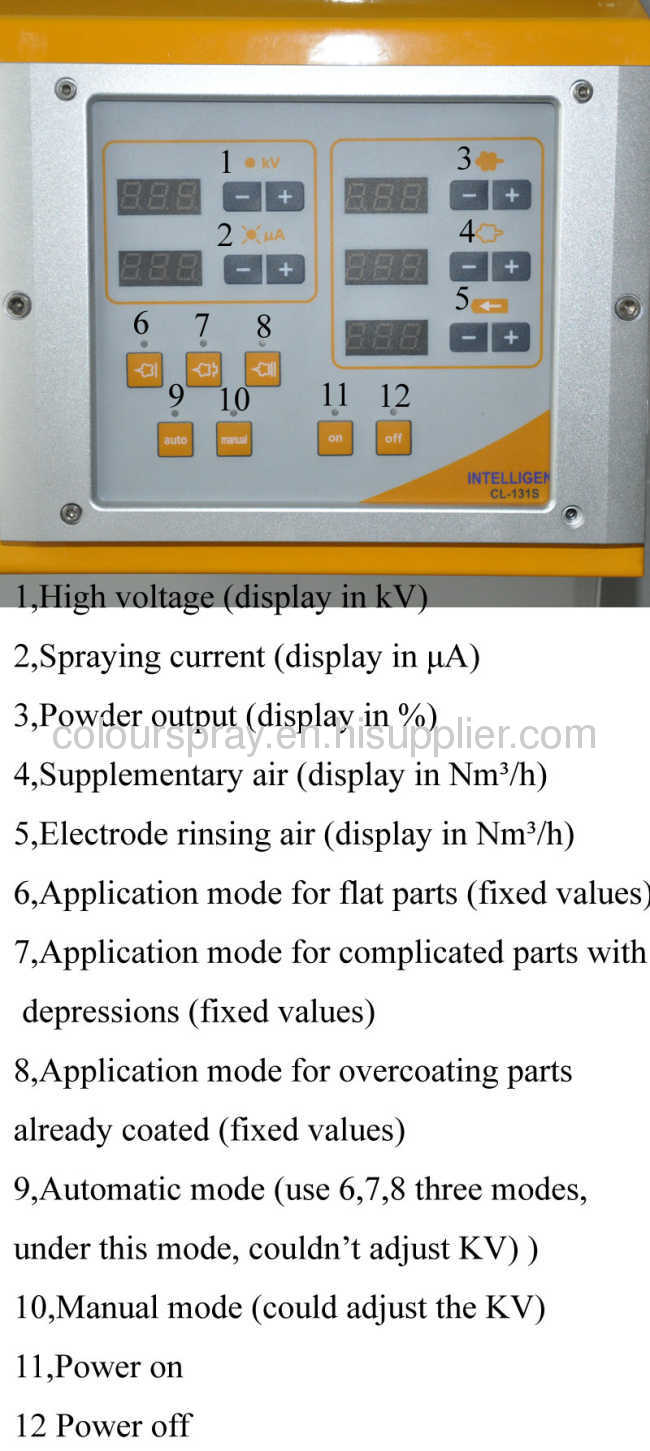 Electrostatic Spray Guns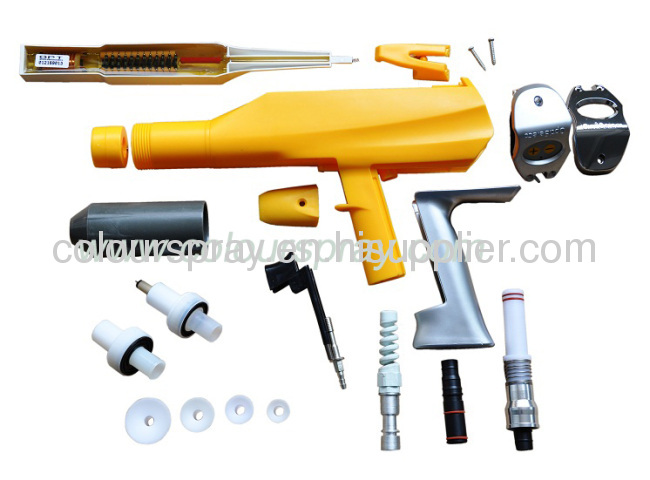 Save powder
The integrated 100 kV cascade delivers the highest transfer efficiency. This
means more powder on the work piece, less powder in the reclaim system!

Powder spray gun --colo-06 type also avaible with small powder cup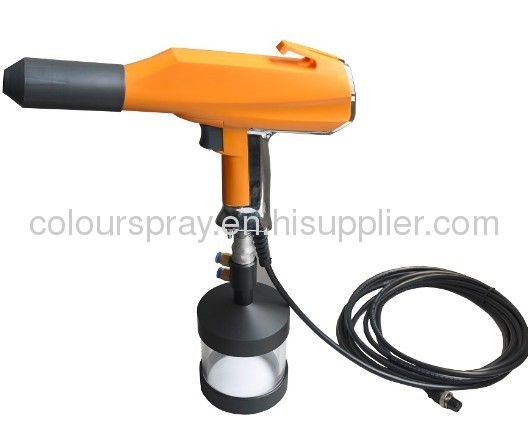 Fatigue-free operation
The manual gun is perfectly balanced and weighs
just 520 grams. You can work for longer,
- Quick-release powder hose connector for
easier maintenance and cleaning
- Compatible with metallic powders
- Reduced maintenance costs thanks to the
wear resistant design
electrically conductive carbon strip powder hose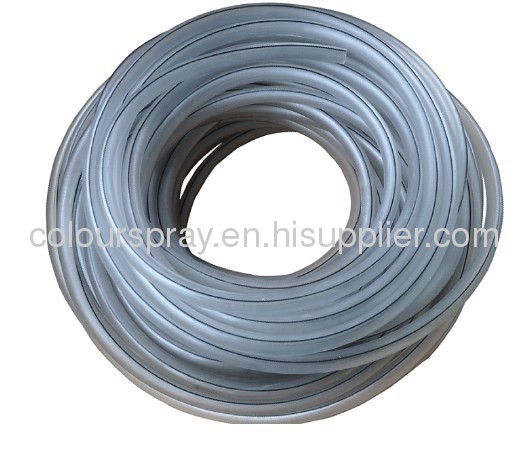 Ideal for large powder quantities
- Compatible with all powder types
- 50-litre powder container
with fluidization
- Easy cleaning of the container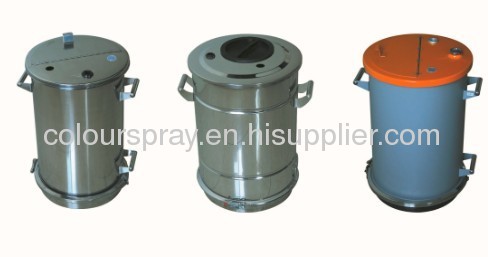 A. Hopper
1.Remove fluidizing AIR LINE
2.Remove injector
3.take our suction pipe
4.wipe the electric line , AIR HOSE .and powder hose cleanly with cloth
5.wipe the suction pipe clean
6.empty the remaining powder from hopper
7.clean the hopper s inner wall ,especially the bottom part , with vacuum cleaner
8.wipe the hoppers inner surface with clean cloth
9.replace the hopper to the original postion
CAUTION: the hopper must not be filled with powder unit work begins , Above all , the hopper s inner surface must not be cleaned with thinner or water
High Quality
powder injector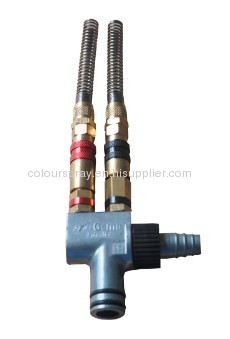 From relatively simple manual systems to sophisticated, programmable colo powder coating application technology improves efficiency, flexibility and productivity for manufacturers worldwide.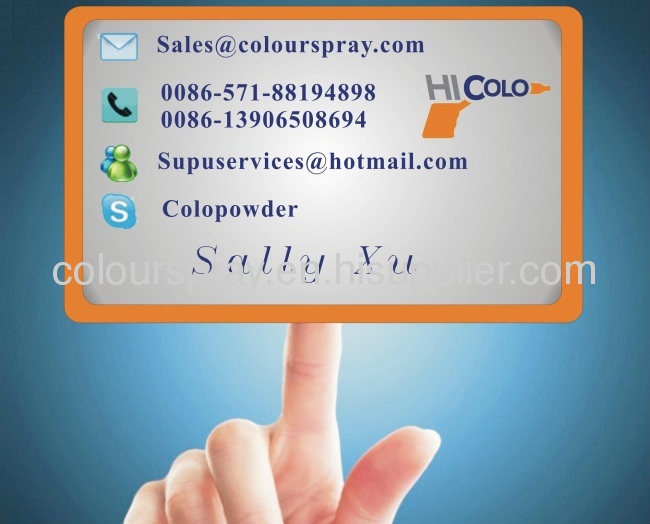 WARNING
--INSTALLATION
→Propery ground all equipment in the spray area to an earth ground and maintain this ground
→Remove all containers of volatiles from the spray area
→Establish and maintain a grounded area for the spray operator
→The gun of x series must be connect to x control unit
→OPERATION
→The operator should hold the gun in his bare hand
→If gloves are worm ,the palm should be out to assure skin to metal contact
→The operator should wear shoes with conductive shoes e.g leather
Rubber shoes are not conductive .
→Ground the tip of the gun before cleaning or changing nozzles.
→When the gun is not in use , it should be hung so that the nozzle is within four inches of a grounded conductor
→The operator should wear a filter-type respiator anytime he is exposed to dusty conditions
→High pressure powder many cause injury ,Keep the rear switch "off" position in no –use condiction
→MAINTENANCE
→Make a periodic confirmation of grounding to earh of all equipment in the spray area .
→Exercise good housekeeping practices , do not allow dirt or powder to accumulate on the feeder /powder unit , cable or gun.
→Keep the cabinet door
PERSONNEL
→Use saop and water to remove powder from the skin washing with solvents can cause reactions resulting in allergies and disourders.
→Wash hands before eating and smoking.
→Do not use compressed air to blow poder off the hands and clothing.
This practice may result in damage to the ear drums or eyes.
2. INSTALLATION
→Connects the control units MAIN AIR to MAIN AIR(REGULATOR) output unit with air hose
→Connects the control unit DOSING AIR to INJECTOR with air hose
→Connects the FLUIDIZING AIR (REGULATOR )output unit to HOPPER with air hose
→Connects the control unit AUXILIARY AIR to GUN with air hose
→Connects the POWDER HOSE to INJECTOR
→Connects the GUN CABLE to CONTROL UNIT with air hose
→Connects ground connection cable from ground nut to the booth and trolly
→Connect main powder cable
| | | | | |
| --- | --- | --- | --- | --- |
| Workpieces type | Output voltage | 1ST air | 2sec air | Painting distance |
| Big size new | 80-100kv | 4-6kg/cm2 | 2-3kg/cm2 | 15-20cm |
| Corner,sides | 40-60kv | 2-3kg/cm2 | 0.5-1 kg/cm2 | 10-15cm |
| repaint | 20-30kv | 2-3kg/cm2 | 0.5-1kg/cm2 | 15-20cm |
TROUBLES
Problem

Cause

Measure

High –voltage display does not operated even after powder is on and trigger is pulled

. Electric faulty-The electric line coming into CONTROL UNIT is not property connected

. Faulty fuse and bad equipemnt on the part of external power source .

.Faulty lamp.

.Faulty printed circuit board(PCB)

.Faulty line in GUN

.Faulty in high-voltage generation part

.Faulty trigger switch

. connect the power

Replace

Preplace

Preplace

Preplace

Preplace

Preplace

Preplace

The powder would not be fluidized

.The fluidzing air hose is not

connected or compressed air is not input

. Faulty fluidizing plate

. Faulty operation of pressure reduction valve

.Connect after checking

.Replace

.Replace

The gauge hands of CONVERYING AIR and DOSING AIR do not move during operation

.operation mistake:

The power switch is not pressed

.The trigger is not pulled

.Faulty SOLENOID valve

.Faulty PCB

. Turn on the power switch

.Check while pulling the trigger

. Replace