We not only offer high pressure hydraulic hose and also supply high pressure hoses that used for air. High pressure air hoses are widely used in underwater diving, for example scuba diving. It is an important and part of diving dress and other types of surface supplied diving equipment. In the other hand air hoses can be used for air brakes between tractors and semi-trailers. The air high pressure hoses can work in the operating pressure in excess of 300 bars that are 30Mpa and 4400 psi.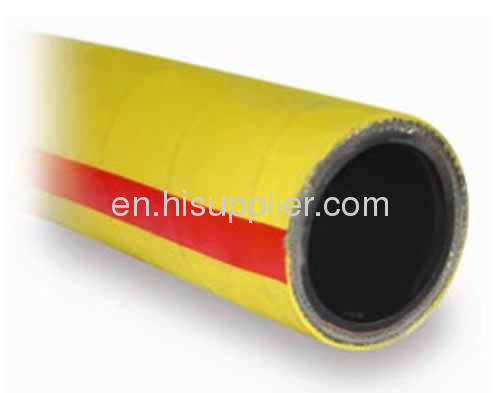 High pressure air hose with steel reinforcement
In the following we will introduce two types of air high pressure hoses: high pressure steel reinforced air hose and PVC air hose.
High Pressure Steel Reinforced Air Hose
Application:
Durable hose for compressed air which contains particles of lubricant.
It's suitable for use in quarries, mines, tunnels, and construction of roads.
Indicators:
Braided steel wire can be used in extreme high pressure conditions
Sleeve, well distinguished color painting of the outer layer of rubber
Operating temperature:-35 ° C to +80 ° C
Safety factor: 5: 1
Inner layer: SBR, black, smooth. It's suitable for air containing oil
Reinforcement: steel wire braid
Outer layer: SBR, yellow. It's abrasion-resistant, weatherproof, and cloth impression.
Specifications
Inner diameter
(mm)
Inner diameter
(inch)
Wall thickness
(mm)
Outer diameter
(mm)
Operating pressure
(bar)
Number of inserts
Bending radius
(mm)
13.0
1/2
5.6
24.2
40
1
65
25.4
1
6.4
38.2
40
1
125
38.0
1-1/2
7.5
53.0
40
2
190
50.8
2
8.0
66.8
40
2
260
PVC Air Hose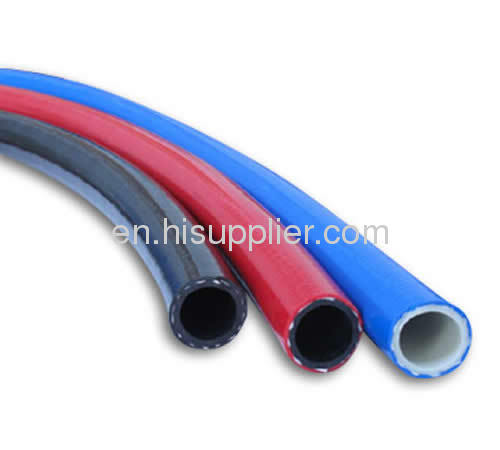 High pressure air hose in the material of PVC
PVC air hose is also called high pressure air hose tubing.

Construction and features:
The middle layer is made of high strength synthetic fiber.
Inner and outer layers are made of PVC compound material. They have high pressure resistance,good flexible and excellent durability, weather resistant, and chemical anticorrosion.
Application: general used on high-pressure industrial applications, compressed air in garages and service stations, factory air lines, pesticide spraying, automation machinery and pneumatic lines, etc.
Working temperature ranges from -10°C to +65°C.
Specifications
Size (inch)
ID
OD
Weight
W.P.
Length
inch
mm
inch
mm
Lb./ft.
Kg/m
psi
MPA
m/roll
1/4
0.26
6.5
0.47
12
0.073
0.109
300
2.0
100
9/32
0.30
7.5
0.51
13
0.081
0.121
300
2.0
100
5/16
0.33
8.5
0.55
14
0.089
0.133
300
2.0
100
3/8
0.39
10
0.63
16
0.113
0.168
300
2.0
100
1/2
0.51
13
0.79
20
0.166
0.248
300
2.0
100
5/8
0.63
16
0.98
25
0.266
0.397
300
2.0
100
3/4
0.75
19
1.12
28.5
0.325
0.485
300
2.0
100
1
0.98
25
1.36
34.5
0.408
0.6.8
220
1.5
50
1-1/4
1.26
32
1.73
44
0.658
0.981
220
1.5
50
1-1/2
1.50
38
1.97
50
0.762
1.136
220
1.5
50
2
1.97
50
2.52
64
1.151
1.716
150
1.0
50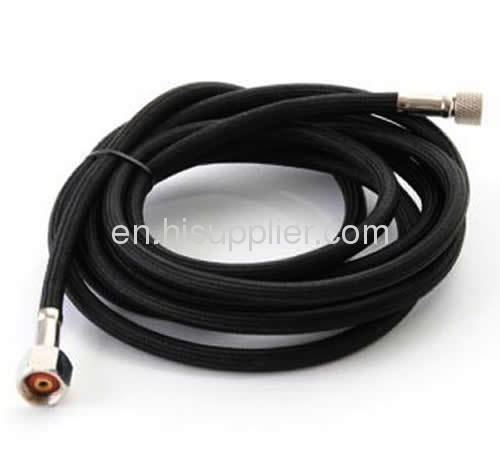 High pressure steel reinforced air hose