Cylindrical roller thrust bearing

These bearings consist of rings with raceways (shaft washer and housing washer) and cylindrical rollers and the cage assembly. The contour surface of the cylindrical rollers makes the even distribution of the pressure between the rollers and rolling surfaces. They can carry axial load in single direction.

Hoyi is able to produce cylindrical roller thrust bearing from bore diameter 120mm up to 1000mm.

Description:
1. The main components of cylindrical roller thrust bearing; the cylindrical roller and cage thrust assembies, the shaft washers, and the housing washers.
2. The cylindrical roller thrust bearings are simple in form and design. The bearings are produced in single row and double row designs.
3. The cylindrical roller thrust bearings are suitable for arrangements that have to support heavy axial loads.
Features:
low axial section height,
high load capacity,
high rigidity and can support axial forces in one direction
restricted tolerances
Cylindrical roller thrust bearings are designed to operate under heavy axial loads at moderate speeds. They are relatively insensitive to shock loads, are very stiff and require little axial space. As standard they are available as single direction bearings and can only accommodate axial loads acting in one direction.

Cylindrical roller thrust bearings are of separable design, the individual components can be mounted separately. These bearings do not permit any angular misalignment between shaft and housing nor any errors of alignment between the support surfaces in the housing and on the shaft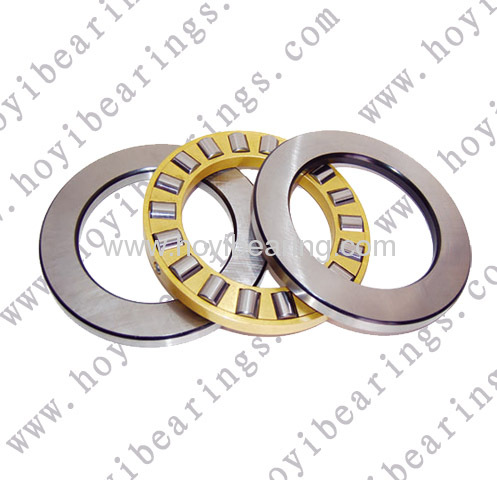 Roller Thrust Bearing