Electric Slicer/Shredder
1. Premium brushed metal finish
2.Including 5 cones,5 colors,5 functions(finegrater,coarse grater,fine slicer,thick and rough slicer
3.Wide spout so that ingredients can beintroducted easily without having to cut them into small pieces everytime.
4. A multi-purpose appliance for quick and easygrating or slicing of fruits,vegetables,cheese
(gruyere andparmesan),walnuts,chocolate...
5. Direct service:the preparations go directlyinto the salad bowl,ready to be served.
6. Very compact:the 5 cones are storeddirectly in the appliance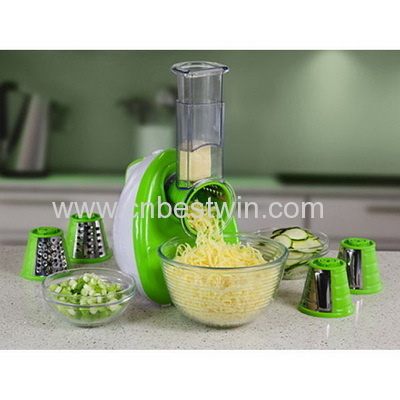 Electric Slicer / Multifunction 5 Blades Electric Slicer / Kitchen Slicer / Salad Maker
Slow juicer is a next generation juicer that preserves more vitamins andantioxidants using our Screw technology. Slow juicer will allow you and yourfamily to enjoy fresher, more flavorful and more nutritional juice everyday.
Higher yields - in-house testing found the Savtm Slow Juicer yielded 50% morejuice than a centrifuge juicer in 50% of the time
Economical - Get the greatest amount of juice from the least amount offruits. Peels and skins can be also used in various pastries, jams, soups,etc.
Better Juice, Healthier Juice - Enjoy more antioxidants, better flavor andsuperior freshness of your juice. No frothing or foraming, and none of theseparation that occurs with other juicers.
Self Cleaning-Simply pours water through to self clean the juicer whenchanging to another fruit, vegetable of leafy green. Save time.