XF Black Ashtray Poker Scanner| Poker Analyzer| Infrared Camera| Poker Cheat Devices| Side Marked Cards
Description:
Cool black ashtray poker scanner was pushed to market as the representative new products of this season, it owns most advantage of the normal infrared camera for poker predictor, excellent transmitter,cool and smooth surface,can made different distance to scan the cards, etc.
Function:
A micro wireless infrared camera was installed in the base of ashtray,it can scan the cards freely and transmit the picture back to poker analyzer, excellent poker cheat scanner for poker game.
Distance: 30-40cm
40-50cm
50-60cm
Estimate working hours: about 3 hours
Accessories: 1 remote control,1 charger wires,1 charger
Advantage:
1.Not easy to arouse curiosity of other people.
2.Use remote to control the lens turn on/off.
3.Single person operation, no need any other partner.
4.Support all levels of poker analyzer from XF
How to use:
The user need to turn on the switch of IR camera which hidden in the base of ashtray.Then the marked cards need to be scanned in the correct distance.All right, the analyzer will report the poker game result to the user within 0.3second so that the user can decide to continue or give up the game.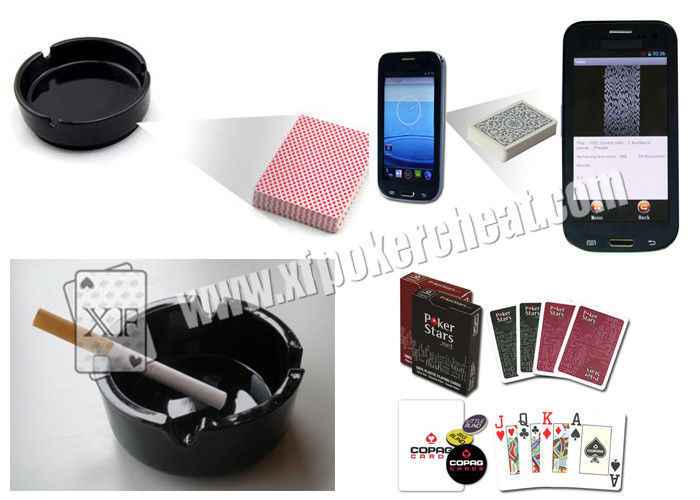 marked cards | poker cheat devices| poker analyzer| poker scanner |
infrared camera | cards cheat | contact lenses | invisible ink | marked playing
cards china | poker cheat | texas hold em cheat | Omaha Cheat | cheat in poker |
cheat in gamble | best cheat system in poker| poker glasses| Copag 1546 marked cards|
Fournier marked cards | Omaha 4 cards cheat| Omaha 5 cards cheat| infrared poker scanner|
hidden bar code| wireless remote control dices| perspective dices bowl| cheating device
in poker game| Bee Premium cards| Bee Glub Special No 92 paper cards | Bicycle Prestige
paper cards| Modiano bike marked cards| KEM marked cards| phone infrared camera| poker chip
tray camera| Luminous marked cards|poker predictor| magnetic dices| perspective dices cup|
clothes hidden camera| cheat in casino Want something you do not see in our list? Just
e-mail us and we can probably get it for you.