The advantages of DKE0557
Segment code 6 digital LCD for fuel dispensers TN positive
Welcome costome design and sample for custom.We have LCD panels and modules of TN,STN,HTN and FSTN.
.Viewing angle:6o'clock
.Operating temp:-30~80
.Driving mode:STATIC
.Display mode:TN,Positive,Transfective
.Outline size:187.3*59.0mm
.Viewing size:180.7*44.3mm
.Connector:70PINS
.Welcome your inquiry
2.Special Features:
LCD display type:TN/HTN,STN,FSTN,VA etc.;
Display modes: positive and negative;
Polarizer mode: reflective/Transmissive/Transfusive;
Viewing direction: 3 O'clock/6 O'clock/9 O'clock/12 O'clock;
Operating voltage: 3V/5V or request;
Drive method: Static,1/2 duty, 1/3 duty,1/4 duty,1/6 duty,etc;
Operating temperature: 0 to 50°C,-10~50°C,-20~70°C,-30~80°C,-40~80°C;
Connector: PINS,ZEBRA,HEATSEAL;
Glass thickness: 0.55, 0.7 and 1.1mm;
Main application:Fuel dispenser,Automotive Electronics,Energy Meters.
Other main products:COG Module,Dot-matrix Module,LCD auto Dimming Rearviiew Morror,Electronic Shelf Label,Light Vale,TFT Module;
3.related product for your choice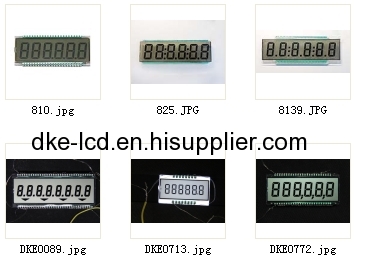 Many standards products,welcome customized according to your request...
DKE LCD CO.,LTD
Contact:Joy Wang
Manufacturing:No.20,Liaohedong Road,DD Port,Dalian,China.
Tel:86.0411.8740.7681 ext818.