1.Product name:Grip go car phone mount/Grip Cell Phone Holder/Gripgo/gripgo cell phone holder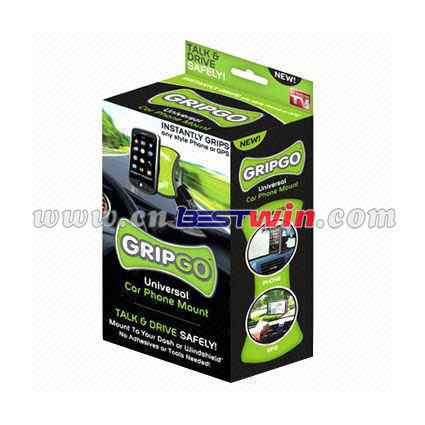 2.Product description:
Gripgo is actually a pretty simply-designed device, but it still delivers results. One end is a large suction cup that attaches to your windshield. It fits well and is very sturdy, so you don't have to worry about it falling off while you are driving. The other end is built to hold your mobile electronic device. It is a pad that is lined with a great deal of tiny suction cups, so there are no sticky adhesives that will leave residue on your device. These also seem to work very efficiently, and they grip your device tight enough so that it does not fall while you are driving. The suction cups make it easy for you to peel the device off of the pad. The pad also spins 360 degrees, so you can turn your device horizontally or vertically, which seems like it would be very useful. How well these mechanics work overall is described in the following section!