Household Product Side Socket as seen on tv / Side socket as seen on tv
Feature of side socket:
Six-Outlet Swivel Surge Tap
Phosphor Bronze contact, service life is over 50,000 times
ABS material
side socket
Advantages of Side socket:
Type:HLD-Universal Socket and extension socket
1 current:10a
2 Spring qualities,high fatigue and corosion resistant phosphor Bronze contact
3 Durable fire retardant construction ABS materials
4 Ultra-wide spacing and novel design
5 Streamlined appearance ,simple and generous
6. W/iso9001:2000, RoHS, CE, CCC
7. Optional color
8. Pure copper & insulating pvc power cord
9. factory price
10. on time delivery.
The Side Socket as seen on TV is a surge protector that swivels a full 90 degrees. With this product, consumers can organize all the power cords in any garage, office or home while at the same time tripling the amount of socket space available.
Most power outlets are behind pieces of furniture in a tight place that makes it difficult to plug in electronic equipment. Bulky cables eliminate the possibility of moving furniture up against walls.
The Side Socket is the solution to these problems. The device swivels to either side allowing homeowners to place furniture against walls without bending the cords.
Users can maximize the space available by taking advantage of the swiveling Side Socket. This also angles cords to one side making it more convenient to plug and unplug appliances and equipment.
With the Side Socket, two outlets become six outlets, tripling the number of cords it can accommodate. The device protects expensive electronic equipment from electrical surges, which is an added benefit.
Consumers can take advantage of the buy one item and get one free by paying an additional postage and handling fee.
Household Product Side Socket as seen on tv / Side socket as seen on tv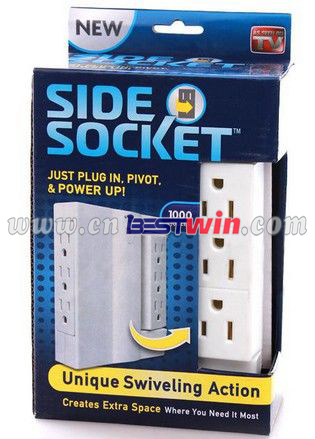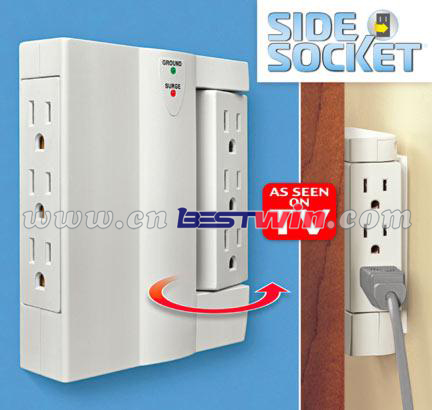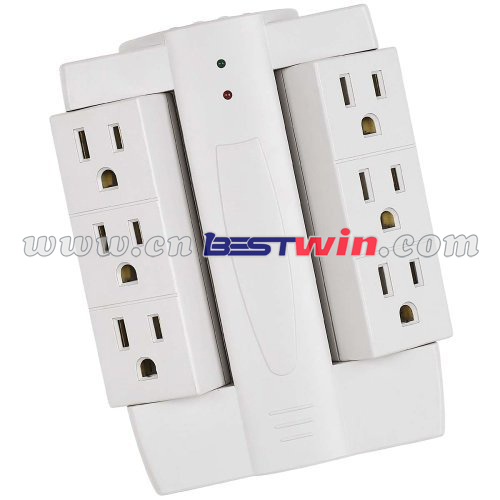 Household Product Side Socket as seen on tv / Side socket as seen on tv