crystal colored glaze lotus seat----- liu li art glass craft
Material: Liu li, lead crystal, colored glaze (pate de verre)
Style:Folk Art
Use: souvenir, art collection, feng shui office, home accessories
Theme:Flower
Regional Feature:Europe
Place of Origin:Shenzhen China (Mainland)
Brand Name:Artop
Model Number:ATA 01
Various sizes, logo, color are available.
Package:Gift Box or Safety Packing
MOQ:100
Feature:Factory outlet, high quality with lower price
Design style:Modern fashion fine
Customize:Accept custom
Production mode:OEM/ODM

Packaging & Delivery

Packaging Detail: one piece one box, simple box or good gift box with foam and silk cloth inside. also can provide other box according to client's requirements.
Delivery Detail: about 15 days after receive the deposit


We hope

We sincerely look forward to have the opportunity to cooperate with you to enlarge your market. If you are interested in our colored glaze products, please call or email us, we will reply promptly within 24 hours.

We promise here

We always put the quality at first consideration, every product check carefully before packing.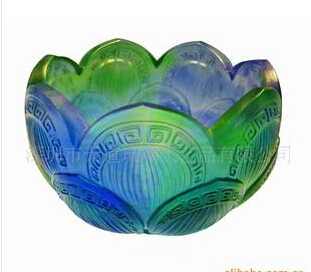 Colored Glaze Knowledge

In old days of China, glassware is generally called colored glaze. Its a kind of material that could be dated back from 3000 years ago, which was only used by regius people. Colored glaze is regarded as one of the most famous ware of China, as well as the treasure of Buddhism.

Nowadays, we take colored glaze as an auspicious material that would bring good luck, for both health and wealth.

Colored glaze can be defined as lot of crystal glass. It presents color when rare metal is melted under high temperature. It is reflected well under light, brilliant and but pure, with the intensity of colors and the myriad subtle shades. When passion or connotation is brought into every product, it comes a life with its singularity.
Colored Glaze Maintenance
1.Do not collide or scrape to avoid surface scar.
2.Keep in ordinary temperature. Do not keep under humid or high temperature. Do not heat or cool without professional instruction.
3.If put on smootThe world is full of riches and honour, with everything going well.
Justice calls in good portend; kindness brings bright future.
Good luck companies all wishes coming true!h surface, mat or cushion should be placed.
4.Polish by pure water. Keep colored glaze surface shinny and clean.
5.Avoids with contact of sulfur gas, chlorine to avoid chemical change.