factory supply galvanized barbed wire
Company Information
Company profile
Haotian Hardware Wire Mesh Products Co.,Ltd is specialized in the production of Temporary Fence series(swimming pool panel,temporary steel hoarding,fence clamp,fence feet,fence barce,etc) Crowd Control Barrier,Mesh Fence,Horse Panel,DogKennel,Gabions,Iron Decorative Mesh Fence with nice design,etc.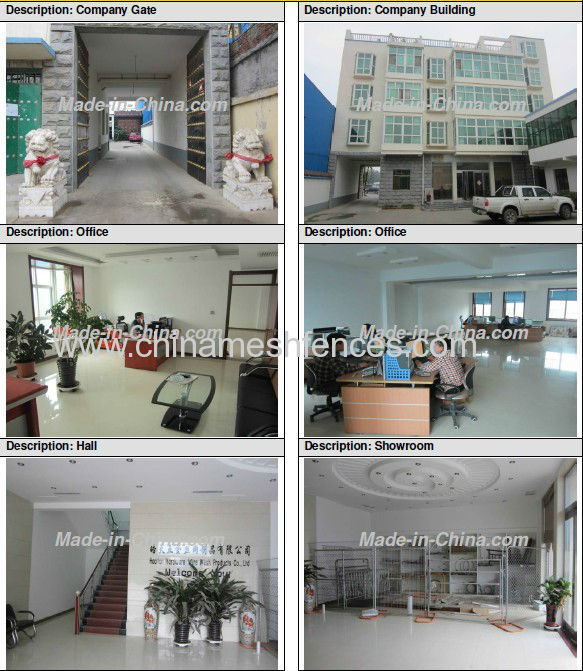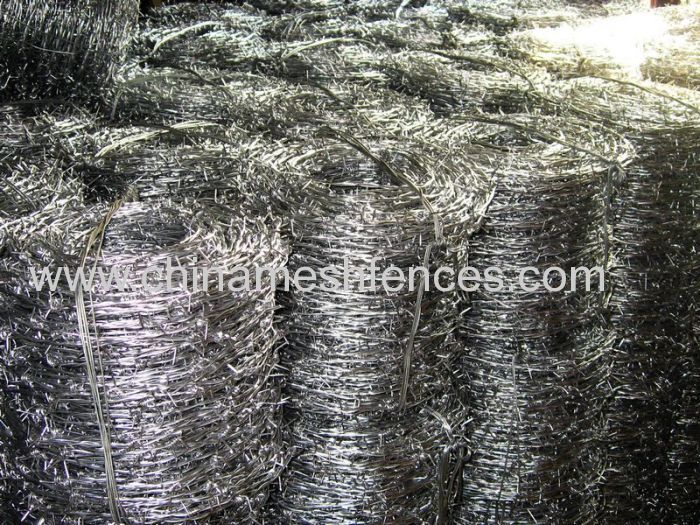 Product Description
1.barbed wire Material:
Galvanized steel wire,stainless steel wire, PVC coated wire
2.Types of Barbed Wire:
* Galvanized Barbed Wire
Galvanized barbed wire is used in defending of farm land, sport ground, or used together with concertina razor wire. Normally it's settled above the fence, for example chain link fence and welded fence, avoiding climbing across. Galvanized barb wire can also form a barbed wire wall with wooden sticks or iron sticks. The weaving methods are one main wire, one barbed wire; one main wire, twin barbed wire; and twin main wire, twin barbed wire.
* PVC Coated Barbed Wire
Core of PVC coated barbed wire can be galvanized iron wire
A variety of colors like green, blue, yellow, orange, gray
Packing: In coil of 25 kilos or 50 kilos , lined with PVC strips, then wrapped with P.V.C or hessian cloth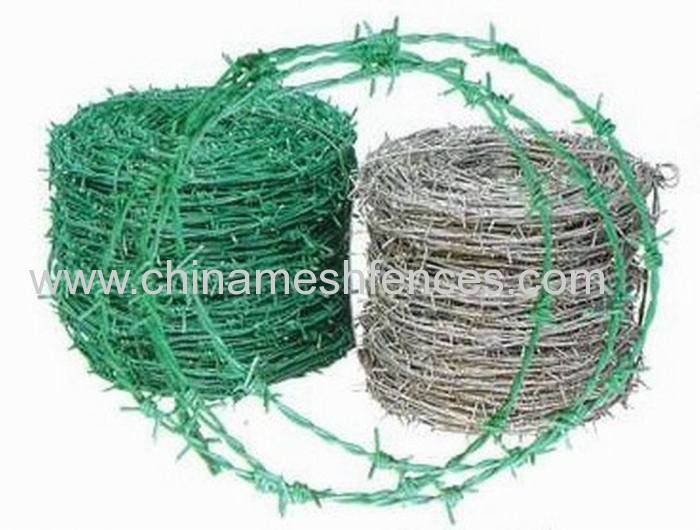 3.Barbed wire weave types:
1) single strand barbed wire,
2) double strand double twisted barbed wire;
3) double strand common twisted barbed wire

4.barbed wire Common application:
1. the protection net in industry
2.agriculture,animal husbandy,dwelling houses
3.plantation of fencing,grass boudary
4. ranch and livestock farn, detention houses
5.railways and highways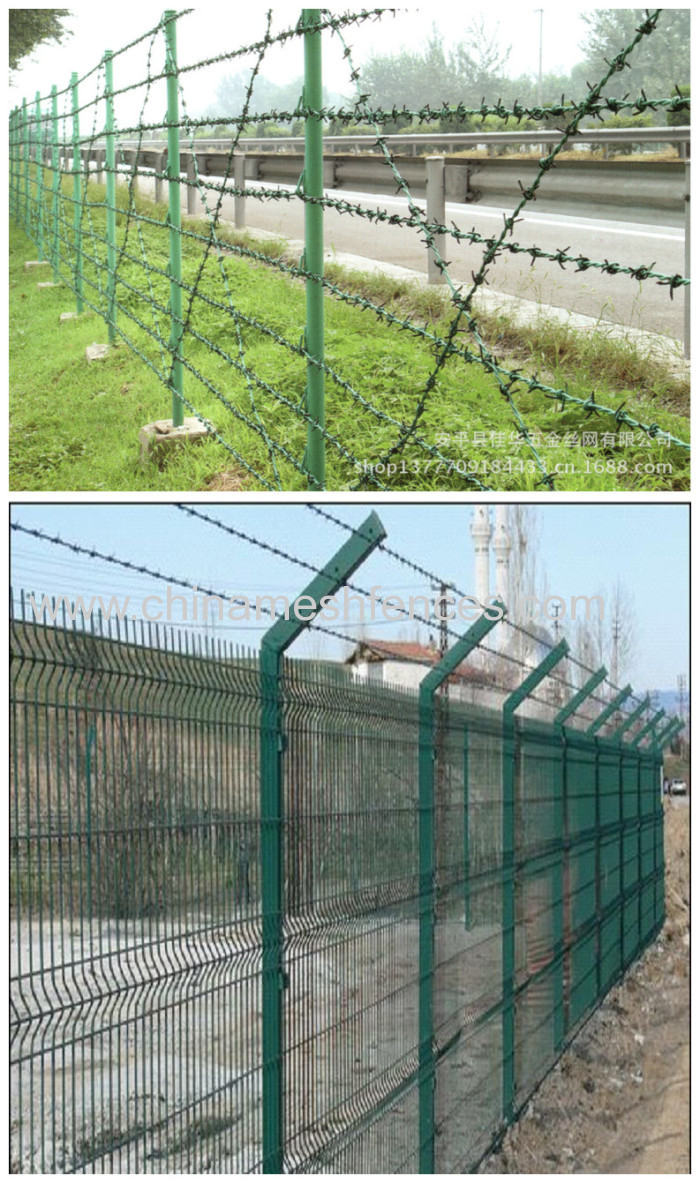 5. barbed wire information:
wire Gauge: 16#-12#
Barb Wire Gauge: 16#-12#
Barbed length:1-3cm
Barbed spacing:7.5-15cm
Weight:25kg,50kg
Weaving way: Twist, standard
Surface finished: Electro galvanized,Hot dipped galvanized,PVC coated
Weight of packing in coil: 25kg/coil,50kg/coil as standard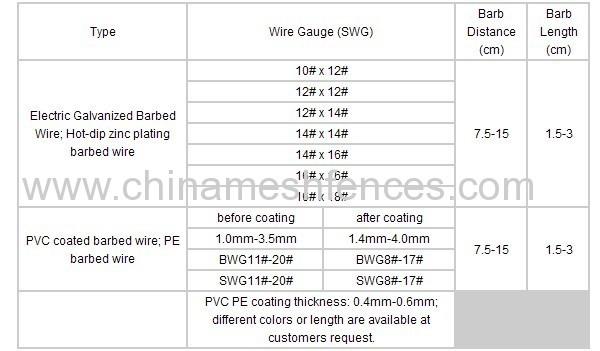 6. barbed wire Specification List:
Gauge of
Strand and Barb in B.W.G.

Approximate Length per Kilo in Meter

Barbs Spacing 3"

Barbs Spacing 4"

Barbs Spacing 5"

Barbs Spacing 6"




12x12

6.0617

6.7590

7.2700

7.6376




12x14

7.3335

7.9051

8.3015

8.5741




12-1/2x12-1/2

6.9223

7.7190

8.3022

8.7221




12-1/2x14

8.1096

8.814

9.2242

9.5620




13x13

7.9808

8.899

9.5721

10.0553




13x14

8.8448

9.6899

10.2923

10.7146




13-1/2x14

9.6079

10.6134

11.4705

11.8553




14x14

10.4569

11.6590

12.5423

13.1752




14-1/2x14-1/2

11.9875

13.3671

14.3781

15.1034




15x15

13.8927

15.4942

16.6666

17.5070




14x16

15.3491

17.1144

18.4060

19.3386



Note: Customer request acceptable.
7.Barbed wire Features:
* Barbed wire has the feature of extremely difficult to cut and hard to climb.
* Barbed wire is very strong and reinforced with a steel coil which makes it very hard to bend, while the barbs have a piercing and gripping action.
* Barbed wire enjoys good appearance.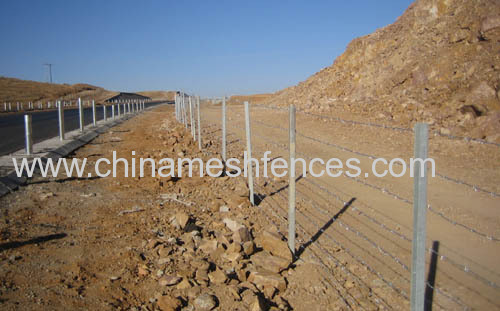 8.The process of barbed wire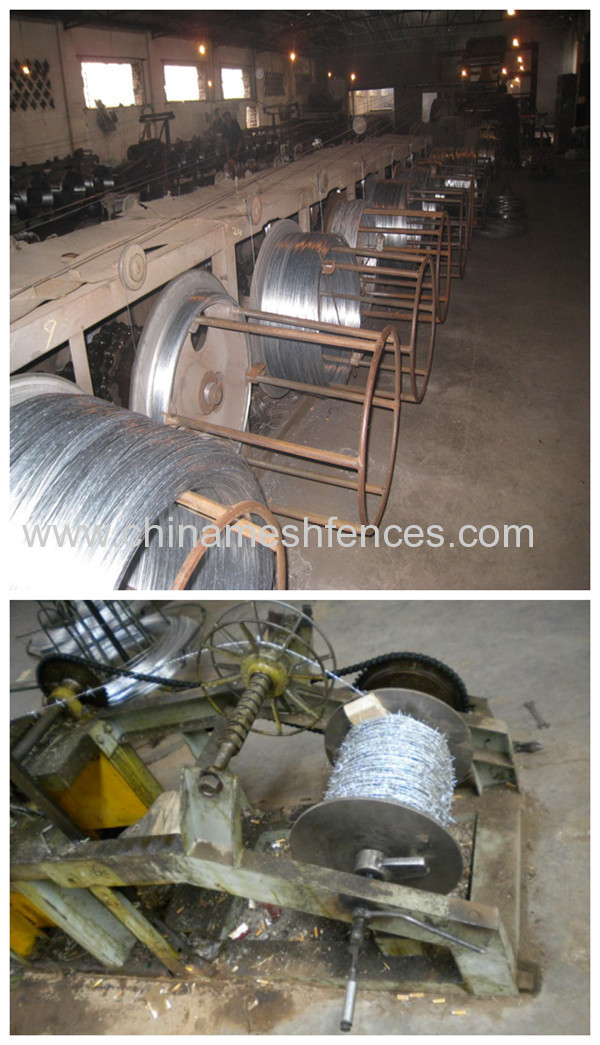 Packaging & Shipping
9.The packing of barbed wire
Plastic inside, hessian outside Plastic inside,waving bag outside
1)in nude 2)in iron axletree 3)in wood axletree ; 4) in wood pallet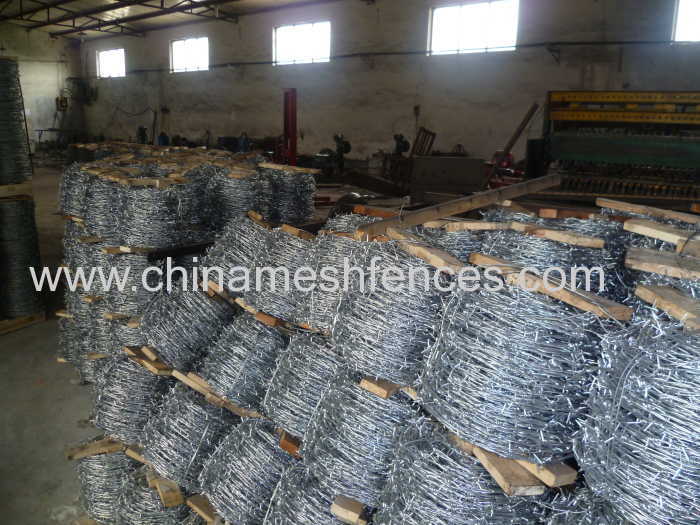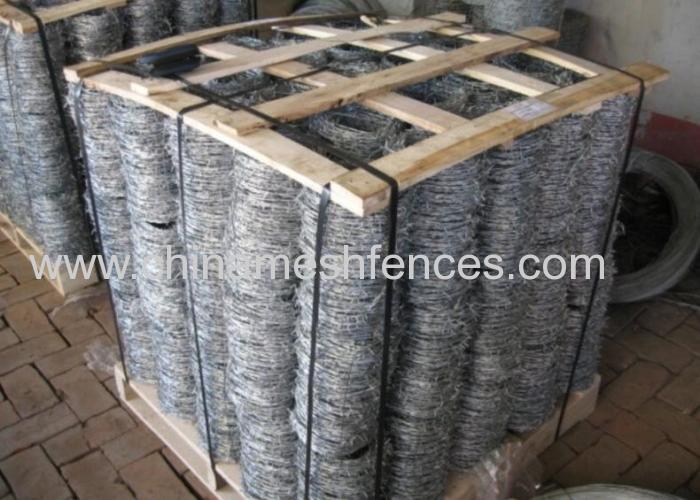 Our Services
About us:
Haotian export a large quantity of mesh fence to Australia,America,Russia,Poland,France,German and Denmakr,etc. We are ready to offer you Best Products in reasonable price all the time,waiting for hearing from you.
Any question,pls contact me!