Picloram (CAS: 1918-02-1) is a hormone type herbicide.
Picloram Attribute
| | |
| --- | --- |
| Molecular Formula | C6H3Cl3N2O2 |
| Molecular Weight | 241.46 |
| Melting point | 215℃ (dec.) |
| Water solubility | 420 mg/L |
Picloram Molecular Structure
Synonyms: picloram plant cell culture tested; 4-amino-3,5,6-trichloropyridine-2-carboxylic acid; RARECHEM AL BO 1809; PICLORAM; OTAVA-BB BB5110090065; TIMTEC-BB SBB000816; TORDON; TORDON(R); 3,5,6-Trichloro-4-Aminopicolinic acid; 3,5,6-trichloro-4-aminopicolinicacid; 4-amino-3,5,6-trichloro-2-pyridinecarboxylic acid
It can be absorbed by plant leaves, roots and stems. Can quickly to the growth point of conduction, causing the plant to the abnormal, withered, leaves, necrosis, xylem catheter by blocking color, eventually leading to death. The mechanism of action is to inhibit the respiratory function of mitochondria and nucleic acid metabolism. Most gramineous plants are resistant to most of you, Ye Zuowu (Cruciferae excepted), weeds, Ki Min. In the soil, the half-life of 1-12 months. High temperature and high humidity decline.
Applicable crops: wheat, corn, sorghum.
Control object: it can prevent and control the majority of the twin leaf weeds and shrubs. The root weeds such as: small, such as the effect of outstanding. A.. The effect of cruciferous weeds is poor.
Picloram is a systemic herbicide used for general woody plant control. It also controls a wide range of broad-leaved weeds, but most grasses are resistant. A chlorinated derivative of picolinic acid, picloram is in the pyridine family of herbicides.
Picloram can be sprayed on foliage, injected into plants, applied to cut surfaces, or placed at the base of the plant where it will leach to the roots. Once absorbed by the foliage, stem, or roots, picloram is transported throughout the plant.
Safety
Picloram is of moderate toxicity to the eyes and only mildly toxic on the skin. There is no documented history of human intoxication by picloram so symptoms of acute exposure are difficult to characterize.
Picloram is the most persistent of its family of herbicides. It does not adhere to soil and so may leach to groundwater, and has in fact been detected there. It is degraded in soil and water mainly by microbes. Picloram has very little tendency to accumulate in aquatic life.
Gardeners who use dung as fertilizer should check to make certain that the animal source has not grazed on picloram treated hay, as the dung still has broadleaf killing potency.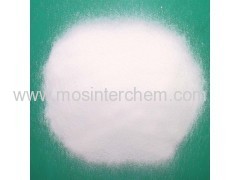 Appearance: colorless crystal powder
Packing: 25KG drum