roofing sheets made in china sand coated metal roofing tiles
with fast color and stable stone chip. China price, Korea quality.
Specification:
Over Length: 1170mm/1340mm
Length of Cover: 1080mm/1260mm
Width of Cover: 375mm/375mm
Total width: 420mm
Area of Cover: 0.4SQM/0.47SQM
Tiles per SQM: 2.47pcs/2.1pcs
Weight per Tile: 2.3-2.4kg/2.6-2.7kg
Thickness: 0.4mm. 0.45mm is available.
A colorful Aluzinc sand coated roofing is made of Aluminum-Zinc steel (also called Zincalume or galvalume steel) and coated with natural stone chips. The Aluminum-Zinc coating is composed of 55% Al, 43.4% Zn and 1.6% Si. Such coating makes the steel much more durable than standard galvanized products. The sand coated roofing is durable, heat-resistant, anti-corrosion and rust-proof. It has a long life expectancy over 30 years. Its main features include:
1. Fire-resistant: Its raw material is noncombustible.
2. Compared to a typical composition shingle roof or cement roof, the sand coated roofing is much lighter. This helps it withstand an earthquake.
3. Wind-resistant: Its interlocking design helps it withstand the strong wind.
4. Leakage-proof.
5. Hailstone-resistant: The Aluzinc sand coated roofing can protect the building from the hailstone. Hot sale Nigeria stone coated steel roof tile/stone coated metal roof tile.
6. Noise-resistant: The stone coated steel design deadens the sound of the rain and hailstone.
7. UV ray resistant.
The sand coated roofing is light and easy to carry, store and use. It can help save time and cost of construction. It is easy to cut and suitable for all kinds of buildings, especially good for high-pitch roofs and tall buildings. Besides, you can choose different colors and profiles which suit the buildings best.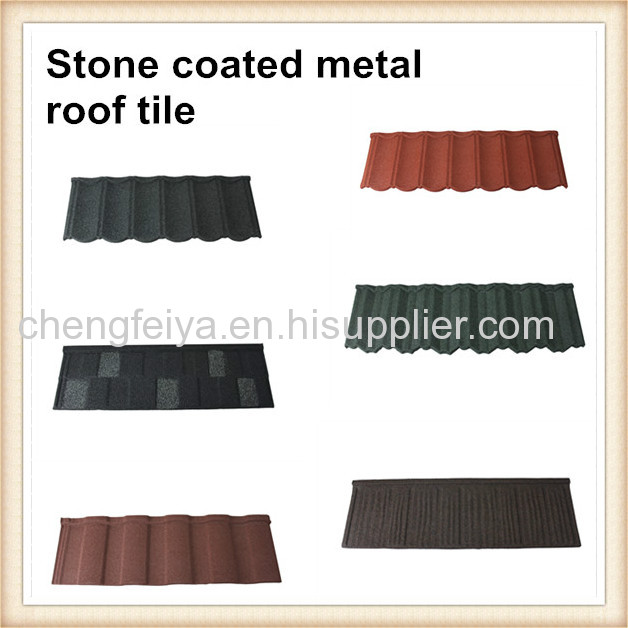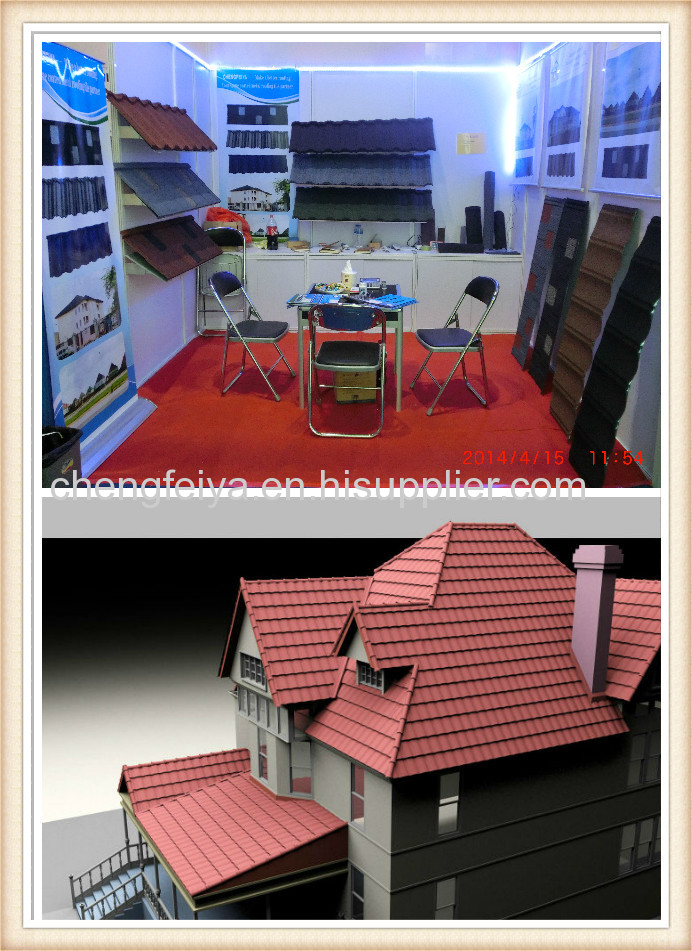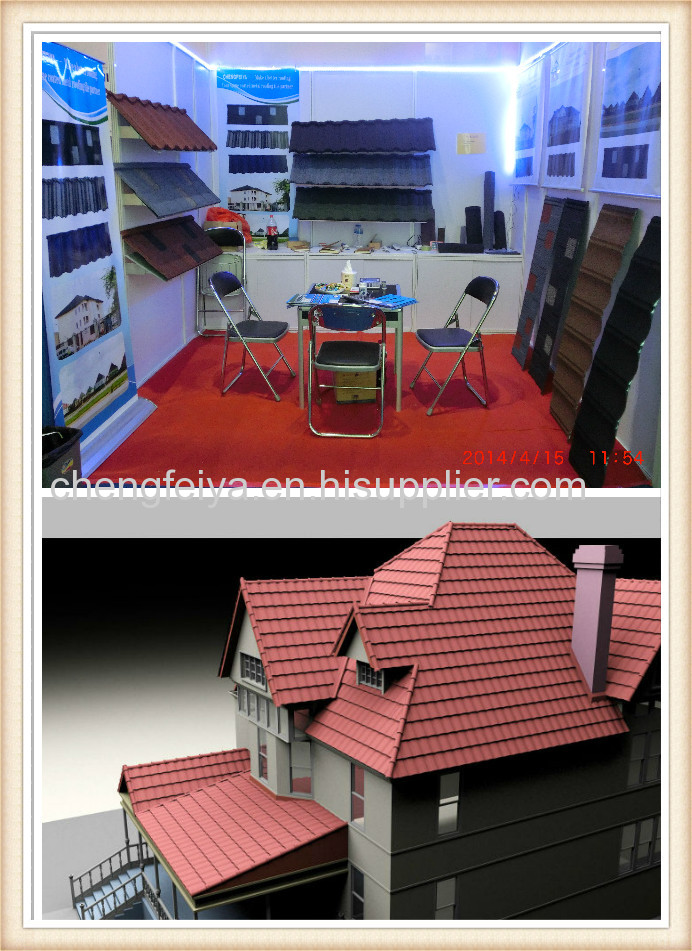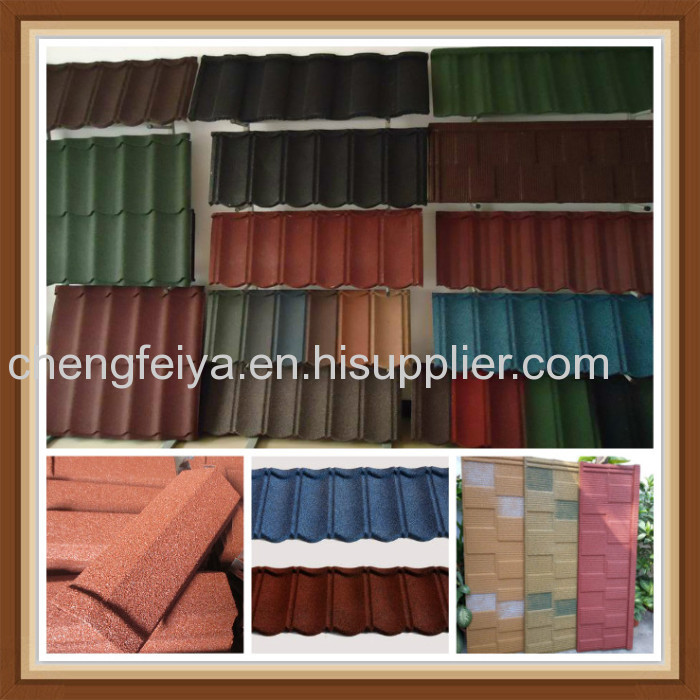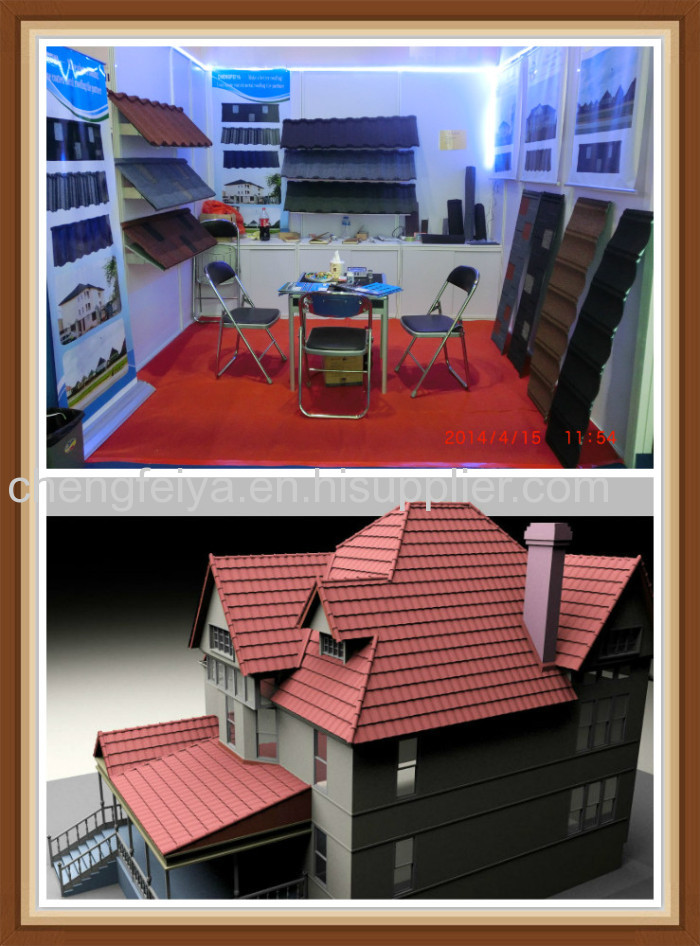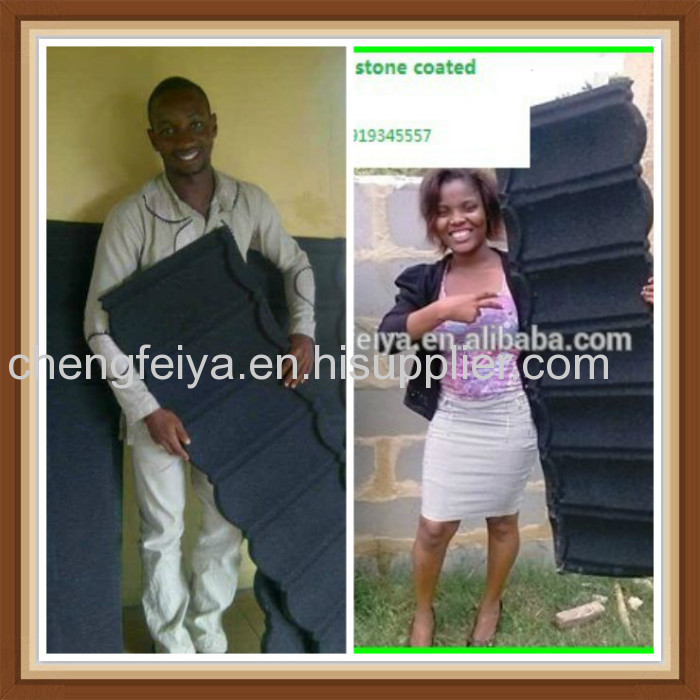 Packaging & Shipping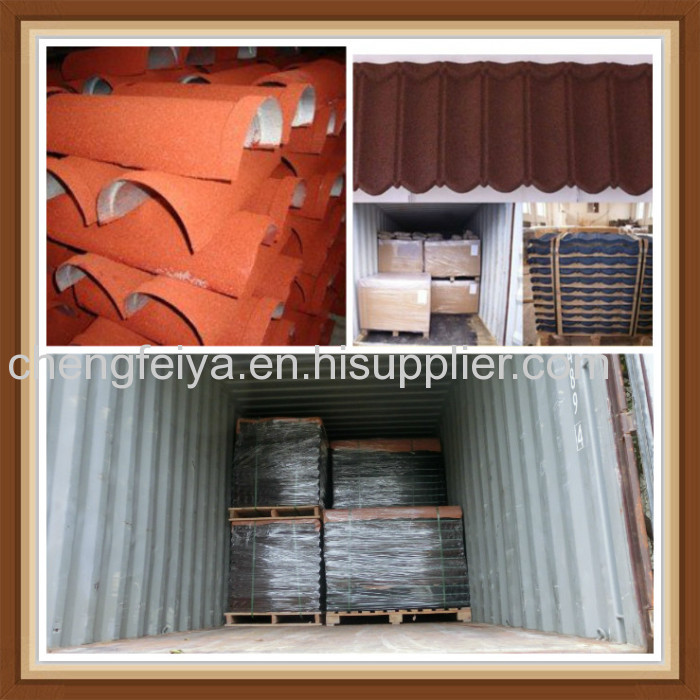 Company Information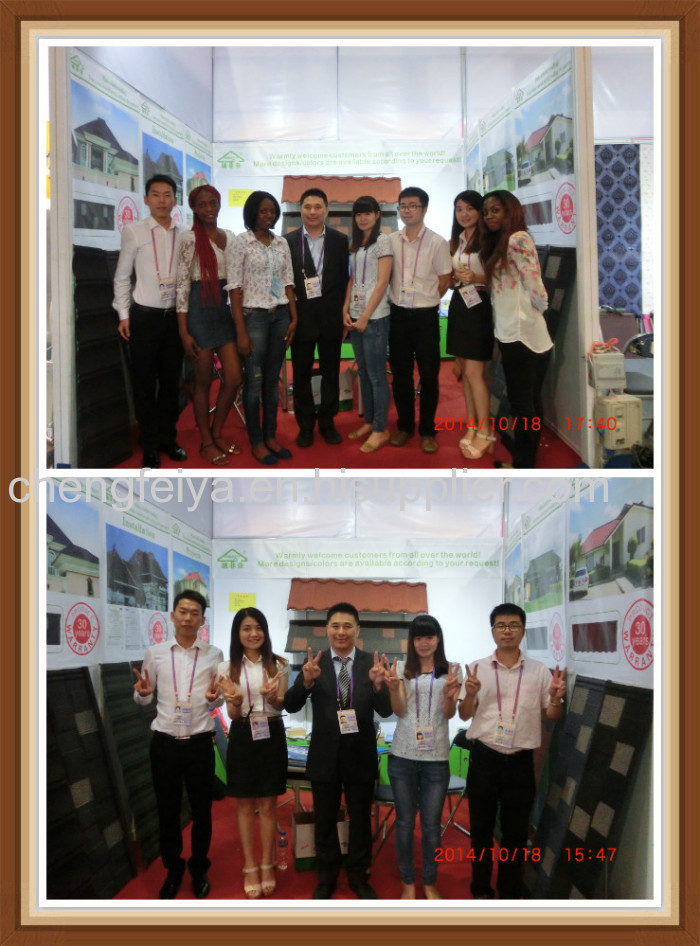 FAQ
1. Why choose us?
Our price is not the cheapest, but we are honest. When we show you the sample made of 0.4mm steel, we will never use 0.35mm or even thinner steel for mass production. We will not use poor material to achieve very low price. The stone chips will not disappear and the color will not fade after the sand coated roofing have been used for a long time. What we pursue is the best balance between quality and price. We believe that such balance will benefit both suppliers and buyers best.
If you you are looking for a long-term stable supplier for sand coated roofing, we are just the one!
2. What is Aluzinc and the difference from galvanized steel?
Aluzinc, Zincalume and Galvalume are different names of the same product. They are all cold rolled galvanized steel with metal coating composed of Aluminium (55%), Zinc (43,4%) and Silicon (1,6%).
Aluzinc is siutable for applications where require long life span. Thanks to the combination of the sacrificial protection of the zinc and the barrier protection of the aluminium, Aluzinc steel coating outperforms galvanized coating from 2 - 6 times. Thus Aluzinc coated steel has outstanding long-term corrosion resistance in most using conditions. Aluzinc is an ideal kind of roofing material for sand coated roofing. When you are looking for roofing material, choose Aluzinc sand coated roofing!
3. Construction guide of stone coated roof tile