10pcs Diesel Injector Seat Cutter Set BMW Mercedes-Benz PSA Renault Ford Bosch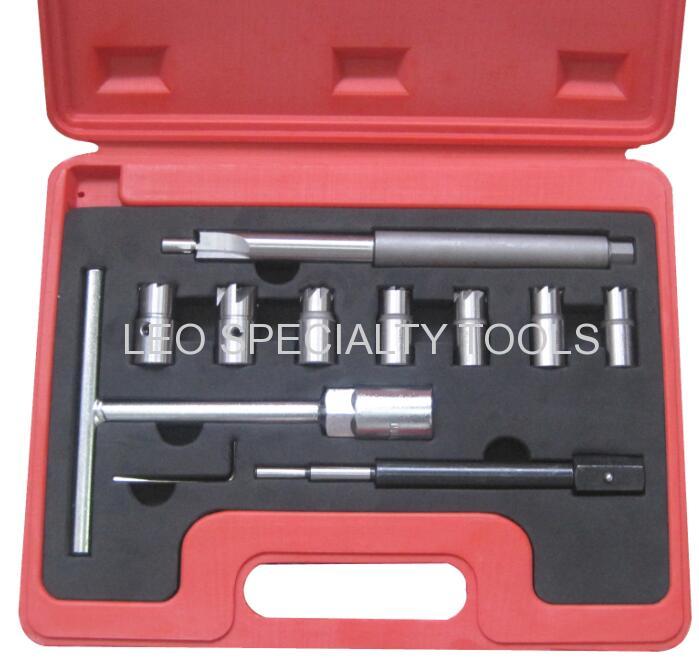 Description:
This set is used to clean and decarbonise injector seats when changing injectors.
Suitable for a wide range of diesel vehicles.
Set of 7 cutters for re-cutting injector seats when reconditioning diesel engines or replacing the injectors.
Manufactured from high quality materials - SKD11 - provides easy clean work.
It helps to avoid blow back due to poorly seated injectors.
Injectors can be extremely difficult to remove, due to the build up of carbon deposits and the effects of corrosion. Once they have been removed, the injector seat is often in a condition that makes it almost impossible to successfully seat the injector (causing high risk of blow back - this is where the leaking of combustion from the cylinder via the injector seat).
This can lead to various poor running and starting symptoms, excessive smoke, tar build up, noise and loss of compression.
The injector seat cutter set allows the user to reface the seat, in order for the new or reconditioned injector to be fitted correctly.
Recommended that refacing of the injector seats is done with the cylinder head removed to avoid the risk of metal filings entering the combustion chamber.
Contents:
1pc 15mm x 19mm Flat Reamer for Universal Injector
1pc 17mm x 17mm Flat Reamer for Delphi/Bosch Injectors (BMW/PSA/Renault/Ford.)
1pc 17mm x 17mm Angled Reamer
1pc 17mm x 19mm Flat Reamer Mecedies Benz CRD
1pc 17mm x 21mm Angled Reame Fiat Iveco r
1pc 18mm x 21mm Flat Reamer
1pc 20mm x 21mm Flat Reamer
1pc T handle 135mm x 160mm socket
1pc Pilot Hex 19mm x 170mm
1pc 15.5mm x 225mm Cutter
1pc 2.5mm Hex Key
Packing details:
| | | | |
| --- | --- | --- | --- |
| QTY(SET) | G.W.(KGS) | N.W.(KGS) | MEAS(CM) |
| 5 | 13 | 12 | 33*31*23.5 |