0.3mm Tinplate shield frame and cover in mobile phones

Material: stainless steel, spring steel, copper, brass, bronze, aluminum, iron, alloy, zinc etc.

Surface finish: plating, painting, anodizing, phosphating, etc.
Plating technology: continuous plating, partial plating, and spot plating, ect.
Plating material: nickel, tin, copper, zinc, silver, gold, etc.
Process: bending, welding, casting, tapping, drawing, punching, flanging etc.
Experienced engineers and technicians available to solve difficult process challenge for you.
| | |
| --- | --- |
| MOQ | 1000PCS |
| Packing details | Pack in polybag, tray, plastic case, tape |
| Payment term | T/T , westunion, cash etc |
| Mould/Sample time | 10-20 work days |
| Lead time | 8-15 work days |
Property
Based on customer requests, our precision metal stamping parts have accordingly property. Such as high precision, good conductivity, heat dissipation, resilience, fatigue.
Related products, stainless steel forming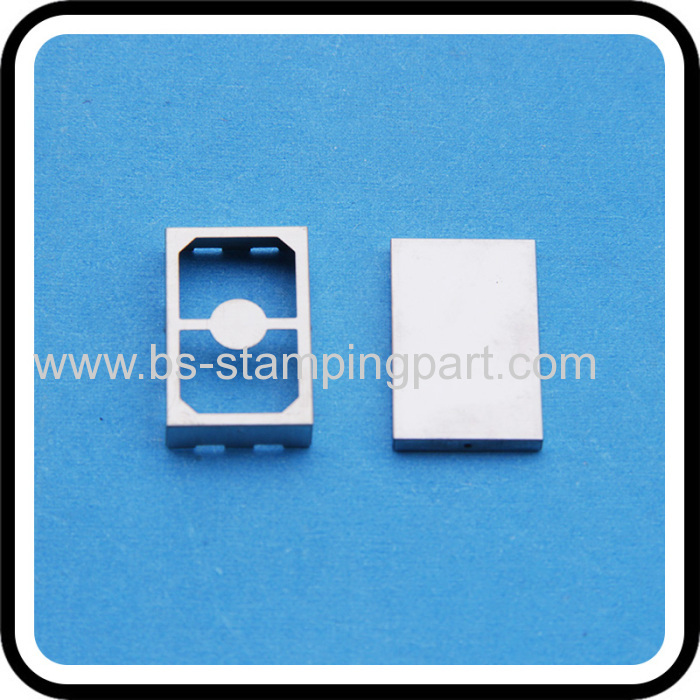 Forming processes are particular manufacturing processes which make use of suitable stresses (like compression, tension, shear or combined stresses) to cause plastic deformation of the materials to produce required shapes.
During forming processes no material is removed, i.e. they are deformed and displaced.
Some of example of forming processes are:
Forging

Extrusion

Rolling

Sheet metal working

Rotary swaging

Thread rolling

Explosive forming

Electromagnetic forming

Assembling (joining of the pieces) is done by welding, binding with adhesives, riveting, threaded fasteners, or even yet more bending in the form of a crimped seam. Structural steel and sheet metal are the usual starting materials for fabrication, along with the welding wire, flux, and fasteners that will join the cut pieces. As with other manufacturing processes, both human labor and automation are commonly used. The product resulting from fabrication may be called a fabrication. Shops that specialize in this type of metal work are called fab shops. The end products of other common types of metalworking, such as machining, metal stamping, forging, and casting, may be similar in shape and function, but those processes are not classified as fabrication.

1.Company information

We specialize in making metal parts for 20 years.

We passed ISO9001:2008, had RoHS, using eco-friendly material to ensure consumers health.

Products include moulds, metal terminals, EMI shields, RF shields, metal contacts, and other custom made spare parts for electronics.

Metal spare parts widely used in industrial machinery to fix, support, dissipate heat, connect,

widely used in electronic products as spare parts. Such as mobile, mp3, earphone, PC, etc.

2.Our service

Strict quality control

With ISO9001:2008 quality management system and advanced quality testing devices. We strictly control the quality although the producing process.

We have gained us more reliability from our customers with high quality control.

3.Reasonable price

With high producing efficiency and strict management,

we can offer the best prices for our products like terminals, rivets, flanges, washers, brackets and other hardware accessory

Timely respond for urgent requirement

Our plenteous material stock and prompt process can meet your urgent requirements. We can arrange the urgent order any time

4.Quick delivery

We keep close relationship with FedEx, DHL, UPS, TNT and other express companies for quick delivery

Passed ISO90001, using eco friendly material, meeting RoHS.

1. Incoming material will be checked carefully before production.

2. Strict processing quality control

3. 100% inspection before shipment.
More Information about our company: