Specification
Brand Name:OEM
Place of Origin: Anhui, China (Mainland)
Model Number: GL-IFD7109
Type: infrared digital thermometer
working mode: Forehead mode, ear mode
body mode: 32.0~42.5C (89.6~108.5F)
power DC: 3V (two #7 battery in series)
resolution: 0.1C(0.1F)
Certificate: CE/ISO
weight: gross 267g, net 137g
Sample:available
Warranty:30 days
Color:white
Features
forehead/ear infrared digital thermometer for baby
| | |
| --- | --- |
| Resolution | 0.1℃(0.1°F) |
| Storage temperature | 0℃-50℃(32°F~122°F) |
| Relative humidity | ≤85% |
| Power | DC 3V(two #7 battery in series) |
| Dimension | 158*90*37MM |
| Weight Gross | 267g, Net 137 |
| Measurement range in human body mode | 32.0℃- 42.5℃ |
| Precision in human body mode | ±0.3℃(0.45°F) |
| Time to automatic shut down | 8 seconds |
| Use | in body temperatue, water / milk / wine / liuid temperature, object surface temperature etc. |
How to measure the forehead temperature
For taking the temperature on the forehead you simply place the tip or flat topagainst the forehead with the cover on and press the appropriate HEAD buttonthen release the button immediately. Your temperature displayed on the screen instantly.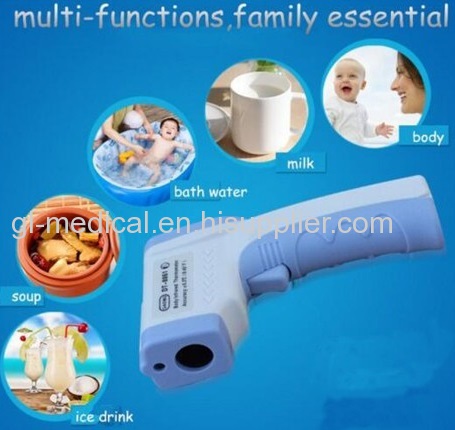 How to measure the ear temperature
To take a temperature by ear you remove the cover revealing the ear canal tip then insert the tip into the ear canal. Gently pull up on the top of the ear to ensure that the ear canal is straight and press the EAR button then release thebutton immediately and your temperature will instantly display on the LCD screen.

Fever alarm by a visual and audio signal
When the reading exceed 37.5°C/99.5°F, this product shall warn the user that he/she may have a fever by 7 rapid and short rings with LCD flicker. (For normal forehead temperature, the signal is long ring with LCD no flicker)

Easily switches between Fahrenheit and Celsius
When the thermometer is off, just hold the EAR Button for 6-9 Seconds until the "___C/F" temperature unit is blinking. Then press EAR button again to change the temp unit to your choice.