Full Digital Palm Animal Ultrasound Scanner ATNL/51353C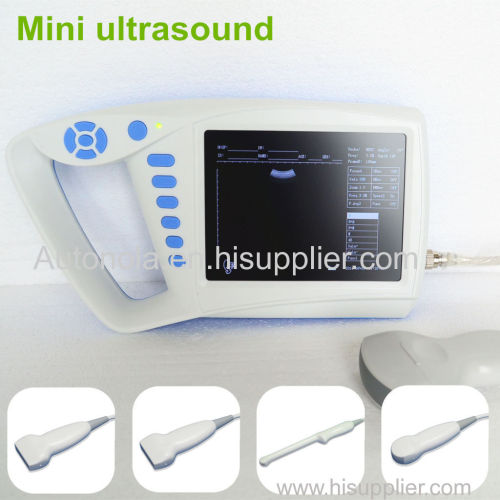 Main Features:
Full digital beam forming technology
Generate Report
7 inch TFT LCD
A/DC and LI-battery operated
Light and compact design, simple to use
High quality keyboard and clear image
USB 2.0 for real-time picture uploading to PC
Probe automatic identification
Net weight: 1.2 Kgs
Dimension: 320×170×65mm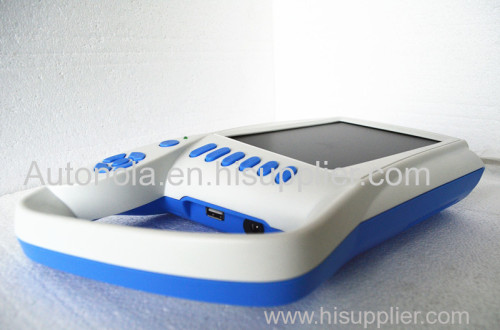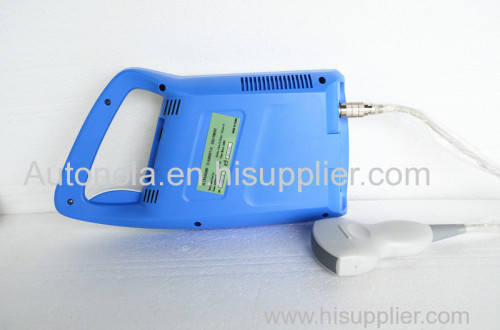 Main Technical Specification:
·Application: Cattle, Equine, Sheep, Dog, Cat,
·Scanning Method: Convex, Micro-convex, Linear, Rectal
·Frequency for Convex : 2.0, 2.5, 3.0, 3.5, 4.0, 4.5, 5.0
·Display Mode: B, B+B, B+M, M, 4B
·Gray Scale: 256 levels
·Gamma: 4
·Monitor: 7 inch LCD
·Operation interface: English/Chinese switchable
·Scanning Deepth : 180mm
·Image magnification: *1.0, *1.2,*1.3 *1.5,*1.6, *1.8, *2.0 times
·Image control: left/right, black/white, up/down
·General Measurement: Distance, Circumference/Area, Volume, Heart Rate
·512 frames for cine-memory
·Human Body Mark : 15 kinds
·4 focusing combination selectable
·Characteristic showing in real-time clock, ID, Sex, Age, Hospital name, Focusing Info and Gain (Near, Far, Overall) info.
·8 Segments of TGC adjustment, full gain control
·Puncture function is available under B mode.
· Generate HistoG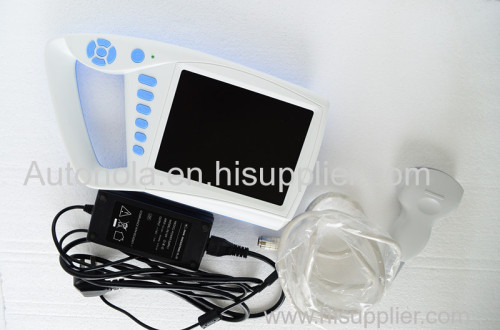 Veterinary Measurement:
Bovine: BPD , CRL
Equine :BPD, GSD
Ovine: BPD, CRL
Canine: CRL, BD
Feline: BD, HD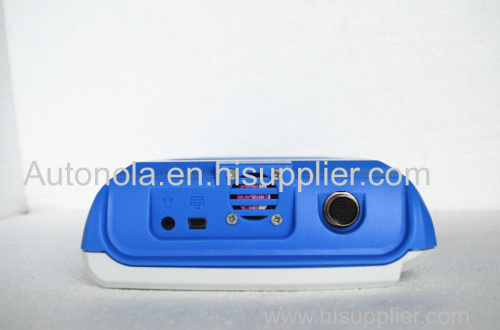 Standard configuration:
Main unit
convex array probe
Li-battery
USB
Options:
Linear array probe
Micro-Convex array probe
Transrectal probe
Video Printer/Laser printer
Shipping Terms:
We will delivery the goods within 2-3 days after get your payment.
If you need to change the other shipping ways please contact to us by message firstly to confirm .
Quality Control :
We have a strict quality control procedures before the delivery to expressly warrants that the goods are free from all defects
Package:
The package of our goods fully meets the international transportation safety
Customer Clearance:
We will show a low value on the package bill to avoid produce tariffs. Every country has different tariffs policy, So we will not be responsible for the customer local clearance, Please note it!
If you have any requirements for the customer please contact to us by message firstly
After-Sales Service:
We will supply a good and professional after-service to you as a professional supplier .
Feedback :
Your satisfaction and positive feedback is very important to us. If you have any problems, please feel free to contact us firstly before open a dispute. We will do our best to solve any problems and provide you with the best after-sale service.
Thanks.