Sports Nutrition: Creatine Anhydrous CAS No: 57-00-1 increased muscle strength
Creatine is the single greatest supplement of all time. It is also the most studied supplement EVER.! We know it works, we know it's safe and we STILL find new advantages for its use. It is a stable in my nutrition, to me it's the 4th macro if you will.
Creatine works! Its safe and works amazingly. In young men with high natural testosterone levels , cycling creatine with a high protein diet and a mass building program can give results just as good as any steroid cycle. Plus, it is a way for users to learn how to properly cycle when the time comes.
Suggest 5 gram daily. the fuller look it gives.
---From users' comments.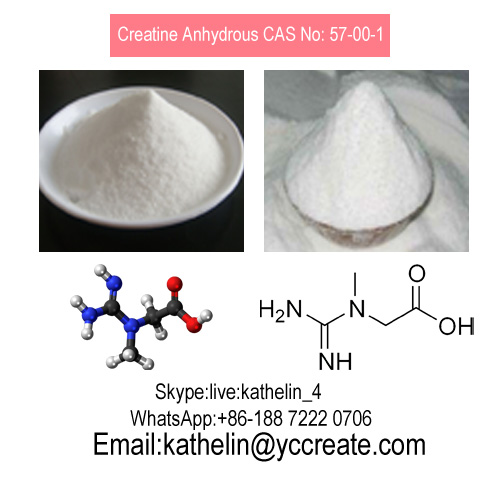 Creatine Description:
Creatine is a nitrogenous organic acid that occurs naturally in vertebrates. Its main role is to facilitate recycling of adenosine triphosphate (ATP), the energy currency of the cell, primarily in muscle and brain tissue. This is achieved by recycling adenosine diphosphate (ADP) to ATP via donation of phosphate groups. Creatine also acts as a pH buffer in tissues.
Creatine synthesis primarily occurs in the liver and kidneys.On average, it is produced endogenously at an estimated rate of about 8.3 mmol or 1 gram per day in young adults.Creatine is also obtained through the diet at a rate of about 1 gram per day from an omnivorous diet.Most of the human body's total creatine and phosphocreatine stores are found in skeletal muscle, while the remainder is distributed in the blood, brain, and other tissues.
In solution, creatine is in equilibrium with creatinine.Creatine is a derivative of the guanidinium cation.
Alias: Creatine anhydrous; Creatine preparation; N-amidinosarcosine; 5-Chloro-2-Maino Benzotrifluoride; N-carbamimidoyl-N-methylglycine
CAS: 57-00-1
Molecular Formule: C4H9N3O2
Molecular Weight: 131.1332
EINECS: 200-306-6
Odor: Odourless
Melting point: 255 °C (491 °F; 528 K)
Solubility in water 13.3 g L-1 (at 18 °C)
log P: -1.258
Appearance: White crystal powder
Acidity (pKa): 3.429
Basicity (pKb): 10.568
Isoelectric point:8.47
Uses
Athletic performance
Most human studies have taken place in laboratories, not in people actually playing sports. Although not all clinical studies agree, some conducted in both animals and people have shown that creatine supplements improve strength and lean muscle mass during high-intensity, short-duration exercises, such as weight lifting. In these studies, the positive results were seen mainly in young people, about 20 years old.
Creatine does not seem to improve performance in exercises that requires endurance, like running, or in exercise that isn't repeated, although study results are mixed. Although creatine is not banned by the National Collegiate Athletic Association (NCAA) or the International Olympic Committee, using it for athletic performance is controversial. The NCAA prohibits member schools from giving creatine and other muscle building supplements to athletes, although it doesn't ban athletes from using it.
Creatine appears to be generally safe, although when it is taken at high doses there is the potential for serious side effects, such as kidney damage. High doses may also stop the body from making its own creatine. Some creatine supplements may be marketed directly to teens, claiming to help them change their bodies without exercising. One survey conducted with college students found that teen athletes frequently exceed the recommended loading and maintenance doses of creatine. But creatine has not
been tested to see whether it is safe or effective in those under 19.
Muscle disorders
A meta analysis found that creatine treatment increased muscle strength in muscular dystrophies, and potentially improved functional performance.Creatine treatment does not appear to improve muscle strength in people who have metabolic myopathies.High doses of creatine leads to increased muscle pain and an impairment in activities of daily living when taken by people who have McArdle disease.It has also been implicated in decreasing mutagenesis in DNA.
----------------
ABOUT US
----------------
We're specialized in pharma.raw materials ( hormone steroid powders, Steroids injectable liquids,peptides,Sarms), our company integrates R&D, producing, operating and marketing into an organic whole. We have authority of export and import, and have experience of export for 15 years.
Major Market: United States, United Kingdom, Australia, Canada, Sweden, Russia, Poland, Brazil, Israel, Netherlands, Germany,Spain, Switzerland, Poland and so on.
MOQ:10g
Package:Disguised & Discreet pkg
Payment:T/T,Western Union,Moneygram,bitcoin
Delivery: sent out the goods within 24hours after receiving payment.
Custom Pass rate:99%
Resend policy is available if the parcle is seized or any quality problems been found.
After-sale Service :
Discounts are available for our second-time customers. We can provide recipes and professional suggestions to promote yourselves. Tracking number and packing photos can be given quickly after your goods sent. We are always here waiting for you!
Our main products in stock:
Anabolic Steroid Powders
Semi-finished Steroid liquid
Peptides
Male enhancement powder
Pain Killer Powders
Nootropic Agent(Smart Drugs)
Antidepressant
SARM Series
Fat Loss
Solvents for Steroids: BA, BB, GSO, Guaiacol, EO, PEG etc.
Tools & Devices: Filter,Crimper,Vials, caps, ect.
--------------------------------------------------------------------------------------------------------------------------------------------------
Warmly welcome your trial order to test quality your end,Record the process & the aftermath and sharing to me if possible.
Thank you for your visiting and Hope you have a nice day & enjoy a health life!
kathelin(@)yccreate(.)com
Skype:live:kathelin_4
WhataApp:+86-188 7222 0706
Life is tough,we can be tougher!Tomorrow is another POWERFUL Day!
Kathelin-Z