Orlistat
Product Name Orlistat Powder
CAS Registry Number 96829-58-2
Molecular Formula C29H53NO5
Molecular Weight 495.73
Purity 99%
Grade Pharmaceutical Grade
Appearance White Crystalline Powder
What is orlistat?
Orlistat blocks some of the fat that you eat, keeping it from being absorbed by your body.
Orlistat is used to aid in weight loss, or to help reduce the risk of regaining weight already lost. This medicine must be used together with a reduced-calorie diet. Orlistat is for use only in adults.
It is dangerous to purchase orlistat on the Internet or from vendors outside of the United States. Medications distributed from Internet sales may contain dangerous ingredients, or may not be distributed by a licensed pharmacy. Samples of "alli" purchased on the Internet have been found to contain sibutramine (Meridia), a prescription weight loss medication that can have dangerous side effects in certain people.
Orlistat is a white to off-white crystalline powder. Orlistat is practically insoluble in water, freely soluble in chloroform, and very soluble in methanol and ethanol. Orlistat has no pK within the physiological pH range.
XENICAL is available for oral administration as a turquoise hard-gelatin capsule. The capsule is imprinted with black. Each capsule contains a pellet formulation consisting of 120 mg of the active ingredient, orlistat, as well as the inactive ingredients microcrystalline cellulose, sodium starch glycolate, sodium lauryl sulfate, povidone, and talc. The capsule shell contains gelatin, titanium dioxide, and FD&C Blue No. 2 with black printing ink containing pharmaceutical grade shellac, propylene glycol, strong ammonium solution, potassium hydroxide and black iron oxide.
Why is this medication prescribed?
Orlistat (prescription and nonprescription) is used with an individualized low-calorie, low-fat diet and exercise program to help people lose weight. Prescription orlistat is used in overweight people who may also have high blood pressure, diabetes, high cholesterol, or heart disease. Orlistat is also used after weight-loss to help people keep from gaining back that weight. Orlistat is in a class of medications called lipase inhibitors. It works by preventing some of the fat in foods eaten from being absorbed in the intestines. This unabsorbed fat is then removed from the body in the stool.
Important information
Orlistat is only part of a complete program of treatment that also includes diet, exercise, and weight control. Your daily intake of fat, protein, and carbohydrates should be evenly divided over all of your daily meals. Follow your diet, medication, and exercise routines very closely.
Avoid a diet that is high in fat. High-fat meals taken in combination with orlistat can increase your risk of unpleasant side effects on your stomach or intestines.
How well does orlistat work?
Studies have shown that, on average, orlistat, plus a weight-reducing diet and exercise, causes more weight loss than a weight-reducing diet and exercise alone. Some people lose 10% or more of their body weight within six months with the help of orlistat. In others, it is less effective.
One reason why orlistat may not work is that you may think that you can relax your weight-reducing diet, and the orlistat will 'do it all'. This is not true. In order to lose weight you still have to eat less, and exercise regularly. Remember, orlistat prevents only some of the fat that you eat from being absorbed (just under a third). But, if you do not keep to a healthy weight-reducing diet, and you eat more fat (chocolates, cakes, etc), the extra fat that you eat will easily cancel out the effect of the orlistat.
When is orlistat prescribed?
Orlistat is not used in everyone who wants to lose weight. It is only recommended in people over a certain BMI. For a doctor to prescribe orlistat, they also need to be sure that you have tried changing your diet and increasing your physical activity levels first.
Keeping to a reduced weight
After treatment is stopped, a number of people who have lost weight with the help of orlistat put weight back on. Try to anticipate this. Once you have lost some weight, you are more likely to keep your weight down if you stick to a healthy diet, exercise regularly (if you are able), and weigh yourself once a week.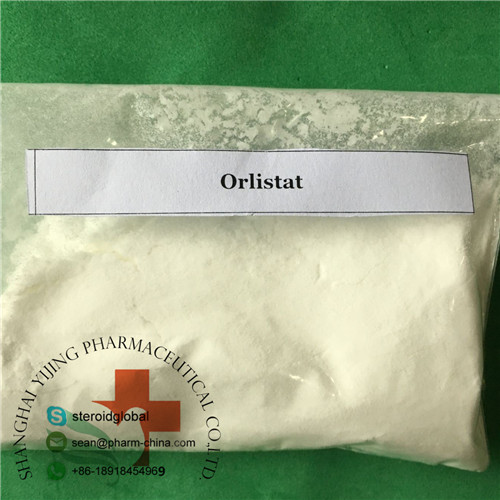 Fat Loss Series:
| | |
| --- | --- |
| Orlistat | CAS: 96829-58-2 |
| Rimonabant | CAS: 168273-06-1 |
| L-carnitine | CAS: 541-15-1 |
| Albuterol Sulfate | CAS: 51022-70-9 |
| Dextromethorphan hydrobromide | CAS: 125-69-9 |
| Dextromethorphan hydrobromide monohydrate | CAS: 6700-34-1 |
| Synephrine hydrochloride | CAS: 5985-28-4 |
| Telmisartan | CAS: 144701-48-4 |
| Lorcaserin HCl | CAS: 846589-98-8 |
| Theobromine | CAS: 83-67-0 |
| 4-Methyl-2-hexanamine hydrochloride, (DMAA) | CAS: 13803-74-2 |
| Liothyronine sodium, T3 | CAS: 55-06-1 |
| Levothyroxine Sodium , T4 | CAS: 25416-65-3 |
| Calcium Pyruvate | CAS: 52009-14-0 |