Parameters

Pixel pitch
P6.25
Module Parameters
Pixel pitch
6.25 mm
Pixel Density
25600 pixels/m2
LED Shape
SMD 3in1
LED Configuration
1R1G1B
Module Resolution
40*40 pixel
Module Size
250*250 mm
Drive Method
1/16, 1/8
Cabinet Parameters
Cabinet Resoltuion
80*80
Cabinet Size
500*500 mm
Cabinet Weight
35kg/m2
Display Parameters
Optical
Brightness
≥1200 cd/m2
Viewing angle
H/V 160/160
Best Viewing Distance
6.2-15 m
Display Color
16.7 million
Grey Scale
10bits/1024levels
Power
Max power consumption
1000 W/m2
Ave power consumption
500 W/m2
Working Voltage
220V / 110V
Control system
Frame Frequency
60--85 HZ
Refresh Rate
≥3000 HZ
Data Transmission
CAT 5/ Optic Fiber
Image Source
S-Video, PAL/ NTSC
Controlling system
linsn, Mooncell, ZD, Xixun,
Lumen, Dbstar
Format
Video Compatibility DVI, VGA, composite
Reliability
Working Temperature
-20~65 ℃
Working Humidity
10-95% RH
Life Span
100,000 Hours
MTBF (Ave No Faliure Time)
5000 Hours
Pixel failing Rate
0.01%
IP Rate
IP 54
Connecting Method Between Control system and Display terminals:
Connect according to the sketch drawing below, make sure output DVI signal from computer well connected with the input terminal on sending card. And Output signal from sending card to the receiving card in the cabinets well. Then Power on.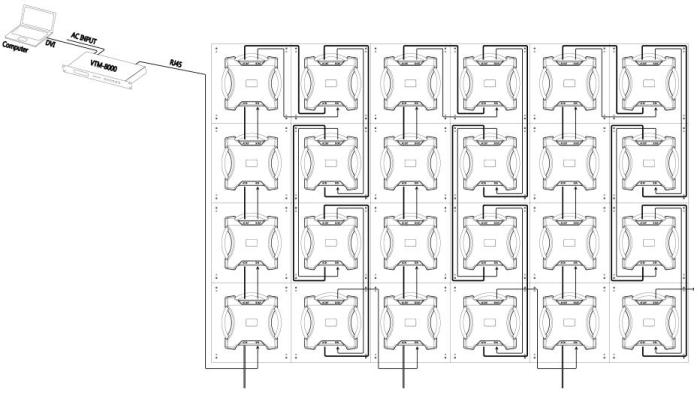 Company Profile
Hot Electronics Co.,Ltd has been devoting to high-quality LED display designing & manufacturing for over 13 years.
Fully equipped with professional team and modern facilities to manufacture fine LED display products, Hot Electronics make products that have found wide application in airports, stations, ports, gymnasiums, banks, schools, churches, etc.
Our LED products are widely spread across 100 countries all over world, covering Asia, Middle East, America, Europe and Africa.
From stadium to TV station, to conference & events, Hot Electronics provides a wide range of eye-catching and energy efficient LED screen solutions to industrial, commercial and governmental markets worldwide.
We would be more than happy to design customized LED screen and solution together with you. Whether used for branding, advertising, entertainment or art, Hot Electronics will provide you with a LED solution that will ensure your investment serve you well for years to come.