1. Specification of space frame connection building ( made of steel frame ) :
Steel Structure

Function

Material

Surface Finish

Design

main Frame

Support / wind resistance / bearing weight

Q345 B for beam , column

painted / galvanized

portal frame or space frame

secondary frame

Support , connect and strengthen , sag rod , bracing , tie bar , etc

Q235B

Drilling , sand blasting , paint, ready to connect

Purlin

supporting for cladding

Q235B for C or Z purlin

galvanized

Roof & wall panel

Insulation / water-proof / fire resistance / wind - resistance

sandwich panel ( EPS / rock wool / PU / glass wool ) / single skin steel sheet

Galvanized / galvalum / color coated

Corrugated / flat

thickness of sandwich panel ( 50mm / 75mm / 100mm / 150mm ) steel sheet : 0.35mm - 0.6mm

window

Daylight / air circulation / decoration

pvc steel / aluminum alloy / glass

customized

Sliding / roll-up

Door

Security / insulation / water - proof

steel sheet / sandwich

Prepainted / galvanized

Sliding / rolling up

Accessory

self-locked nail , steel bracket , high strength bolts , self-drilling screw , rivet , inter and outer cullis , rain spout , trimming sheet , glass cemen

Life span

> 50 years

Feature

Multi - functional

perfect for workshop / warehouse / power plant / cafe / exhibition hall / GYM / Concert hall / car - parking / 4s shops / logistics etc

Reusable

100% light steel structure material can be reused

Wide span

the max span is 36m without middle column

fast construction

prefabricated unit component

stable and durable

excellent anti - quake effects

Cost - effective

half of the cost of common construction system

enlarge the space

make the most use of the property of steel structure

perfect combination between mechanical property and art

Different plan based on different requirements

considerate design

CAD Drawing and other software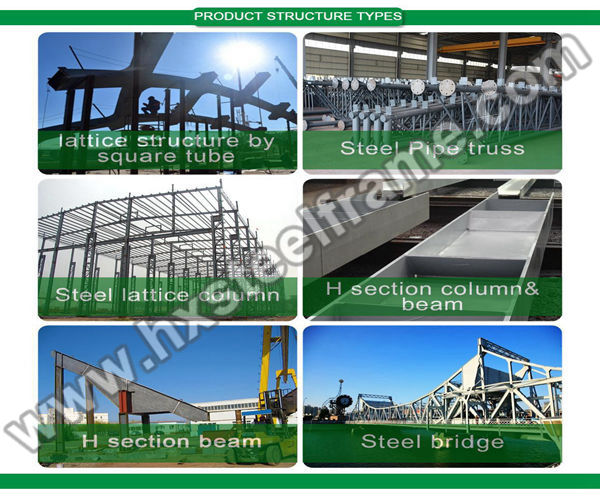 2. Our products scope include:
Single layered light and MID-sized workshops and warehouses, space frame connection building ( made of steel frame ), single layered heavy duty workshops, wide-span public buildings, high-layered and super high-layered buildings, muti-layered industrial workshops, office buildings and houses, bridges, wide-span highway bridges and bridges in city, viaducts; industrial platform and support; structures that can be dismantled and transported, etc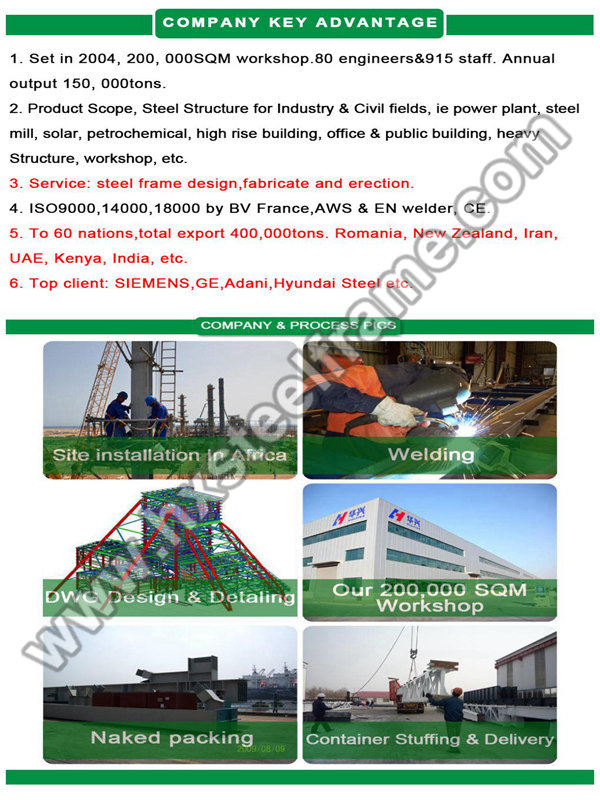 3. Internationalized marketing:
Thus far, our steel structure and steel building sell well throughout the world, 90% product exported, exported to more than 40 countries, such as Germany, America, Slovakia, Saudi Arabia, South Africa India, Indonesia, Oman, Bengal, Egypt, Vietnam, Nigeria, Philippines, Namibia, Morocco, Angola, Brazil, Grenada, Sudan, Pakistan, Zambia, Tanzania, Bosnia and Herzegovina, Turkey, Iraq, Kuwait, Myanmar, Singapore, Dubai, Argentina, the United Arab Emirates, Chile, Cameroon, Colombia, Cuba, Algeria, Ethiopia, Equatorial Guinea, Iran, Laos, New Zealand, Panama etc.
The exported weight reaches more than 300,000 tons.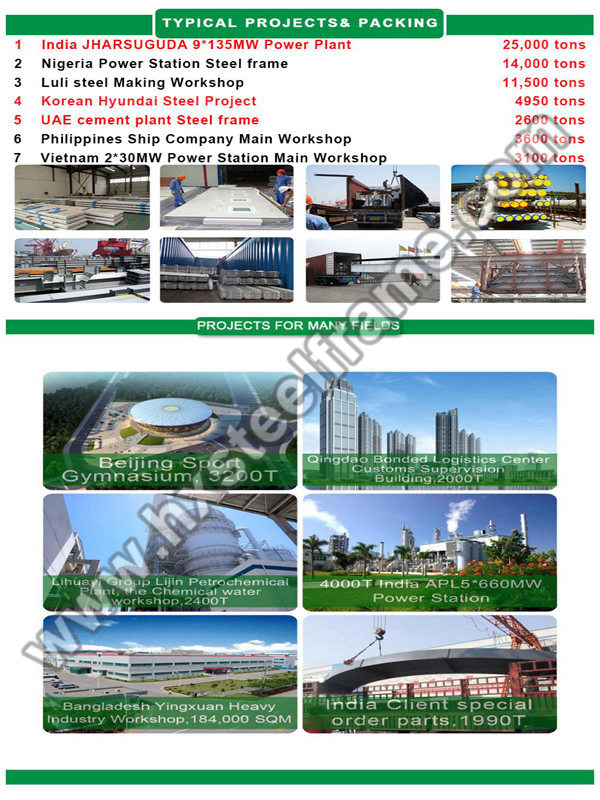 4. Our Software for design and detailing of space frame connection building ( made of steel frame ) :
We are located in Shandong China, in response to the increasing demand for Qualified Steel structure and steel building Products on industry, commercial and residential construction.
Utilizing state of the art computer software( Staad pro V8I, PKPM, SAP2000, MIDAS, RAM Connection Standalone 10) for the designs and detailing. We provide you the most competitive design and the highest quality shop drawings, ensuring clear representation of your project requirement that enables faster and economic construction on site.
5. Packaging & Shipping for space frame connection building ( made of steel frame ) :
1) Steel structure components will be packaged by steel pallet made by channel steel, and the end plate will be properly protected.
2) Sandwich panels will be covered with plastic film.
3) Bolts and accessories will be loaded into wooden boxes.
4) Each column & beam will be marked according to installation drawing.
6. FAQ:
1) Q: Are you a factory or trading company ?
A: We are a factory located in Binzhou City, Shandong province.
2) Q: What' s your supply capacity ?
A: we have various steel structure product, like space frame connection building ( made of steel frame ) etc, annual Production output for refer: prefab building 1, 000, 000square meters; steel structure 150, 000 tons.
3) Q: Is space frame connection building ( made of steel frame ) stable ?
A: Set your hearts at rest! You are completely safe living in light steel prefab building even if there are hurricanes of 200km/ h and 9-grade earthquake outside.
4) Q: Does space frame connection building ( made of steel frame ) look different from the ordinary one ?
A: Yes. It is more beautiful and suitable for any style.