Chemical name: Triphenyl phosphate, abbrev. TPP.

Synonyms: Altal;Celluflex TPP;celluflextpp;Disflamoll TP;disflamolltp;Dymel;Kronitex TPP;Phenyl phosphate ((PhO)3PO).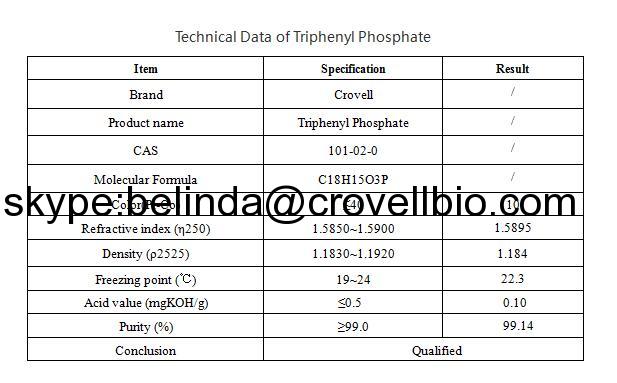 Application:It is the chelating agent for PVC products, it can keep transparency and restrain the change of color. It can improve the resistance of main agent to oxygen, light and heat. It also can be used in PE, PP, ABS, SBS or used as pesticide intermediate.
Chemical properties
IPPP is flame retardant plasticizer. This product is colorless and transparent, with good compatibility, good thermal stability, which can stop burning and increase plasticizing.It can obviously reduce the usage amount of flame retardants and plasticizers, also can make the materials keep the same color and physical properties after processing.It can improve the wear resistance , the weathering resistance and anti-corrosion effect of the product. It has the characteristics of low viscosity, low toxicity, tasteless, no pollution, etc..
| | |
| --- | --- |
| Item | Specification |
| Appearance | Colorless or light yellow transparent liquid |
| Color(APHA) | ≤50 |
| Density(20℃) | 1.16-1.18 |
| Refraction(25℃) | 1.546~1.555 |
| Icid(KOH mg/g) | ≤0.1 |
| loss on drying (100℃3h)% | ≤0.15 |
| Moisture (%) | ≤0.1 |
| Viscosity(25℃ mPa.s) | IPPP50:48-63, IPPP65:64-76 |
Application and method of use:The products are mainly used in rubber, resin and plastic as flame retardant plasticizer,widely used in all kinds of soft PVC material, flexible polyurethane, phenolic resin, fiber resin, synthetic rubber.IPPP has also been used as flame retardant additives in the production and processing of engineering resins, such as modified PPO, polycarbonate, polycarbonate composite materials, etc
Packaging & Shipping
Packing:230 kg/galvanized iron drums or 1200kg/IBC drum or 24mts/ISO tank
Company Profile
Thanks for your considering of Crovell Biotech (Hebei) Co., Ltd.(Crovell). Crovell is a fast growing intermediates company,Which located in Shijiazhuang,Hebei Province.
Crovell is specialized in pharmaceutical intermediates, veterinary drug intermediates and dyes intermediates,such as phenylacetamide, dimethylamine hcl, benzyl chloride etc., Crovell also supply various industrial chemicals for customers, such as citric a cid,potassium chloride etc.
After ten years development,Crovell has become a Diversified development company,not only involves in chemicals, but also real estate ,clothes ,agricultural products and so on.
So far, Crovell has business in more than 35 countries,most big customers come from europe and America, because among the suppliers in china,Crovell can always make the product quality best, some of the products from Crovell can reach the purity of 99.9+, such as 2-phenylacetamide. This is the important reason for customers who choosing Crovell.
In future, Crovell must become to a more important trade bridge for china and foreign countries especially in pharmaceutical industries.
| | |
| --- | --- |
| Year Company Established: | 2010-07-14 |
| Annual Sales Amount: | US$5 – 10 Million |
| Total No. of Staff: | 11 – 50 People |
| No. of R&D Staff: | Fewer than 5 People |
| No. of Engineers: | 5 – 10 People |
| Export Ratio: | 71% – 80% |
| OEM Services Provided: | YES |
| Payment Terms: | T/T, L/C, WU |
| Business Type: | Manufacturer |
| Quality Certificate: | CE, GB, ISO9001, FDA |
| Main Export Markets: | North America, Western Europe, Eastern Europe, South America, Southeast Asia, Eastern Asia, Mid East, Oceania, Africa |