Property
Clear, flammable, volatile liquid with fruit fragrance. Specific gravity: 0.902, Melting point: -83 ℃, Boiling point: 77 ℃. Refraction rate: 1.3719, Flash point (in open cup): 7.2 ℃. Soluble in water, chloroform, ethanol, acetone and aether. Could form azeotrope with some solvent.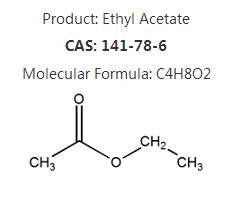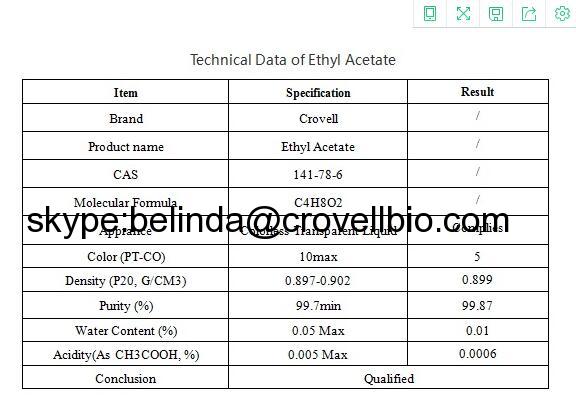 Packing, transportation and storage
It shall be packed into clean stainless steel or ferric tanker or clean, dry and strong steel drum in dry and well ventilated area, being prevented from moisture. The drum shall be tightly sealed and conform to the regulations of transportation and storage of dangerous goods.
Careful handling is necessary to avoid damage of the container. Personal protection measures shall be provided.
| | |
| --- | --- |
| Item of Analysis | Standard |
| Assay,GC | ≥99.0% |
| Appearance | Transparent liquid without suspended impurities |
| Odor | 1. A STRONG CLEAR PINEAPPLE-LIKE AND WINE-LIKE ODOR |
| ICID VALUE | ≤1.0 |
| SPECIFIC GRAVITY/DENSITY(25/25℃) | 0.894~0.899 |
| REFRACTIVE INDEX(20℃) | 1.370~1.375 |
Application
1. As industrial solvent,it is used to coating, adhesive, ehtyl cellulose, leatherette, colorant for linoleum, artificial fibre.
2. As adhesive, it is used to the production of printing ink and artificial pearls.
3. As extractant, it is used to the production of medicine and organic icid.
4. As solvent, it is used to the synthesis of dyes and some pharmaceutical intermediates.
5. It is aslo the major raw material of pharmaceutical industry and organic and it is used to cleaner in textile industry and extractant in natural perfume.
Thanks for your considering of Crovell Biotech (Hebei) Co., Ltd.(Crovell). Crovell is a fast growing intermediates company,Which located in Shijiazhuang,Hebei Province.
Crovell is specialized in pharmaceutical intermediates, veterinary drug intermediates and dyes intermediates,such as phenylacetamide, dimethylamine hcl, benzyl chloride etc., Crovell also supply various industrial chemicals for customers, such as citric icid,potassium chloride etc.
After ten years development,Crovell has become a Diversified development company,not only involves in chemicals, but also real estate ,clothes ,agricultural products and so on.
So far, Crovell has business in more than 35 countries,most big customers come from europe and America, because among the suppliers in china,Crovell can always make the product quality best, some of the products from Crovell can reach the purity of 99.9+, such as 2-phenylacetamide. This is the important reason for customers who choosing Crovell.
In future, Crovell must become to a more important trade bridge for china and foreign countries especially in pharmaceutical industries.