1. How to build a Steel building ( made of structure construction ) , please check the following table :
Design Data ( important )

live load on roof ( KN / M2 )

wind speed ( KM / H )

snow load ( KG / M2 ) if have

Size ( important )

width

length

height

roof slope

Type

single slope or double slope

muti slope or single span
double-span or Multi-span

single floor or two floors

Inter column

5m , or 6m ….

Windows & Door

1 . quantity

2 . size

3 . Location

4 . PVC or aluminum

Column &Beam

straight cross-section OR Variable cross-section

Roof & Wall Panel

1 . Colorful corrugated steel sheet 0.326~0.8mm thick , YX25-210-840 ( 840mm wide )
2 . sandwich panel with EPS , ROCK WOOL , PU etc , insulation thickness around 30 ~ 300mm

3 . sheet+glass fiber(thick 50mm~200mm)

Purlin

1 . C purlin

2 . Z purlin

Accessories

Do you need the skylight belts , Ventilators,down pipe , out gutter etc ?

Surface Treatment

Shot blasting with anti rust paint or hot dip galvanize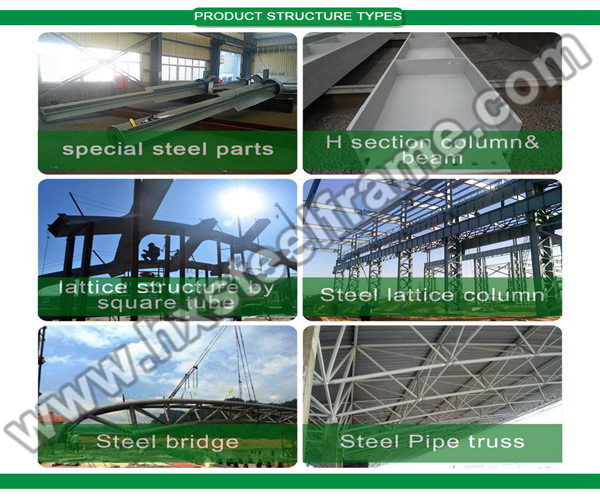 2. China Steel Structure Solution Leader :
310+ Projects/ 40+ Countries/ 300,000 MT Exported
American& European Certification System
We could fabricate all kinds of steel structure for industrial and civil fields, like Power Plant [ Incl. HRSG( NPP) & Ducts; ACC; Conveyor], Oil Gas & Chemicals, Metal & Mining, Commercial Building, steel workshop, high rise building, Theme Park, Modularization and Fireproofing, etc.
3. Project case- Philippines Prefabricated Cold Storage Warehouse, 2013, 2900 tons:
Main steel frame:
Steel beam & column: Q345, Welded H beam
Wind-resistant column: Q345, Welded H beam
Secondary frame:
Roof purlin: Z250*75*20*2.2
Ceiling purlin: C120*50*20*2.2
Wall purlin: C180*70*20*2
Tie bar: 102*2
Vertical & horizontal bracing: 20
Kneel-bracing: L504
Purlin bracing: Q235, 12
Sleeves tube: Q235, 32*2.5
Roof system:
Type V930 pu panel 0.5/100/0.6mm Pu panel
Wall system:
Type v930 panel 0.5/100/0.6mm Pu panel
This project is invested by the government, before the client issue the order, the client, government, and the 3rd party consulting company visited us for 4 times. Finally after compare the advantage between 6 suppliers, they choose us. The later result prove their selection are wise. We finish the project 20 days before the delivery end date, and with good quality.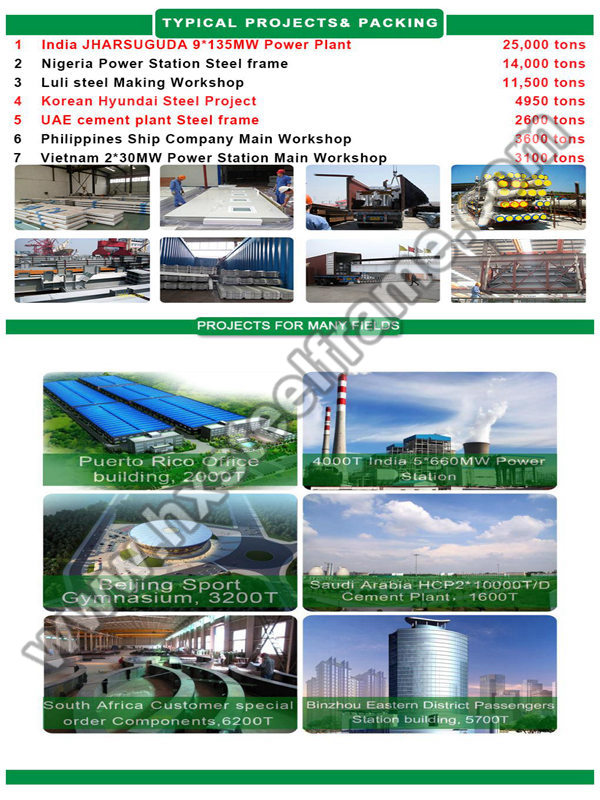 4. Hardware Advantage for Steel building ( made of structure construction ) :
Factory I covers area of 253 mu( 168, 751SQM) , with 18, 000SQM of heavy structure workshop, 36, 000SQM of light structure workshop, 16, 000SQM of non-standard product workshop, 3000SQM of pre-fabricated piping workshop and 40, 000SQM of finished product stacking yard.
Factory II covers an area of 1000 mu( 667, 000 SQM), include 30, 000SQM heavy structure workshop( lifting capacity 200T) , 34, 000SQM non-standard product workshop, 34, 000SQM of enclosed painting workshop, 20, 000SQM of packing workshop and 30, 000SQM of finished product storage yard have been constructed.
Our heavy structure workshop of factory II is specially designed for fabricating all kinds of super heavy structure, the crane are equipped with max elevating capacity of 200MT.
5. Packaging & Shipping for Steel building ( made of structure construction ) :
1) Using container:
container of 20 feet, and container of 40 feet
2) By sea for batch goods, for container or bulk-cargo ship, port receiving.
3) Customers specifying freight forwarder or negotiable shipping methods
4) All of the steel column& beams ends and plates will be packed by the blanket to protect them from the crash in the container during the shipment.
5) To make the loading and unloading more efficiently and saving the delivery cost, 40' OT is preferred to loading the steel frames.
6) All the wall and roof panels will be filmed by two sides and fixed stably in the 40HQ container.
7) All the windows and doors will be protected by the bubble rapping papers and fixed stably in the container.
6. FAQ:
1) How can i get the quotation of the product of Steel building ( made of structure construction ) ?
A:
(1) If you have drawing, we can give you our quotation according to your drawing.
(2) If you have no drawing, my company will make a layout drawing. After you make sure all details in the drawing is no problem, we will send our quotation according to the drawing.
2) Is your price competitive with other companies ?
A: Our business objectives are to give the best price with same quality and best quality with the same price. We will do everything we can to reduce your cost.
3) Do steel constructions harm the nature ?
Answer: Steel is 80% recycling material. So it does less harm to the nature compared with the other type buildings.