| | |
| --- | --- |
| Chemical Name: | Magnesium chloride |
| Molecular Formula: | Cl2Mg |
| Formula Weight: | 95.21 |
| CAS No.: | 7786-30-3 |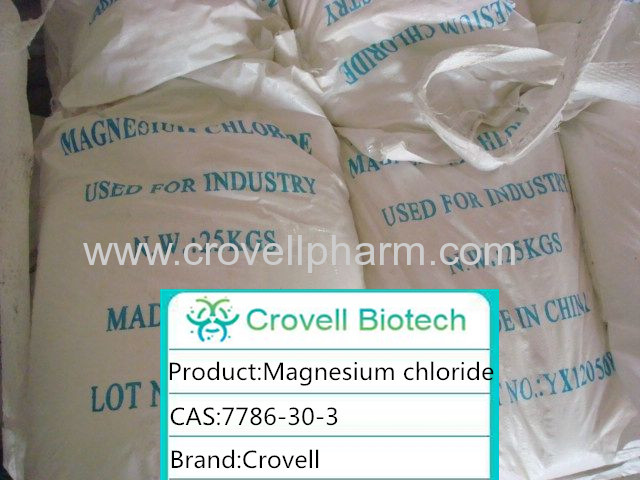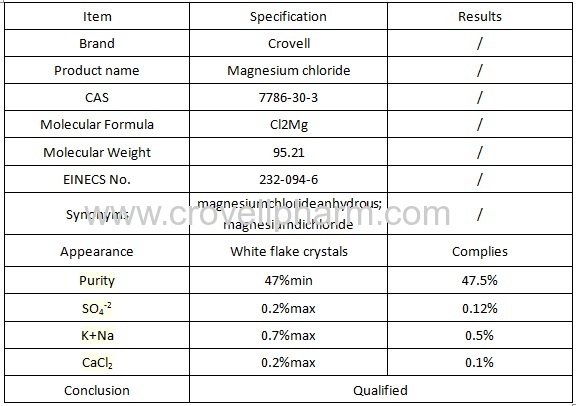 Magnesium chloride Chemical Properties
| | |
| --- | --- |
| Melting point | 714 °C(lit.) |
| Boiling point | 1412°C |
| density | 2.32 g/mL at 25 °C(lit.) |
| refractive index | n20/D 1.336 |
| storage temp. | 2-8°C |
| solubility | H2O: soluble |
| form | powder |
| color | colorless |
| PH | 5.0-7.5 (25℃, 1M in H2O) |
| Water Solubility | 400 G/L (20 ºC) |
| Sensitive | Hygroscopic |
| Merck | 14,5662 |
| Stability: | hygroscopic |
| CAS DataBase Reference | 7786-30-3(CAS DataBase Reference) |
| NIST Chemistry Reference | Magnesium dichloride(7786-30-3) |
| EPA Substance Registry System | Magnesium chloride (MgCl2)(7786-30-3) |
| | |
| --- | --- |
| Hazard Codes | Xi |
| Risk Statements | 36/37/38-43-36/37 |
| Safety Statements | 26-36-24/25-22-36/37-39 |
| WGK Germany | 1 |
| RTECS | OM2800000 |
| F | 3-10 |
| TSCA | Yes |
| HS Code | 28273100 |
| Hazardous Substances Data | 7786-30-3(Hazardous Substances Data) |
Magnesium chloride Usage And Synthesis
General Description
Magnesium chloride is a constituent of sea water. It also is found in most natural brines and many minerals such as carnallite, KCl•MgCl2•H2O. Its hexahydrate occurs in nature as mineral bischofite, MgCl2•6H2O.
Uses

Industry
Application
Role/benefit
Chemical manufacture
Manufacturer of magnesium metal and other magnesium compounds
Source of magnesium
Road maintenance
Dust control
Moisture absorbed from the air prevents dust formation
Snow and ice control
De-icing agent/helps to prevent the ice bond on the road and to remove ice buildup from road
Medicine
Treating or preventing magnesium deficiency
Source of magnesium/helps to raise magnesium levels in the body
Food
Tofu
Coagulant agent/helps liquid forms of soy to solidify into tofu
Baby formula milk
Ingredient
Gas storage
Storage of Hydrogen Gas
Storage material/effectively absorbs ammonia which is rich in hydrogen atoms
Cement
Manufacturer of Sorels cement
Raw material/Mixed with hydrated magnesium oxide to form hard material
Others
Fire extinguishers
Effective reactant
Paper filling
Fire retardant
Textile filling
Keeps the humidity of cotton to make it soft
Fertilizer
Source of magnesium
Mineral supplement for animals
Refrigeration brine and artificial seawater
Waste water treatment
Effective ingredient
Anesthesia for cephalopods, crustaceans and bivalve
Anaesthetic
Polymerase chain reaction
Necessary for both in vivo/vitro DNA synthesis

Chemical Properties
white powder
Uses
An excellent magnesium ion source for synthesis and biology research
Definition
ChEBI: Magnesium chloride is a magnesium salt comprising of two chlorine atoms bound to a magnesium atom.