1. Our excellent design team will design the Steel building ( made of light metal frame ) for you . If you give the following information:
1 ) Location ( where will be built ? ) _____ country , area
2 ) Size : Length * width * height _____ mm * _____ mm * _____ mm
3 ) wind load ( max . Wind speed ) _____ kn / m2 , _____ km / h , _____ m / s
4 ) snow load ( max . Snow height )
_____ kn / m2 , _____ mm
5 ) anti-earthquake _____ level
6 ) brick wall needed or not If yes , 1.2m high or 1.5m high
7 ) thermal insulation If yes , EPS, fiberglass wool , rock wool , PU sandwich panels will be suggested ; If not , the metal steel sheets will be ok . The cost of the latter will be much lower than that of the former .
8 ) door quantity & size _____ units , _____ ( width ) mm * _____ ( height ) mm
9 ) window quantity & size _____ units , _____ ( width ) mm * _____ ( height ) mm
10 ) crane needed or not If yes , _____ units , max . Lifting weight ____ tons ; Max . Lifting height ___m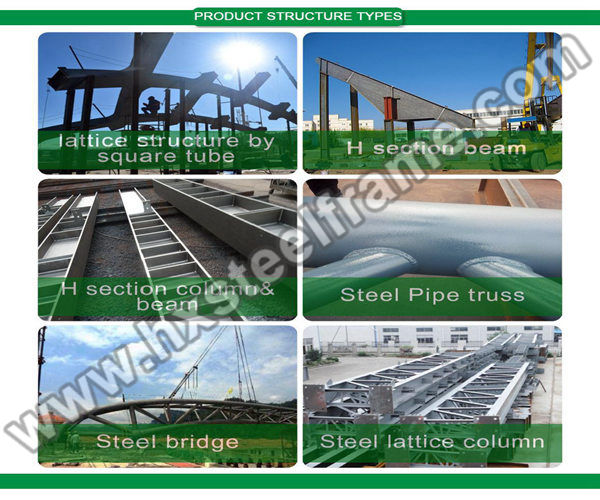 2. Our Products Scope:
1) Steel Structure for industrial and power fields, such as power plant, steel mill, solar industry, hydroelectric plant, petrochemical fields, oil and gas pipeline, etc.
2) Steel Structure for civil fields, like high-rise building, heavy Steel Structure, workshop& warehouse, etc.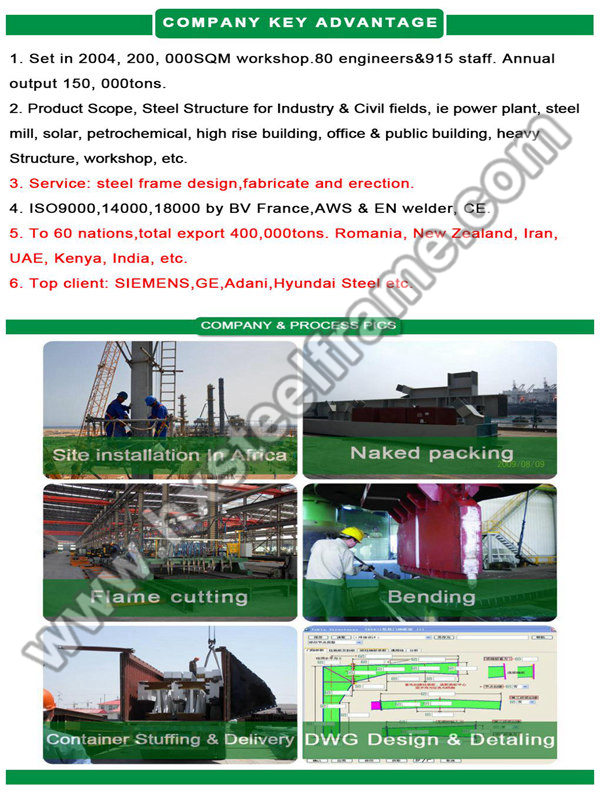 3. Project case- Extended Ship Manufacturing/ Repair Yard& Office Building-Singapore:
Detailed introduction
Location: Singapore, heavy steel structure fabrication work
Tonnage: 2000ton( Including All Main frame and Secondary Structures)
Structure Type: lattice column and truss girder with crane capacity 2x 50T, 1x 32T, 2x 30T, 2x 20T, 2x 15T, 2x 5T.
Execution: October.15, 2012
Difficulty: Material Substitution From British Standard Into Chinese standard and Make the converting and output all the shop-drawings accordingly.
This project, the fabrication standard is as per American standard, all the welders shall have the AWS welder certificate, the 3rd party QC will stay in our factory track the whole fabrication process. Finally after 50 days efforts, our products pass the inspection by client 100% at once. Client feel happy to work with us. Now we are the VIP supplier in client' s list.
4. We are extremely powerful in supplying Complex Steel Structures:
We are good at flexible and versatile production for the fabrication of complex and heavy steel pieces and structures, thanks to:
1) Advanced engineering
2) Proven fabrication processes adapted for carrying out these types of unique products
3) Know-how and long-standing experience in fabrication of complex steel built-ups
4) Lifting capacity of 200 tons for handling fabrication work of heavy steel built-ups
5) Large working areas to carry out assembly work of oversized steel built-ups
6) Important fabrication capacity for large scale projects
The weight and size of these types of products or the combination of these factors can be challenging, especially in terms of handling activities in the plant and transport. As such, certain of the steel built-up components weighing over 60 tons have to be shipped in sections to the construction sites where they will be installed.
5. Packaging & Shipping for Steel building ( made of light metal frame ) :
1) Using container:
container of 20 feet, and container of 40 feet
2) By sea for batch goods, for container or bulk-cargo ship, port receiving.
3) Customers specifying freight forwarder or negotiable shipping methods
4) All of the steel column& beams ends and plates will be packed by the blanket to protect them from the crash in the container during the shipment.
5) To make the loading and unloading more efficiently and saving the delivery cost, 40' OT is preferred to loading the steel frames.
6) All the wall and roof panels will be filmed by two sides and fixed stably in the 40HQ container.
7) All the windows and doors will be protected by the bubble rapping papers and fixed stably in the container.
6. FAQ:
1) Why should I build steel building using steel structure ?
Steel has the higher strength.
80% recyclable, Steel is the most recycled material in the world.
No warping, no cracking, no chemical treatments.
Stronger connection.
Lower transport costs due to lightweight frames.
Steel frames will not burn, fire proof.
Lightning will not affect a steel framed house since steel creates a positive earth. Lightning energy is conducted straight to the ground.
Each steel structure is a independent engineered.
2) How difficult is it to install Steel building ( made of light metal frame ) ?
Too easy! Some customers who purchase prefabricated steel building choose to install their own warehouse using local erection team.