E-mail: sales2(@)crovellbio.com
Skype: sales2(@)crovellbio.com
Whatsapp/wechat/facebook:
+8615383010221
Sodium sulfate
Sodium sulfate Basic information
Product Name:

Sodium sulfate

Synonyms:

PHENOL SATURATED II (LOW PH) BIOTECH GR;SODIUM SULPHATE FINE PWDR;Sodium sulfate, anhydrous, 99.99% trace metals basis;Sodium sulfate, 99.995% trace metals basis;Sodium sulfate anhydrous for analysis EMSURE ACS,ISO,Reag. Ph Eur;Sodium sulfate anhydrous granulated for organic trace analysis EMSURE;Sodium sulfate anhydrous, coarse granules for analysis 0.63 - 2.0 mm EMSURE ACS;Sodium sulfate anhydrous, free-flowing, Redi-Dri, ACS reagent, >=99%

CAS:

7757-82-6

MF:

Na2O4S

MW:

142.04

EINECS:

231-820-9

Mol File:

7757-82-6.mol



Sodium Sulphate Anhydrous(CAS: 7757-82-6)

| | |
| --- | --- |
| Item | Index |
| Appearance | White granular crystal or powder |
| Na2SO4, % | ≥99.0 |
| Water insoluble matter % | ≤0.05 |
| Ca & Mg, %(Mg) | ≤0.15 |
| Chloride, %(Cl) | ≤0.35 |
| Moisture, % | ≤0.20 |
| Whiteness, % | ≥80 |
Sodium sulfate Chemical Properties
| | |
| --- | --- |
| Melting point | 884 °C(lit.) |
| Boiling point | 1700°C |
| density | 2.68 g/mL at 25 °C(lit.) |
| refractive index | 1.484 |
| storage temp. | Store at RT. |
| solubility | H2O: 1 M at 20 °C, clear, colorless |
| form | powder (fine) |
| color | White |
| PH | 5.2-8.0 (50g/l, H2O, 20℃) |
| Water Solubility | 18.5 mg/L |
| Sensitive | Hygroscopic |
| Merck | 14,8680 |
| Stability: | Stable. Incompatible with strong a-cids, aluminium, magnesium, strong bases. Hygroscopic. |
| CAS DataBase Reference | 7757-82-6(CAS DataBase Reference) |
| NIST Chemistry Reference | Sodium sulfate(7757-82-6) |
| | |
| --- | --- |
| Hazard Codes | Xi |
| Risk Statements | 36/37/38 |
| Safety Statements | 24/25 |
| WGK Germany | 1 |
| RTECS | WE1650000 |
| F | 3 |
| TSCA | Yes |
| HS Code | 28331100 |
| Hazardous Substances Data | 7757-82-6(Hazardous Substances Data) |
ProviderLanguage
| | |
| --- | --- |
| | |
| Sodium sulfate | English |
| SigmaAldrich | English |
| ACROS | English |
| ALFA | English |
Sodium sulfate Usage And Synthesis
The main function

Sodium sulfate is an important raw material in the manufacturing of glass and paper with the maximum usage amount in the paper and cellulose industry which accounts for around 70% of the total amount. Sodium sulfate is the component of synthetic detergent and is a neutral salt. It can be added to the detergent to reduce the surface tension as well as increases the solubility of the detergent. It is also be used as the dye diluent and the auxiliary agent of the dye printing, as direct dyes, sulfur dyes, vat dyes and other accelerant of dyed cotton fiber, as retarding agent for direct dye silk. In the chemical industry, it can be used as the raw material for the manufacturing of sodium sulfide, gypsum, sodium silicate and other chemical products. It has been now developed of the method for making sulfuric a-cid, sulfur, soda ash, ammonium sulfate and other products with sodium sulfate. However, due to the high cost of these methods, it has not yet been widely applied. It has been commonly used by laboratory system for using sodium sulfate as cold agent. Glauber's salt has been used as a laxative medicine. The sodium sulfate entering into the body is largely stuck in the gastrointestinal tract without being absorbed and being maintained at certain penetration. It can increase the volume of the intestines and induce intestinal peristalsis with diarrhea effect. Sodium sulfate is the antidote of barium and lead poisoning. Upon lead poisoning, people can apply gastric lavage with 10% Glauber's salt or orally administer 1 to 2% sodium sulfate solution.
The above information is edited by the chemicalbook of Dai Xiongfeng.

Pharmacological effects

Apply oral administration of small amount with its ionic and osmotic pressure effect being able to slightly stimulate the digestive tract mucosa and causes a slight increase of the gastrointestinal secretion and a slight increase in the movement, therefore it has stomachic effect.
Orally administer a large amount with a lot of sodium sulfate being dissolved in large amount of water for oral administration. Since the ions are not easily absorbed and can maintain large amount of water in the intestines and can mechanically stimulate the intestinal mucosa and can soften the fecal matter and accelerate the defecation. It is clinically mainly used in the treatment of large intestine constipation, eliminating the intestinal toxins as well as getting rid of parasites.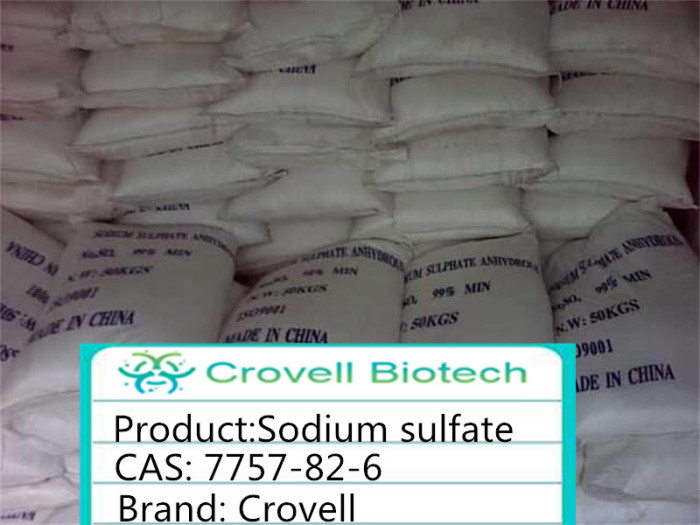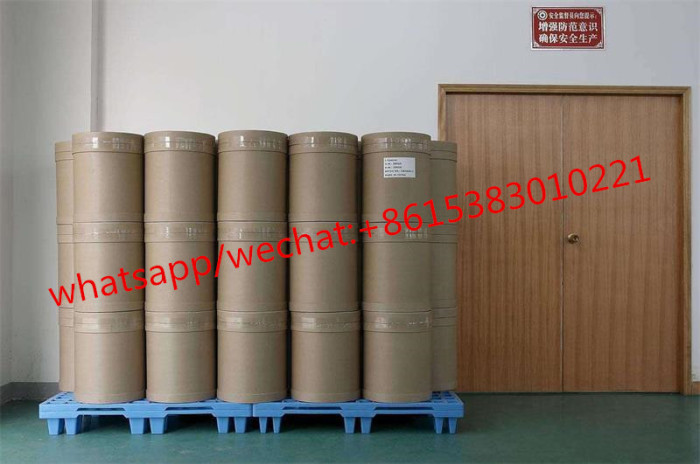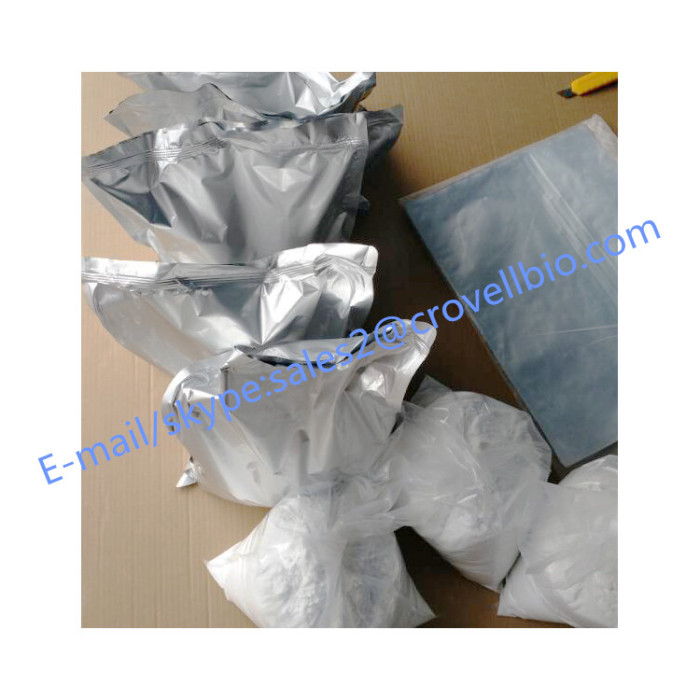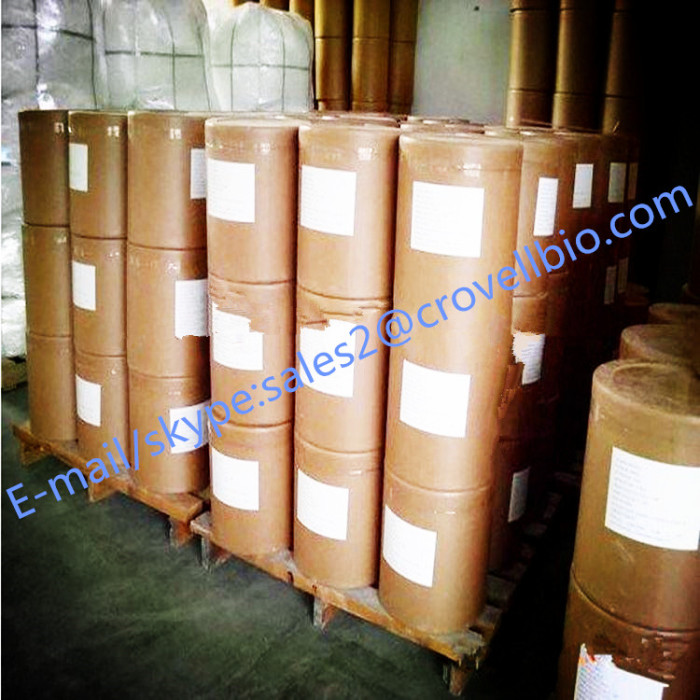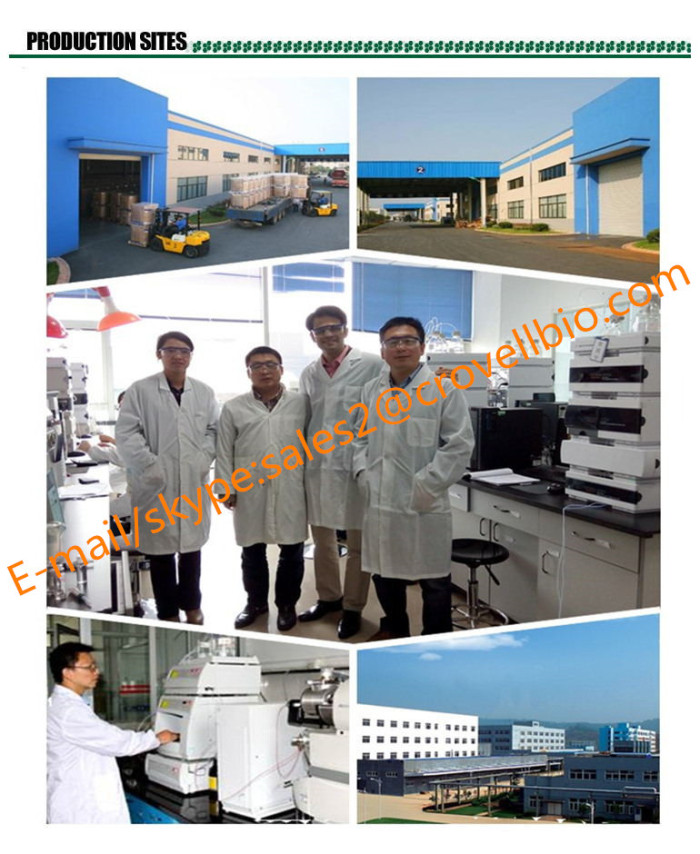 F.A.Q.
1. Why we choose you?
Ten years' experience in pharmaceutical and industrial chemicals, crovell knows about the market clearly. Quality and customer's feedbacks are the most important to crovell.
2. Can you provide free samples?
Of course, for some of the products, free sample is available. You just need to pay for the freight, or you can offer courier account number for sample collect from us.
3. How long the goods will be sent you?
For samples, it will be sent out within 24 hours.
For bulk orders, it usually be sent out about 7-15 days after confirming the order.
4. What is the payment options?
For samples, you can use WU, MG, Bitcoin, TT and so on.
For bulk orders, you can use TT, L/C or DP.
5. Do you have after-sale service?
Of course, we have professional after-service department. Any issues will be solved promptly.
Our service:
1. Mixed container is acceptable, we can mix different items in one container.
2. Shipment is quickly.
3. Packing as your request, with photo before shipment.
4. Quality control, before shipment, free sample for test.
5. After-sale service is supplied.
6. Prompt shipment with professional documents.
7. We offer convenient one-stop purchasing service.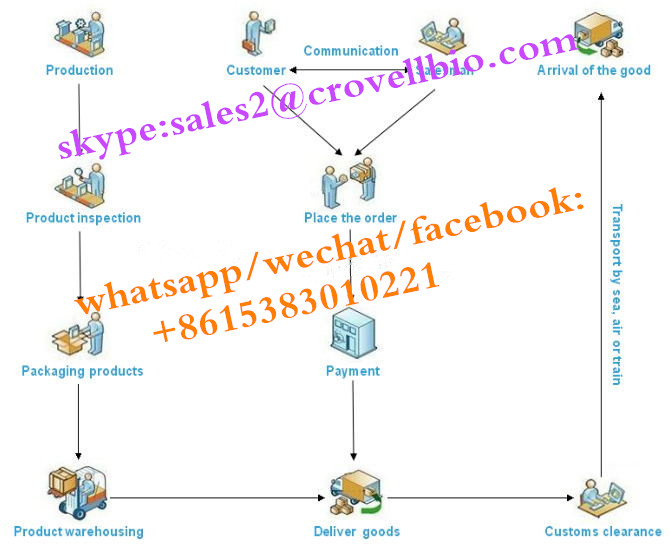 Company Information:
Crovell Biotech (Hebei) Co., Ltd is Located in Shijiazhuang, Hebei Province. Crovell is specialized in pharmaceutical intermediates, veterinary intermediates and dyes intermediates. Crovell also supply various industrial chemicals for customers.
After ten years development ,Crovell has become a Diversified development company, not only involves in chemicals, but also real estate ,clothes ,agricultural products and so on.
So far, Crovell has business in more than 50 countries, most big customers come from Europe and America, because among the suppliers in china, Crovell can always make the product quality best, some of the products from Crovell can reach the purity of 99.9+. This is the important reason for customers who choosing Crovell.
In the future, Crovell must become a more important trade bridge for china and foreign countries especially in pharmaceutical industries.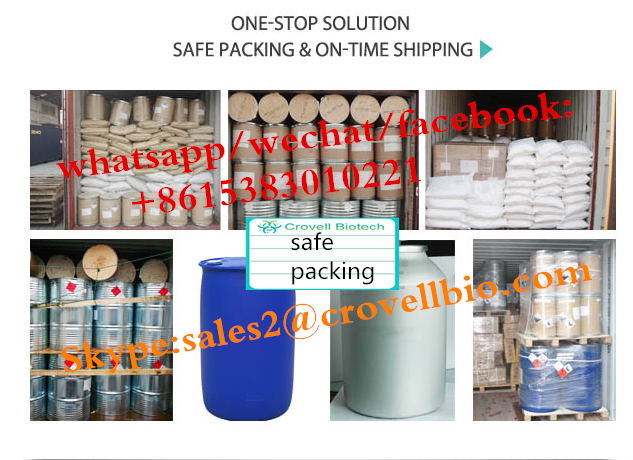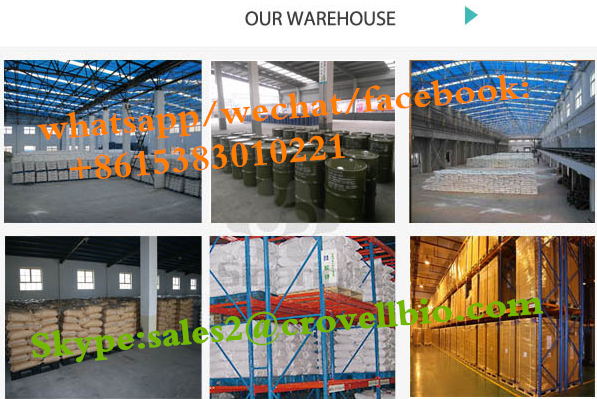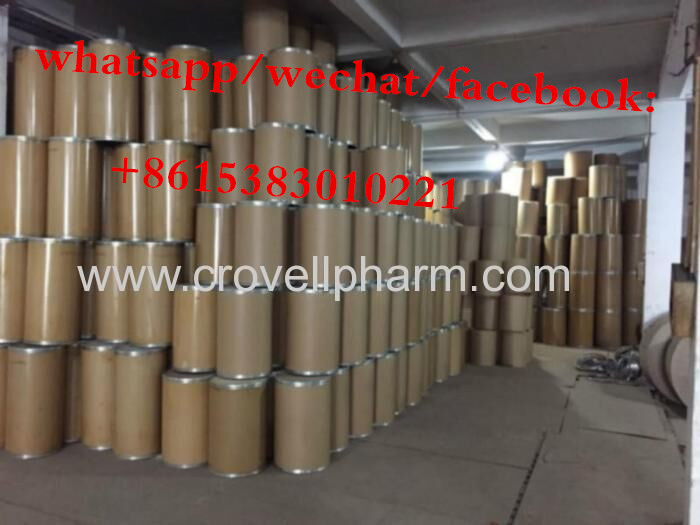 To get more information, just feel free to contact with us. Thanks.

Miss cherry:
E-mail: sales2(@)crovellbio.com
Skype: sales2(@)crovellbio.com
Whatsapp/wechat/facebook:+8615383010221
laboratory pictures: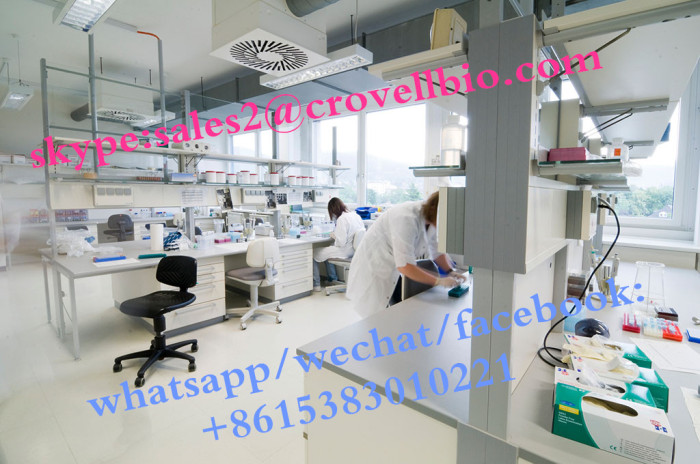 Shipping Methods: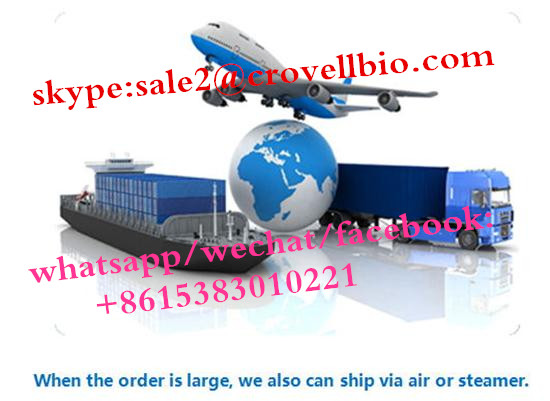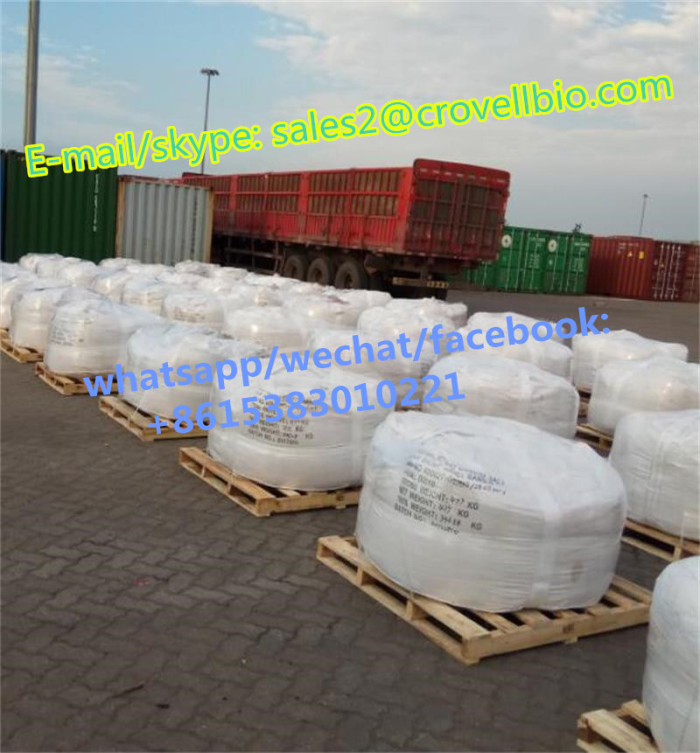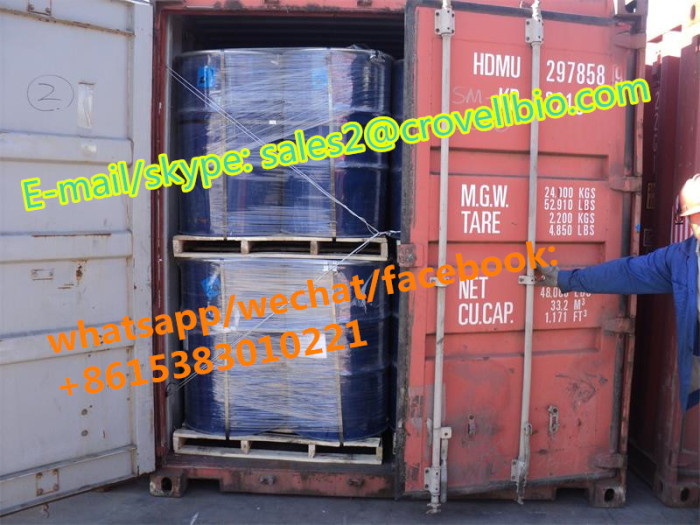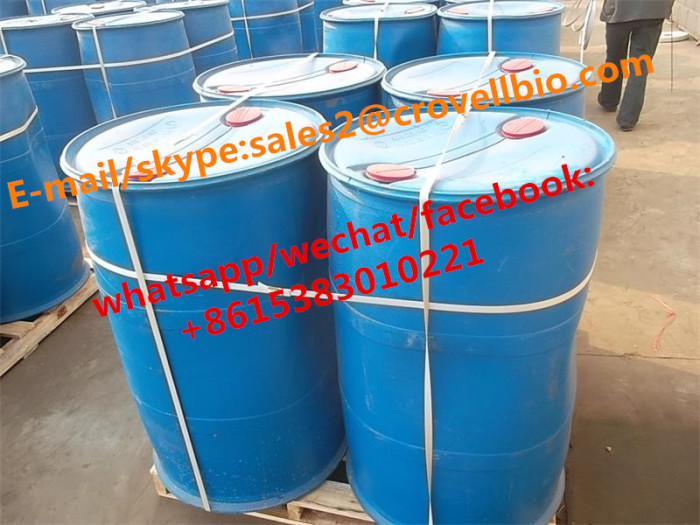 Contact Information: