AMMONIUM CHLORIDE :
1:CAS: 12125-02-9
2.Purity:99.9% min
3.Appearacne: white powder crystal
4.Competitive price
5.Best quality


Product Details:
Classification:Chloride
Type:Ammonium Chloride
CAS No.:12125-02-9
Other Names:ammonium chloride 99.5% min.
MF:Nh4Cl
EINECS No.:235-186-4
Place of Origin:Hebei, China (Mainland)
Grade Standard:
Agriculture Grade, Electron Grade, Food Grade, Industrial Grade, Medicine Grade, Reagent Grade
Purity:99.5% min.
Appearance:white powder crystal
Application:
It is mainly used for making dry cell and storage battery ,dyeing aid,
Brand Name:Crovell
Model Number:

ammonium chloride 99.5% min.
Colour:white
anticaking agent:with/without
HS CODE:2827 1090
Packaging & Delivery
Packaging Details25KG/BAG, 50KG/BAG, 500KG/BAG, 1000KG/BAGDelivery Timewithin 15 days after confirm contract
Technical date of AMMONIUM CHLORIDE: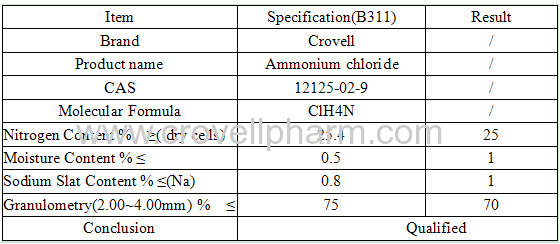 Application: Ammonium chloride is also an available nitrogen chemical fertilizer whose nitrogen content is 24% to 25%. It is a physiological acidic fertilizer and suitable for wheat, rice, corn, rapeseed and other crops. It have the effects of enhancing fiber toughness and tension and improving quality especially for cotton and linen crops. However, due to the nature of ammonium chloride, if the application is not right, it will bring some adverse effects to soil and crops.
Technical conditions: the implementation of the People's Republic of China national standard GB-2946-82.
Packing: