Chinese Dutch Wire Mesh
Weave Types:Plain,twill

Material:304,304L,316,316L
Mesh/inch:7*40-500*3500
Filter ratings:3-347micron
Regular width:1.0-1.5m


According to the weave types,dutch wire mesh is divided into plain dutch wire mesh and twill dutch wire mesh.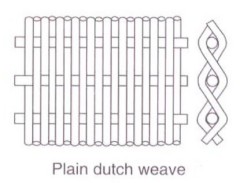 The plain dutch weave is produced by the use if coarse mesh(mesh wire,woven wire mesh,wire mesh basket)in the warp and a fine mesh with relatively smaller wire in the fill.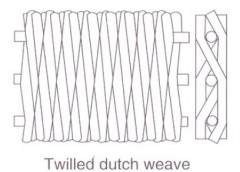 The twill dutch weave is produced by a combination of the features of the plain weave and the twill weave.Fill wires are passed alternately over and under two warp wires forming a fine mesh in one direction and a coarse mesh(mesh wire,woven wire mesh,wire mesh basket) in the other.


Features:

The duth weave results in greater strength with very fine openings and is primarily used as a filter cloth.The shape and position of the openings aid particle retention and increase filter cake formation.

Applications:
Dutch wire mesh is most frequently used for high pressure filtration processer to separate from other medium.It is widely used in industry of spaceflight,petroleum,chemical and so on.It is extensively used in aerospace industry,petroleum and chemical industry,beer,machines,etc.