product name:steel earth anchor for winches pullers tensioners blocks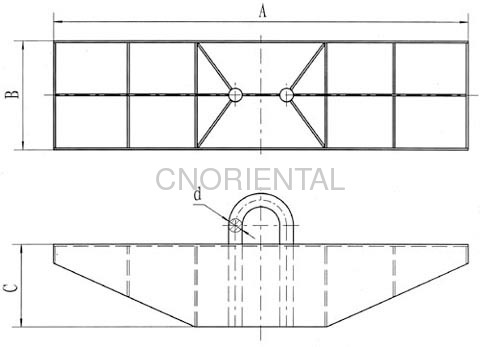 Specification of steel earth anchor for winches pullers tensioners blocks


model
allowed linepull(kN)
effective bury depth(mm)
dimension (mm)
Weight


A
B
C
D
(kg)


02121
SDM5
50
1.8
900
270
180
Φ28
30
02122
SDM10
100
2
1200
290
220
Φ36
52


Application: Boat earth anchor is for temporary anchoring in foundation and line construction .Fixing winches, cable pullers, cable tensioners, pulley blocks, temporary stringing etc.

Composed by steel, rust-proof treated surface, durable for long time use.

Use: Deep bury the boat earth anchor into the earth, and fix it with a steelrope connected.


GROUND ANCHORS
Ground anchors consisting of cables or rods connected to a bearing plate are often used for the stabilization of steep slopes or slopes consisting of softer soils, as well as the enhancement of embankment or foundation soil capacity, or to prevent excessive erosion and landslides. The use of steel ground anchors is often constrained by overall durability in placement (due to weight), and the difficulty in maintaining tension levels in the anchor. Anchor systems fabricated from fiber reinforced composite materials show a number of benefits compared to conventional systems for the following reasons:
Enhanced durability including resistance to corrosion and resistance to alkalis and solutions in soils increase their life and greatly reduce the need for maintenance, thereby decreasing life-cycle costs.

Lighter weight results in easier transportation of cables to site, and increases the efficiency of handling and placement.

Enhanced tensile strength coupled with lighter weight and enhanced mechanical properties results in greater safety during installation in areas with limited clearance.
In most cases, it is possible to use conventional jacking systems and still realize greater flexibility in placement and tensioning in difficult ground formations.
Composite ground anchors generically consist of three parts:
The anchorage is generally a stainless steel sheath with an anchor nut/plate through which the composite cable is run. The anchorage is usually filled with a non-shrink expansive cement mortar that ensures fixity and no slippage. The anchorage also is used to fasten the system to the outside structure.

The cable can consist of multiple rods that are separate or braided together, or a single rod.

A sheath or sleeve made from polyethylene or PVC that is fitted around the free anchor length of the cables.
We offers:
overhead stringing puller tensioner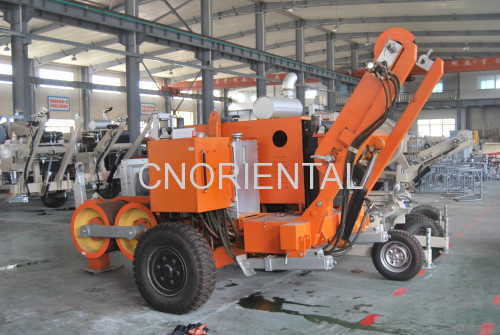 Stringing pulley blocks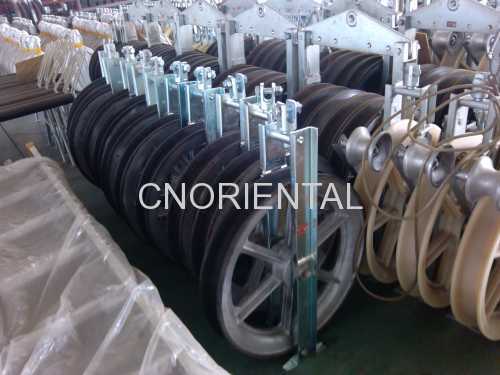 Come along clamps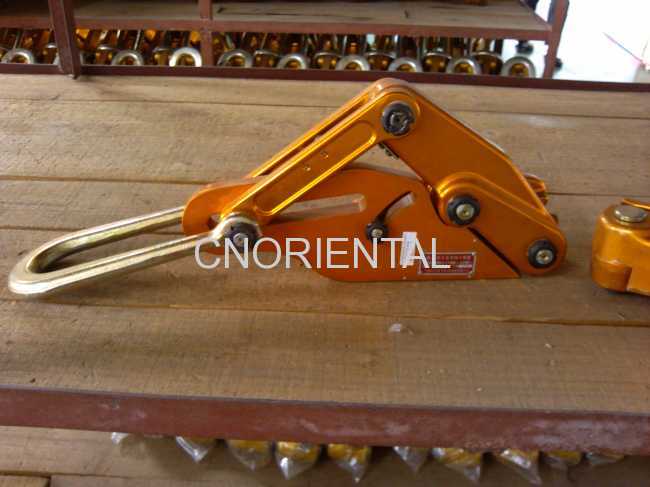 3T 5T diesel gasoline powered winch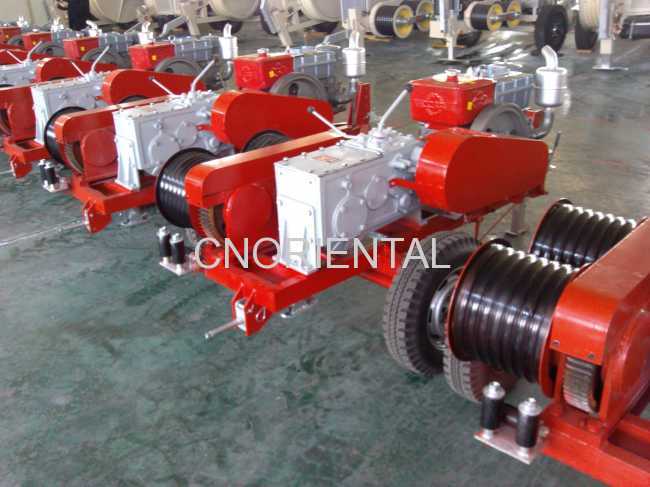 underground cable sender, cable pusher, cable feeder, cable puller and rollers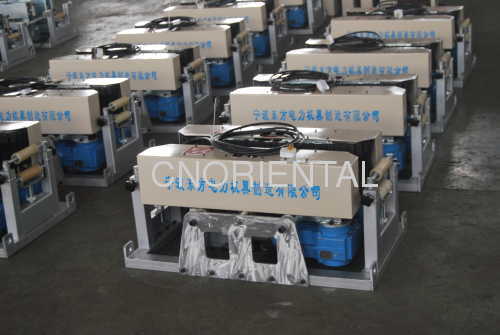 hydraulic drum jack , reel stand, reel elevator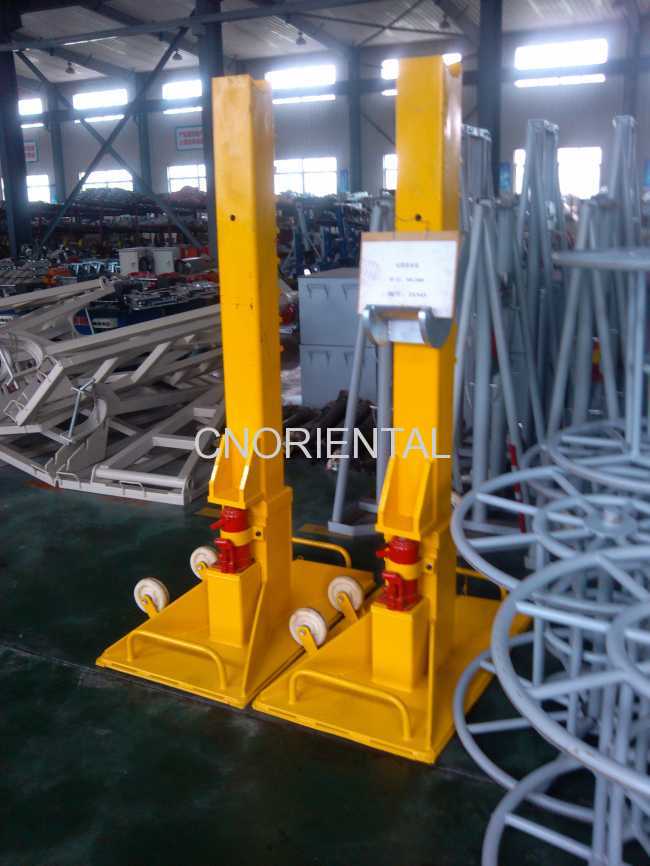 Anti twist steel wire rope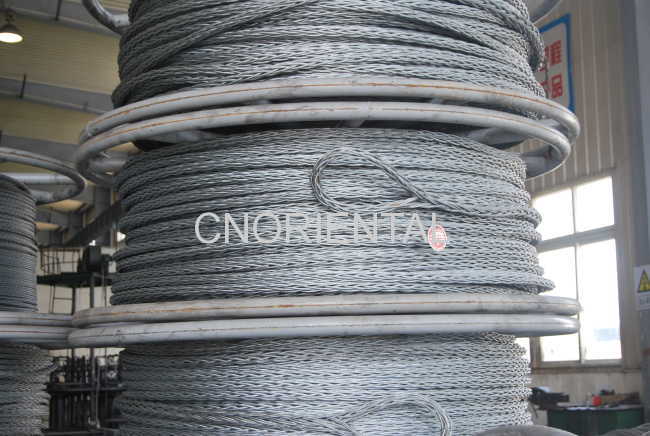 Duct rod, duct rodder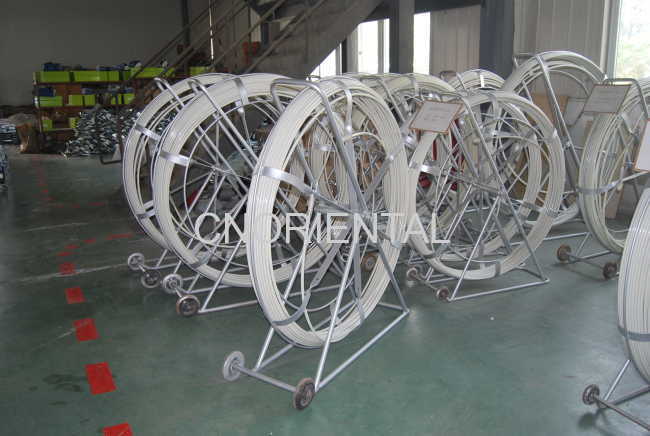 Gin pole
About NINGBO ORIENTAL MACHINERY OF POWER CO.,LTD
We supply various series of equipments and tools for overhead and underground power line transmission installation totally over 2000 products since 1988. Till now we have established business relationship with nearly 5000 power and telecom utilities in China as well as 40 countries world-wide.
1988: Ningbo Oriental Machinery of Power Co., Ltd established
1998: Passed factory management: ISO 9001 International Quality Management System.
2000: Approved by Nation Grid as "Sole Manufacturer of Electric Power Construction Equipment"
2004: Invested 6.5 billion RMB to build a new industy zone covering 105,000 m2.
2006: Gained "Manufacture license of special equipment people's republic of China" by General Administration of Quality Supervision, Inspection and Quarantine of the People's Republic of China"for producing puller ,tensioner and gin pole etc.
2007: confirmed by "China Electricity Council", awarded the first "Key Manufactory of Power Construction Equipment" in China.
2007~2011: Awarded "China qualified famous brand", "Ningbo famous brand", " National Technology Innovation quality management advanced company", "Ningbo top 100 manufacture", "AAA credit enterprise" , " Nation High technology enterprise"
2011:Still now, we have over 400 staff, including one expert enjoying special allowance from State Council, 15 senior engineers, 23 engineers, 34 assistant engineers and 19 senior technicians.
Testing facilities
We invest large number of funds into developing new products and enhancing quality of products every year. After moved to the new industry zone, we have invested over 200 million yuan accumulatively, introducing lots of advanced production equipment and facilities. Now we have:
218 sets of various production equipment
a 40-meter high testing tower (load:40t) and 4000m2 of outdoor testing field which is suitable for the simulated test of 300KN hydraulic pullers, 4*45KN hydraulic tensioners, electrical crossing structures, emergency restoration towers and gin poles;
1000KN horizontal tensile tester and 600KN multifunctional vertical tester which is fit for the tensile test of construction tools and machines of transmission lines up to 1000KV.
35MPa hydraulic testing table ensures the reliable hydraulic system and the more smooth development of hydraulically driven equipment, like pullers and tensioners