57mm length knurl stud, thread length 35mm, knurl length: 12mm, total length 57mm
good concentricity, Grade 10.9 strength.

XS 57mm length Male press mounted knurled studs, popular thread size: M12x1.5, M12x1.25, 1/2x20, other sizes: M14x1.5, 7/16, M12x1.75, 9/16. Made from 40Cr or 40CrMo, by automatic cold extrusion machine, Grade 10.9 with good concentric, white or golden plated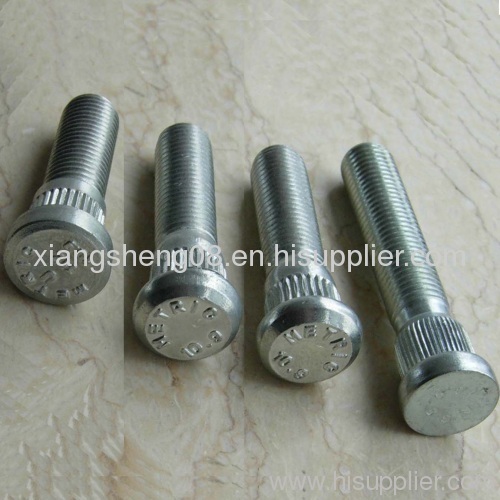 Quick Details:
| | | |
| --- | --- | --- |
| Place of Origin: China (Mainland) | | Model Number: wheel stud |
| Diameter: 11-15 Inch | | |
Specifications:
Grade 12.9 & Grade 10.9 high strength stud and nut
It is interchangeable with YORK, BPW, BMC(FAITH), CHRYSLER, DAF, FRUEHAUF, MAN, MERCEDES BENZ, ROR, SAF, SCANIA, VOLVO etc


Wheel studsare the threaded fasteners that hold on thewheels of many automobiles. They are semi-permanently mounted directlyto the vehicle hub, usually through the brake drum or brake disk. Lugnuts are fastened over to the wheel stud to secure the wheel. When awheel is removed for tire changes etc., the stud remains in the hub
Many automobiles instead use bolts to do this, where removable bolts screw into the wheel hub
Wheel studs can be either factory equipment or aftermarket add-ons.