Application

Trail camera for hunting
Animal or events observation
Motion-triggered security camera, for home, office and community
All other indoor/outdoor surveillence where invasion evidence needed

Features


• Programmable 5 or 12-Megapixel high-quality resolution.
• Infrared night vision blue LEDs for flash range as far as 65 feet
• In "Cam + Video" mode, camera takes both pictures and video at every trigger event
• Ultra low standby power consumption. Extremely long in-field life (in standby mode, up to 6 months with 8 x AA batteries)
• Unique side Prep Sensor design provides wider sensing angle and enhances camera's
response speed
• Perform in the most extreme temperatures from -22°F to 158°F
• Compact size (5 ½ x 3 ½ x 2 ½ inches). Well designed to deploy covertly
• Impressively quick trigger time (1.2 second)
• Under Time Lapse setting, works as Time-lapse camera taking pictures/videos at specified interval
• When Timer setting on, programmable to only work in specified period every day. This feature can be used together with Time Lapse feature to meet your timetable
• Backpack-looking tree grabber makes mounting and aiming a snap
• Serial Number setting enables you to code locations in the photos, helping multi-camera users identify the location when reviewing the photos on home computer
• Built-in 2 ¼" TFT color display to review images and videos
• Date, time can be stamped in the pictures
• Lockable and password protected
• Two MMS image size options: 640 x 480 or 320 x 240
• Camera and MMS function can be conveniently configured by running the enclosed CD
on the computer
• Separation of the Camera and the MMS module provides users flexibility: starting with the standard scouting camera, and upgrading to the Cellular model with MMS function.
• Advanced Remote Cellular Technology transmits images to your cell phone and email account constantly at lower battery consumption and shorter transmission time,
compared to products of its kind on the market.
• Check cellular signal information on the built-in TFT display in the field
• All MMS pictures, as well as the original ones, saved on SD card
• Internal antenna design makes the camera portable while still emitting strong signal
• Operates globally via GSM/GPRS network. Supports four bands: 850 / 900 / 1800 / 1900MHz.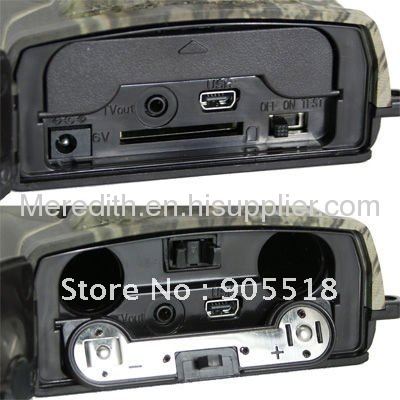 TECHNICAL SPECIFICATION


Model
Parameters
Image Sensor
12 Mega Pixels Color CMOS
Max. Pixel Size
4000x3000
Lens
F=3.1; FOV=55°; Auto IR-Cut
IR Flash
65 Feet/20 Meters; 30 Feet/10 Meters on
Low-glow Flash
LCD Screen
48x35mm(2.36"); 480(RGB)*234DOT;
16.7M Color
Memory
SD Card (8MB ~ 32GB)
Picture Size
5MP/12MP/1.3MP =
2560X1920/4000X3000/1280X960;
Video Size
1280x720P: 30fps; 640x480: 20fps; 320x240: 20fps
PIR Sensing
65ft/20m(Below 77°F/25°C at the Normal
Distance
Level)
Prep PIR
Left and right light beams form an angle
Sensing Angle
of 100°; Each lens covers 25°
Main PIR Sensing
58°
Angle
Trigger Time
1.1 Second (When using the 2G SD card)
Camera + Video
First take Picture then Video
MMS Status
VGA = 640x480; QVGA = 320x240; SMS;OFF
Programmable
MMS Numbers
"0" = Unlimited; 0 ~ 99/Day
MMS Phone No.
1 ~ 3 Phone Numbers
MMS E-mail
1 ~ 3 E-mail addresses
Power Supply
4xAA; Expandable to 8xAA
External DC
Plug Size: 4.0x1.7
Power Supply
6 ~ 12V (1 ~ 2A)
Stand-by Current
0.4mA
Stand-by Time
3~6 Months(4xAA~8xAA)
Power
150mA (+350mA when IR LED lights up)
Consumption
Interface
TV out (NTSC); USB; SD Card Slot; 6V
DC External
Waterproof
IP54
Language
English/Chinese/French/Norwegian/Deutsch/Spanish/Portuguese/Japanese/Russian/Finnish
/Portuguese/Japanese/Russian/Finnish
Operation
-22~+158°F/-30 ~+70°C
Temperature
Operation
5% ~ 95%
Humidity
Certificate
FCC & CE & ROHS

Package included:

Digital camera
TV AV IN cable
USB cable
Strap
Instruction Manual
Warranty Card
(Warranty: 12 months)
Our Service

1.Quick delivery: 3 days after payment, in the unlikely event the date maybe delayed due to a shortage, we'll inform you avia message or email immediately.
2.Warranty: 12 months
3.You may return most new, unused items sold within 7 days after you received the goods for a exchange or refund. Pls contact us before you return. Our service representative will help you and Handle Returns and Refunds Gracefully as a part of our business