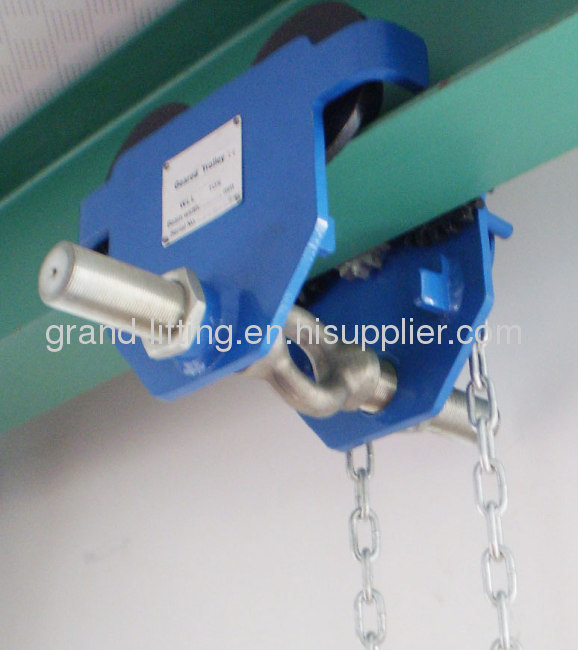 Item No.(I-beam:nomal)
ZHGT-S-0.5T
ZHGT-S-1T
ZHGT-S-2T
ZHGT-S-3T
ZHGT-S-5T
Item No.(I-beam:long)
ZHGT-S-0.5T-L
ZHGT-S-1T-L
ZHGT-S-2T-L
ZHGT-S-3T-L
ZHGT-S-5T-L
Capacity(t)
0.5
1
2
3
5
Running test load(kn)
7.35
14.71
29.42
44.13
61.29
Running height(m)
3
3
3
3
3
Chain pull to lift full load (Kn)
45
80
150
120
160
Min.radius of curve(m)
0.85
1
1.1
1.3
1.4
Dimension(mm)
A
a
292.5
346
357
370
382
b
383
440
451
464
476
B
225
246
276
332
377
C
173
190
218
264
293
H
74
90
106
121
136
S
32
38
38
40
42
D
25
30
40
46
52
G
30
36
48
58
65
F
1.5-3
I-Beam width range(mm)
M
normal
50-220
58-220
66-220
74-220
90-220
long
/
165-305
165-305
178-305
178-305
Net weight(kg)
a
9
13
15
27
40.5
b
/
14
16
28.5
42.5
Manual Gear Trolley
1. Hang the manual or electric hoist
2. easy pull or move
3. Adjustable to any beam width, simply by adjusting the number of collars.
4.The wheels are made to fit any shape of beam
5. High grade sealed ball bearings.
6. With anti-drop plates.
7. For gear trolley, the standard operating length is 3m, other length is available upon request.
8. Please visit the website link for beam types.

1) Easily adjustable (round nuts) to fit a wide range of beam widths.
2)Adjustable to fit a wide range of beam profiles.
3)Excellent rolling features due to machined steek wheels mounted on prelubricated, encaosulated ball bearings.
4)Standard anti-tilt and anti-drop devices.
5)Wheels lubricated and equipped with bearings for long life.
6)More thickness of the steel plates and strong shaft to ensure the good safety.
7)The static test is 4times of capacity, and running test is 1.5times of capacity one by one.
Our company :NINGBO GRANDLIFTING CO.,LTD.
Please feel free to contact me if you have any questions.