Barbecue grill
Barbecue grill wire netting is mainly used in camping, tenting, military travel etc. It is single use products. Barbecue grill wire netting is based on crimped wire netting, surface treatment with zinc coated or chromium plated. Barbecue grill wire netting has bright color and good structure. Economical and practical,Heat-resistant,Does not distort and rust,Non-toxic,Tasteless,pro-environmental and easy to operate. Barbecue grill is made of stainless steel wire, mild steel galvanized wire or welded wire, crimped wire netting.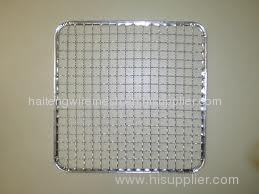 Our BBQ accessories is good in quality and competitive in price. We manufacture BBQ accessories and supply OEM, ODM service according to your requirement.
If you want more detailed information of this product or related problems, please contact with us, we will reply as soon as possible (general in 24 hours).