product name :
One outlet extension cord


1.With child safety cover
2.16 awg SPT-3 heavy duty cord
3.ETL & Prop 65 approved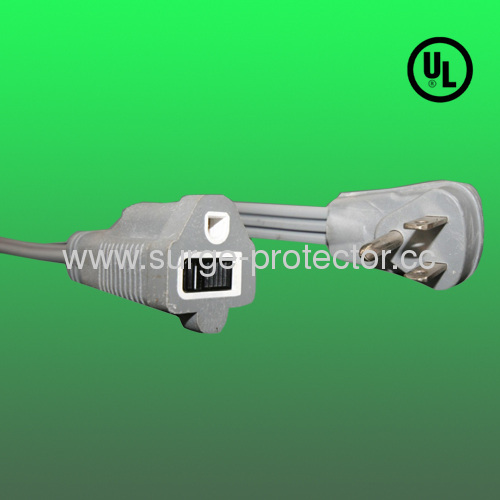 ----------One outlet extension cord
1.One outlet extension cord with child safety cover
2. Ac 125V 13A 1625W 60Hz
3.16awg 3C*SPT-2 heavy duty power cord with 60 degree temperature or up to you demand
4.ETL&Prop 65 approved
5.Cord length:1.5ft-25ft or Depend on ytur requests
6.Package team:Color sleeve/Gift box/Clamshell/Blister card/Polybag
7.We are a original factory and OEM brand optional
8.Free charge of customer logo printer
9.Reasonable unit price but with good quality
10.Color:Black/Beige/White/any other colors you want(price will be a little bit different)
11.Sincere service
12.Grounding:Standard grounding
13.Use standard plug,plug and play.Easy and safe to use for elderly and children
14.Quality:Choose with the standard component,all through streict sieving
15.Life:270 mouths
16.Application:Residential / General-Purpose
17.Features: environmentally-friendly
18.Quick Delivery
19.Safe operation and excellent quality
U.S. extension cord specifications

Conductor
gauge/wires:

Max
amps:

Max
length:

16/2

13A

50'

10A

100'

16/3

13A

50'

10A

100'

14/3

15A

50'

13A

100'

12/3

15A

100'

10/3

15A

100'
Extension cords come in various lengths and thicknesses, and service duties. In general, the more power needed by the appliance, the thicker the cord should be (that is, larger wires inside). Cords to be used outdoors, in wet areas, around oils, or exposed to sunlight for long periods should be selected for such specific service.

Extension cords allow you to power a device when its own cable does not reach an electrical outlet. They expand the reach of your household electrical circuit and make it accessible for everything from holiday lights to heavy yard work. Understanding the differences between electrical extension cords can help ensure safe operation, energy efficiency and high tool performance
The first thing to consider when selecting an extension cord is where you intend to use it. Cords are clearly labeled as "indoor" or "indoor/outdoor." Cords designed for outdoor use have more durable jackets, or covers, than cords intended only for indoor use. The jacket is the rubber, plastic or vinyl covering that insulates and protects a cord's conducting wires.

Outdoor extension cords have jackets that offer protection from moisture, direct sunlight and abrasion. Some heavy duty cords are also rated for protection against oils, other chemicals or extreme temperatures. It's perfectly safe to use an outdoor extension cord inside, but using an indoor extension cord outside can lead to overheating and dangerous short circuits.