Razor barbed wire netting, also named scraper barbed wire netting which is a new safety
Products used for defending and insulating .It is stroke out by armor plate, attached in the steel wire. The razor is made by acute angle galvanized armor plate or stainless steel plate, core line is high tension steel wire. It is beautiful. And also block and fright.
It is widely used in military affairs, prison, government, bank, and also in living wall, personal house, villatic wall, window, autobahn, railway andborder fence.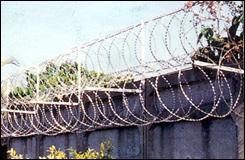 Barbed Wire in IOWA type, with 2 strands, 4 points. Barbs' distance 3-6 inches ( Tolerance +- 1/2" ).
Galvanized Barbed Iron Wire is suitable for industry, agriculture, animal husbandry, dwelling house, plantation or fencing.
Patterns Available for Galvanized Barbed Wire:
Single Twisted Barbed Wire
Double Twisted Barbed Wire
Traditional Twisted Barbed Wire
Features: Galvanized Barbed wire offers a great protection against corrosion and oxidation caused by the atmosphere. Its high resistance allows greater spacing between the fencing posts.