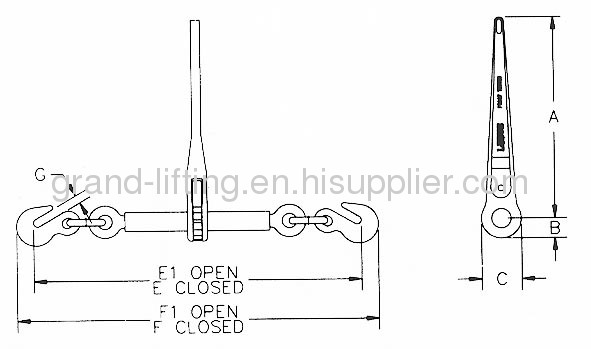 Item No.
Min-Max Chain Size
Working Load Limit
Proof Load
Min. Ultimate Strength
Weight/Each
Handle Length
Dimensions mm
mm
kg
kg
kg
kg
mm
A
B
C
E
E1
F
F1
G
ZHLB-RT-E1
6
1000
2000
3500
1.6
182
182
23
45
442
560
488
606
9
ZHLB-RT-E2
8
2500
5000
8600
4.77
341
354
33
66
605
808
665
868
12
ZHLB-RT-E3
10
4000
8000
15000
5.55
354
354
33
66
606
809
685
888
16
ZHLB-RT-E4
13
6000
12000
20000
6.54
354
354
33
66
659
862
752
879
18
ZHLB-RT-E5
16
9000
18000
32000
10.5
354
354
33
66
735
895
783
941
20
load binder, binder, ratchet type load binder
sizes:6mm,8mm,10mm,13mm,16mm
material: carbon steel,
The two grab hooks with pins to prevent the chain go out.
high strength transportation load binders.
Safety,reliable design for easy operation.
one piece assembly, no bolts or nuts to loosen.
heat treated for extra strength.
Each binder individully proof tested.
Our company:NINGBO GRANDLIFTING CO.,LTD.
Please feel free to contact me if you have any questions.