high horse power motor, high torque force.
integrated 500A solenoid, maintenance free.
full steel gears, with great durability.
insulated winch design, well working in water.
precision machining transmission shaft, to reduce vibration and noises.
smooth engagement operation, keyway cam clutch optional.
every winch is 100% tested on pulling capacity and function.
warranty 18 months. CE certified.
We guaranty every winch is well crafted in workmanship and function! for any parts due to quality issue we have 100% free parts supply.
SC12.0WX 12V or 24V
12000LB Heavy Duty Electric Winch
Specification:
Rated line pull: 12000lb (5443kg) single line
Motor: 6.6hp/4.85kw, series wound 12V
Control: Remote switch, 12ft (3.7m) lead
Gear train: 3 stage planetary
Gear reduction ratio: 191: 1
Clutch: Keyway Cam
Braking: Automatic load-holding brake
Drum size: DIA2.5″*L8.8″ (DIA63.5mm*L224mm)
rope: DIA10.0mm*28m
Fairlead: Anodized aluminum fairlead
Wireless Remote control: Optional
Battery recommended: 650 CCA minimum for winching
Battery leads: 2 gauge, 72" (1.83m)
Finishing: Black, dark grey coating
Overall dimension (L*W*H): 538*160*214mm
Mounting bolt pattern: 10″*4.5″ (254*114.3mm)
N. W. /G. W.: 37/39KG
Packing: foam package, 1PC/CTN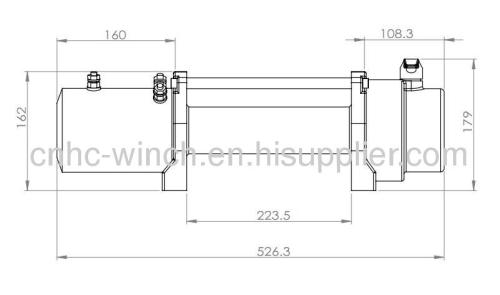 12V 12000lb Line Speed and Amp Draw ( First Layer)
Line Pull

lbs

0

2000

4000

6000

8000

12000

kg

0

909

1814

2721

3629

4536

5443

Line Speed

ft/min

m/min

10.82

6.28

4.63

3.66

3.0

2.46

2.18

Motor

Amos

67

131

198

261

320

389

435
12000lb line pull and cable capacity
Layers of rope

1

2

3

4

5

Rated line pull per layer

lbs

12000

9620

8450

7670

6850

kg

5443

4364

3833

3479

3107

Cumulative rope capacity

ft

14.76

.30.18

48.23

70.54

91.86

m

4.5

9.2

21.5

28