1. Heavy duty winch, high hp motor, delivers plenty of power
2. 3 planetary gears. All gears are cold extrusion steel for superb strength and longer cycle life.
3. Gear ratio 230.4:1, sliding ring gear
Or Gear ratio 191:1, keyway cam clutch. Keyway cam is a new clutch system, easy to get winch fully engaged and disengaged in one time both in two directons.
4. Galvanized steel cable with removable pinned clevis hook, ensuring strong and safety winching.
5. 4-way roller fairlead, steel die-casting, surface galvanized and powdering.
6. Waterproof, sealed winch and solenoid
7. Completely smoothy and efficient for winching
8. Our winches are 100% function and pulling tested
9. Foam package for every winch.


SEC12.0X 12V or 24V
12000LB Heavy Duty Electric Winch
Specification:
Rated line pull: 12000lb (5443kg) single line
Motor: 6.6hp/4.85kw, series wound
Control: Remote switch, 12ft (3.7m) lead
Gear train: 3 stage planetary
Gear reduction ratio: 191: 1
Clutch: Keyway Cam
Braking: Automatic load-holding brake
Drum size: DIA2.5″*L8.8″ (DIA63.5mm*L224mm)
Steel cable: DIA9.1mm*28m
Fairlead: 4-way roller fairlead
Wireless Remote control: Optional
Battery recommended: 650 CCA minimum for winching
Battery leads: 2 gauge, 72" (1.83m)
Finishing: Black, dark grey coating
Overall dimension (L*W*H): 538*160*214mm
Mounting bolt pattern: 10″*4.5″ (254*114.3mm)
N. W. /G. W.: 37/39KG
Packing: foam package, 1PC/CTN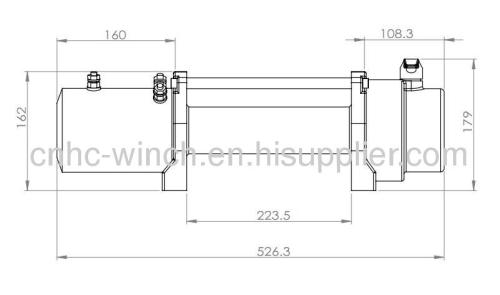 12V 12000lb Line Speed and Amp Draw ( First Layer)
Line Pull

lbs

0

2000

4000

6000

8000

12000

kg

0

909

1814

2721

3629

4536

5443

Line Speed

ft/min

m/min

10.82

6.28

4.63

3.66

3.0

2.46

2.18

Motor

Amos

67

131

198

261

320

389

435
12000lb line pull and cable capacity
Layers of rope

1

2

3

4

5

Rated line pull per layer

lbs

12000

9620

8450

7670

6850

kg

5443

4364

3833

3479

3107

Cumulative rope capacity

ft

14.76

.30.18

48.23

70.54

91.86

m

4.5

9.2

21.5

28