Detailed Product Description

*Quad view digital baby monitor
*SD card slot
*Two-way speak&Night Vision
*Support up to 32GB SD card
*Internet viewing

hello,dear friend,this is the newest baby monitor from our company.it has been very popular from our regular customers. but we hope more and more person will know it, and benifit from it. dear friend,for any interests or questions,please feel free to contact me by lyd058(at)szlyd.com,or by MSN:lyd058(at)hotmail.com, or by sky-pe:daniyalyd. i will offer detailed information for you.i am awaiting for your response. come on.


WIFI Friendly,Motion-Detection Recording Surveillance Kit with 100% Privacy
MODEL NO. : W387SA1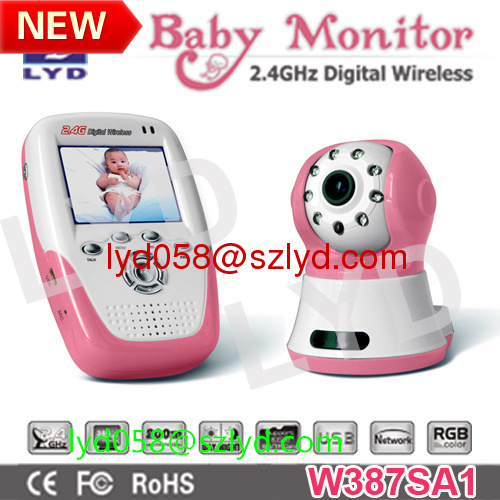 If you've been in search of a Baby Monitor with the latest wireless technology, then look no further!
This Kit will make your life a little bit easier as it's the perfect way to keep an eye on your baby, home, and more! The included night vision camera features eight IR LEDs capable of capturing footage from up to 3 feet away. Best of all this kit is ready to use straight out of the box, simple and intuitive user interface. No need to be an electronics Geeks.
The 2.5-inch color LCD Handheld Monitor, allows you to view single or Quad image, zoom in, alarm, record while motion detected. Transmission range in an open area amounts to a whopping 200meters!
The latest digital wireless transmission technology enables the stable, privacy, and secure signal,and truly WIFI friendly. Keep an eye on what's important! Order your RC837+CM387S Wireless Camera Kit today
Features:
100% digital wireless, private, secure signal, Wi-Fi friendly
Recording while sound activated (SD card not included)
Supports up to 32GB SD card
Expandable up to 4 cameras
Quad view supported
Sound activated alert
Built-in rechargeable battery for both camera and receiver
Talk with baby function, 2 way audio
High-resolution picture and high-quality sound
Can display and record on PC, Support Internet viewing, Motion detection
Applications:
Monitor those you care about 24 hours a day.
Warranty & Certificate:
1. We offer 1 year warranty of free repair or replace for all our product
2. CE/FCC available
Package Including:
Wireless Camera / Wireless Camera AC/DC Adapter:
Wireless LCD Receiver / Wireless LCD Receiver AC/DC Adapter
User Manual / Antenna / USB Cable/ Driver CD for Internet View
Packing Information:
Outter Carton: 50*46*32cm, 12boxes/Carton