Detailed Product Description
*Free interference digital baby monitor
*Distance up to 200m
*Two-way speak
*Night vision, Li-battery
*CE/FCC
hello,dear friend,this is the popular baby monitor from our company.it has help us to win lots of regular customers by its high quality and steady functions.And we hope more and more person will know it, and benifit from it. dear friend,
for any interests or questions,please feel free to contact me by lyd058(at)szlyd.com, or by MSN:lyd058(at)hotmail.com.or by sky-pe:daniyalyd.
i will offer detailed information and our best price to you.i am awaiting for your response. come on.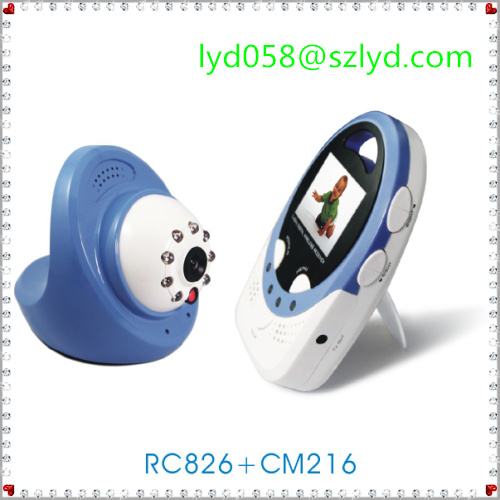 Introduction:
No more interference! Unlike older anlogue wireless technologies which suffer greatly from signal distortion and interference, digital wireless technology provides clean, crisp images, even environment with other wireless divices active, such as cordless phones, microwaves, game controllers, and even Wi-Fi and Bluetooth devices.
The 2.5-inch color LCD Handheld Monitor, allows you to two way speak, zoom in, AV output. The included night vision camera features eight IR LEDs capable of capturing footage from up to 3 feet away. Transmission range in an open area amounts to a whopping 200meters!
This Kit will make your life a little bit easier as it's the perfect way to keep an eye on your baby, home, and more! It is used to take care of children and old people (because you should do housework, can not be always beside them), you can take the receiver to see what is going on there; it is used as door phone, put the camera in front of the door, you can see who is coming without going to the door, and also talk with them, especially for handicapped; it is also used for shops, garden, and garage security, you can see the situation easily without going there to see by yourself.
Keep an eye on what's important! Order your RC826+CM216 Wireless Camera Kit today!
Features:
1. 2.4ghz digital wireless baby monitor.
2. 100% secure, interference free, privacy.
3. 200m transmit distance without block
4. Compatible with up to 4 cameras simultaneously.
5. Two-way speak
6. Automatic night vision function when operating in dim area.
7. Built-in Li-battery lasting for 3 hours
8. Support AV output
Technical Parameter:
Project

Specification

Received frequency
2.400GHz~2.483GHz
Video frequency service pattern
PAL/NISC Automatic cut over
Modulation mode
FSK
Working Temperature
-20~60°C/ -10~50°C
View AngleU/D/L/R)(CR>10)
10/30/45/45(Min)
Resolution(dot)
480(W) x 240(H)
Camera
TV System
PAL
NTSC
Validity Pixel
628(H) x 582(V)
510(H) x 492(V)
Image Device
1/4″CMOS image sensor
Horizontal Definition
380TV Line
Transmission Signal
Video & Audio
Minimum Illumination
3Lux/F1.2
Scanning Frequency
PAL/CCIR: 50Hz NTSC/EIA:60Hz
Transmission Distance
200M
Power Adapter
DC5V/1A
Transmission Power
17dBm
Power Consumption
≤1W
Package Including:
1pc Camera
1pc Receiver
1pc AV Cable
2pcs power adapters
1pc user manual&warranty card
Warranty & Certificate:
1. We offer 1 year warranty of free repair or replace for all our product
2. CE/FCC available