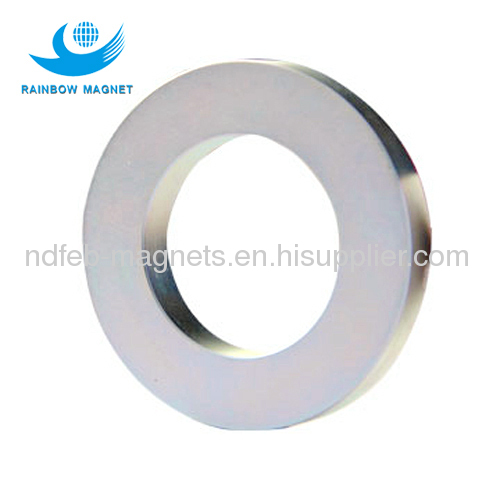 Attached picture show the
Ring permanent magnet.

NdFeB is a type of rare-earth permanent magnet. It is madefrom an alloy of neodymium, iron, and boron to form theNd2Fe14B tetragonal crystalline structure. This materialis currently the strongest type of permanent magnet in the world.
Nd-Fe-B permanent magnet is manufactured in a wide rangeof shapes, sizes and grades according customer'sdemand.

permanent magnet ring has a very high energyproduct and coercivity, can pick up 660 times of own weight of heavy objects.

The advantage is high cost-effective, with good mechanical properties, easycutting; according customer's demand to manufacture in a wide range of shapes,sizes and grades.
The shortcoming is the low of the Curie temperature and the temperaturecharacteristics, easy to rust, oxidation, Sintered NdFeB's surface is usuallyrequired for plating such as zinc, nickel, silver, gold, etc., can also be donephosphorus treatment or spray epoxy resin to slow down the oxidationrate.
Pls see the compare of the coating's results:
See the follows Grade N Sintered permanent magnet ring magnetic energy parameters
Grade

Residual Induction

Coercive Force

Intrinsic Coercive Force

Maximum Energy Product

Maximum Operating
Temperature

Br

Hcb

Hcj

(BH)max

Tw

T

KGS

KA/m

KOe

KA/m

KOe

KJ/m3

MGOe

℃

N35

1.17-1.21

11.7-12.1

876-899

11.0-11.3

≥955

≥12

263-279

33-25

≤80

N38

1.22-1.26

12.2-12.6

876-923

11.0-11.6

≥955

≥12

287-303

36-38

≤80

N40

1.26-1.29

12.6-12.9

876-923

11.0-11.6

≥955

≥12

303-318

38-40

≤80

N42

1.30-1.33

13.0-13.3

876-926

11.0-11.6

≥955

≥12

318-334

40-42

≤80

N45

1.33-1.37

13.3-13.7

876-926

11.0-11.6

≥955

≥12

342-358

43-45

≤80

N48

1.36-1.42

13.6-14.2

876-926

11.0-11.6

≥955

≥12

358-382

45-48

≤80

N50

1.41-1.45

14.1-14.5

828-907

10.4-11.4

≥876

≥11

382-398

48-50

≤70

N52

1.44-1.48

14.4-14.8

828-907

10.4-11.4

≥876

≥11

394-414

49.5-52

≤70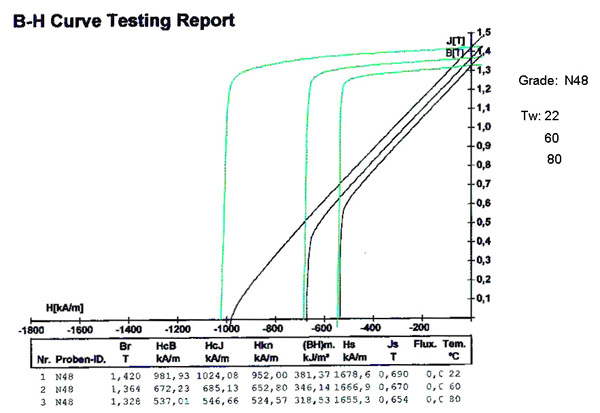 For N grade Ndfeb,the Max Operating Temp is 80 degree
Nd-Fe-B permanent magnet with its excellent performance, abundant rawmaterial and reasonable price is to be rapid development and wideapplication.
Also becoming increasingly popular across a wide range of novelty productsfor markets.

The use of electro-acoustic devices work:
Speakers, hearing aids,pickups, stereo headset, electro-acoustic sensors, telephone receiver,
Smallsize, light weight, good sound quality.
Multifunction and miniaturization ofmobile phones, high-performance Ndfeb played a key role.

permanent magnet ring with Zn coating has been presented above, want more similar products, please click Neodymium Iron Boron ring magnet. permanentmagnet ring. strong neodymium ring magnet.
Our permanent magnet ring with Zn coating is good in quality and competitive in price. We manufacture permanent magnet ring with Zn coating and supply OEM, ODM serviceaccording to your requirement.
If you want more detailed information ofthis product or related problems, please contact with us, we will reply as soonas possible (general in 24 hours).