Product name :
motion sensor led floodlight

Model No.:SW-FL002-W20-PIR
Main Point:
Input voltage:AC100-240V/ DC12V / DC24V
Led chip: Bridgelux fm USA
LED Lumen:100-110Lm/W
IP grade:IP65
Beam angle: 60 or 120degree
Shell color: black or grey
Working life:>50000hours
Technical datas of
led floodlight for motion sensor
:
No. :

Specifications :

1

LED Type

PIR led flood light

2

Power

20W / 2000LM

3

Type

PIR Motion Sensor

4

Voltage

100V-240V AC

5

Color available

Warm White ,Nauture White and Cold White

6

Detection Distance(Adjustable) :

4 ~12m (<24)

7

Time Delay(Adjustable ):

10 sec to 7min(+/- 5%)

8

Light Control( Adjustable):

3-3000LUX

9

Detection Motion Speed

0.6~1.5m/s

10

Beam Angle

120 degree

11

Dimension

L:180mm * W:140mm*H:116mm

12

Color of Housing

Black or Grey Housing

13

CRI

> 70-80

14

Material

Die-cast aluminum+toughened glass

15

IP Grade

IP65

16

Working Frequency

50 ~ 60HZ

17

Working Temperature

-40 degree ~ 60 degree

18

LED Life

> 50000 hours

19

Certificate

CE.ROHS
Lamp size for
motion sensor led flood light
:
Products features of this led flood lights for motion sensor:
1. Mercury-free, lead-free and energy efficient illuminant, environmentally friendly lamp
2. Die cast aluminum radiator with the maximum interface with air ensures excellent heat dissipation function; the strong and the compact structure protect the whole lamp.
3. Anodized aluminum reflector keeps the even and efficient lighting effect. Coordinating with the radiator, it contributes to a cooling system to ensure safe performance for long hour working request.
4. High power led illuminant provides comfortable light without radiation, strobe flash or UV.
5. Aluminum PCB with silicone may keep it dustproof ,dampproof and anti-oxidation;
6. Die cast aluminum ballast casting with powder coated finish may keep it corrosion-resistance.
7. Varieties of colors such as white, green, blue, yellow, red, etc. are available.
Directions for installation:

Fix the light on the pole or the mounting surface by screw though the holes(¢10mm) of the installing support.
After the light being fastened,the screws 1A and 1B could be loosen,and then change the angle of the installing support so that the installation angle of the light would be adjusted
Keep the light in suitable operation and storage temperature.
In order to avoid the electrocution the interface between the wires could be fully-closed when fixing the light.
The corresponding measures could be take for waterproofing and avoiding leak when the external power supply line is used.
Any correlative laws should be observed in use.
Light should be fixed by the professional electrician with the three-core(0.75MM2) mode of connection: red wire (live line) blue wire (neutral) and the earth wire.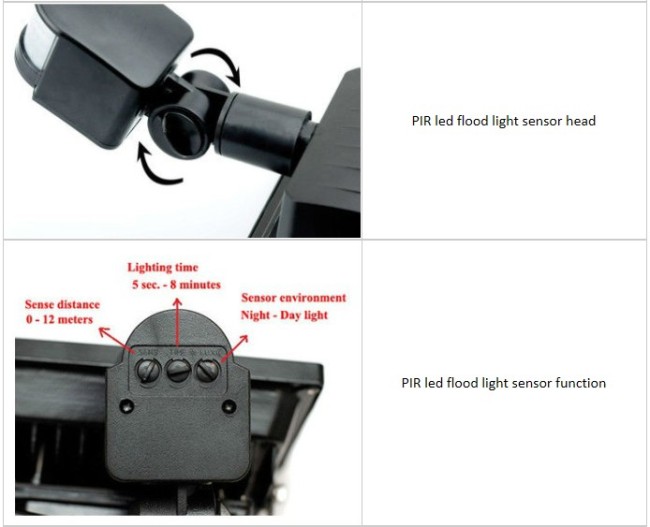 Advantage
:
1. Energy saving: replace general halogen light directly, saving more than 80% energy.
2. Environmentally friendly: no heat, UV or infrared in the beam; no mercury.
3. Excellent performance
--High brightness, high luminous efficiency, high color rendering index and lower light decay
Lenses of high light transmission
--Good heat dissipation techniques.
4. Long life span: more than 50000 hrs, 25 times more than normal energy saving lamps
5. CE& ROHS, IEC60598 approval
6. Good after-sale service
Package: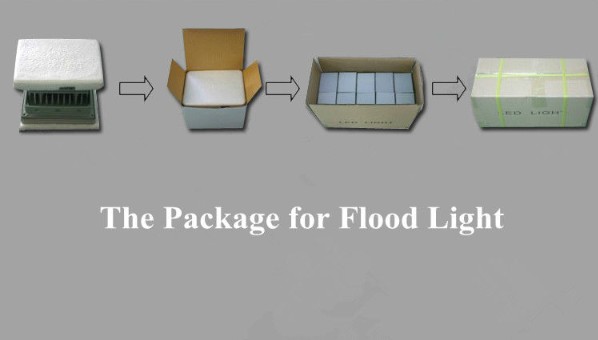 Application of this
20w sensor led floodlight
:
Warehouse, factory and workshops;
Highway toll station and gas station;
Meeting room, exhibition hall;
Gymnasium and supermarkets, etc
SNOOWEL is a factory with 9 year's experience, and we exported the 20w led floodlight for sensor to Japan, Europe, North America, Australia, ect, in very large quantity.

We offer the led flood light for sensor in top quality and competitive price,we believe you will never disappointed on our products and service.Please contact us freely to get more infos about us,we will always be here for you.