Product:
New Hand Shower With Switch To Control Saving Water

We pride ourselves in marketing new hand showers that are unique in their design and function to keep pace with the changing life concept, fashion idea and design trends.
We offer the newest designs with a many selection of hand showers. We also offer alternative finishes with our products, polished chrome plated and polished ABS white.1091 model hand shower is our new design,you can push the button switch to control the water outlet, a good water saving option.

Features of hand shower:
1. Reduce water flow with the button switch on the hand shower
2. Chrome and white color are available
3. Modern and smart design
4. This nice hand shower will add beautiful decoration to shower room
5. Two functions:rain shower and massage

Specification of hand shower:
Model: 1091
Color: Chrome
Quality Warranty: 12 months
Packing: Double blister with card,carton box, bubble poly bag, poly bag and card
Port: Ningbo China
Payment: T/T (30% in advance) and L/C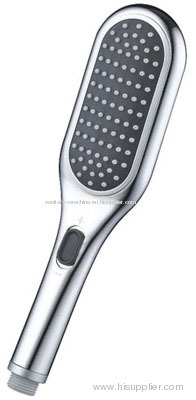 New Hand Shower With Switch To Control Saving Water



Foshan shower seminar on the development of industrial integration, an unknown dealer said: sale on the market, some of the shower, no production qualification of township enterprises and even small workshop production. Most of these companies do not have production standards, and related test equipment products factory, a lot of use of tempered glass is half steel or ordinary thicker glass, use aluminum or plastic frame rails and hardware quality is relatively poor quality , failed to reach the safety standards.