Product:
6 Inch Big Head Plastic Chrome Hand Showers For Bath

If you are looking for a bathroom big head hand shower, it is lucky,you are in the right place. This is a stylish water-saving hand shower with 6 inch size. It supports countless small nozzles, comfortable and refreshing. It offers a smoothing and massaging spray with body coverage from head to foot. It can be used to clean the skin and softly massage body, available to ease fatigue. It is a great hand shower to let your bath experience more pleasant and exciting.

Features of hand shower:
1. 6 inch big size with nice model design
2. 3 Pattern setting: rain shower, concentrated center spray, massage
3. It works perfect with our stainless steel shower sets
4. Easy to adjust and install in some minutes
5. The top quality and attractive price

Specification of hand shower:
Model: 047C-2
Color: Chrome
Quality Warranty: 12 months
Packing: Double blister with card,carton box, bubble poly bag, poly bag and card
Port: Ningbo China
Payment: T/T (30% in advance) and L/C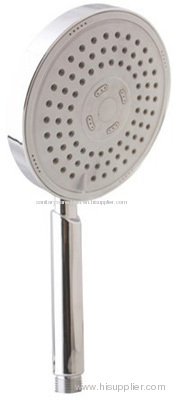 6 Inch Big Head Plastic Chrome Hand Showers For Bath
When choosing a shower room, knuckle knock glass, tempered glass sound more crisp than the dull sound of ordinary glass. Authentic tempered glass carefully to see if vague pattern. Require manufacturers to purchase the best professionals to site installation, in order to avoid improper installation caused damage problem.