Product:
Massage Spray Airpower Infuses 6 Inch New Handheld Shower

Our company has built its reputation on one very important principle; to provide its customers with beautiful, high quality, handheld shower supported by an reasonable quality warranty and fast, humanized service. As a company, we pride ourselves in the development of high quality handheld showers, other sanitary ware accessories.

Features of hand shower:
1. 15cm large size with attractively style
2. Single massage spray with airpower infuse
3. Elegant modern design and and water saving
4. Work with any standard shower hose and faucet
5. High quality and competitive price

Specification of hand shower:
Model: 047C-1
Sample: Available
Quality Guarantee: 1 year
Packing: Double blister with card,carton box, bubble poly bag, poly bag and card
Port: Ningbo China
Payment: T/T (30% in advance) and L/C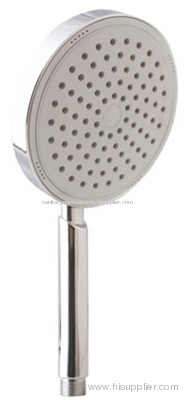 Massage Spray Airpower Infuses 6 Inch New Handheld Shower



A senior sanitary sales Jinhaimali Miss Huang told reporters, said before the news that the home of Ms. severed wrist tendon the shower certainly not tempered glass do. Ms. Huang also introduced, buy shower products can not freeloaders, must choose the regular manufacturers and stores, the products to be marked with a detailed production name and address and commodity certificate, so that problems can be timely coordination and communication.