Product:
Chrome Finish Brass Handheld Shower For Bathroom Shower Set

The modern brass chrome handheld shower is the best design for your bathroom. The amazingly elegant microphone pencil appearance of its new design is sure to bring nobleness and charm to any bathroom. A simple massage sprayer to be designed to fit your relaxingdemand. The smooth line handle is easy to hold and surprisingly reliable. You'll be able to appreciate both the design and quality.

Features of hand shower:
1. Full body brass material with polished chrome
2. Performance in high pressure without any leaking
3. Saving water and supply a low water flow
4. Single massage spray
5. It can wash any areas of your body with relaxing feeling

Specification of hand shower:
Model: 1044A
Sample is available
Material: Brass with chrome
Packing: Blister,carton or bag.All packages depends on the customers' request.
Port: Ningbo China
Payment: T/T (30% in advance) and L/C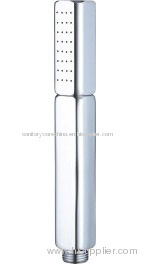 Chrome Finish Brass Handheld Shower For Bathroom Shower Set



Exactly cozy home fitted shower room safe to? What is the cause of this series shower bombings because of improper installation or use of improper or quality problems? Shower room products national safety standards of quality and install it? With doubts and worries to take advantage of the weekend, the reporter visited the home of the hippocampus stores in Guangzhou, and interview in the October 21 first shower seminar on the development of industrial integration the sanitary industry experienced people in the industry as well as the representatives of Foshan Entry-Exit Inspection and Quarantine Bureau .